HOW TO START A BUSINESS?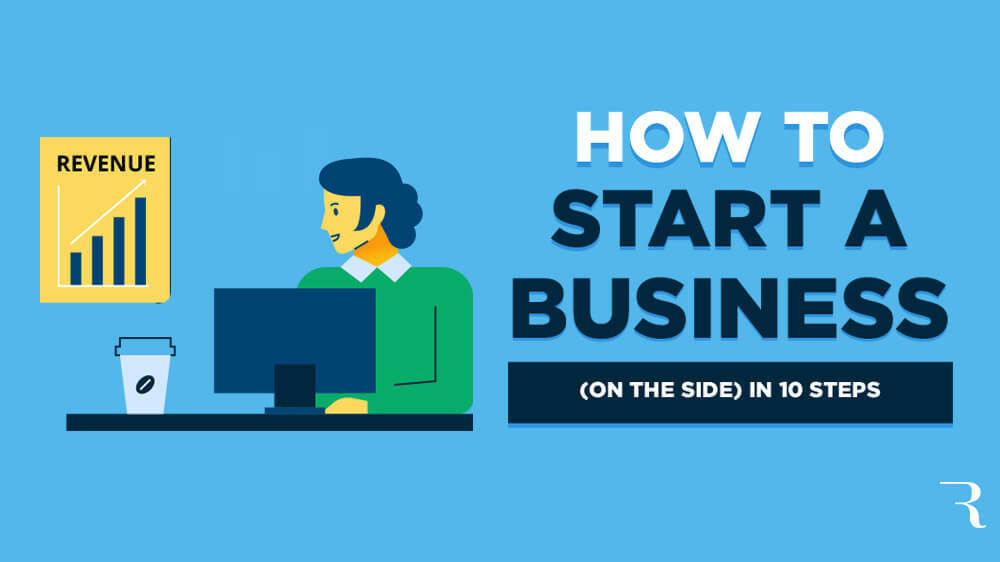 To Start a Business, Follow These Ten Simple Steps:
Are you ready to start your own business?
Creating a business of your own can be challenging. You will need adequate funding, time, personal support, and professional support in order to move forward successfully with entrepreneurial dreams.
Step 1: Choose the Right Business Idea
The first step toward business ownership is deciding what kind of business to start. Look for an idea that suits your interests, your personal goals, and your natural abilities. This will help you stay motivated when the going gets tough and will greatly improve your odds of success.
Step 2: Plan Your Business
Successful businesses are built through careful planning. Before committing a significant amount of money and other resources toward your business, critically analyze your idea, and create a game plan. At a minimum, you should have good answers to the following questions.
Business Name
Naming a Business is one of the most important and challenging steps in getting started. You'll want to choose a brand name that follows your state's naming rules, resonates with your customers, and is available in your state and as a URL.
Product Development
What problem does your business solve? What will set your product or service apart from the competition?
Sales & Marketing
Who are your potential customers? How will you get their attention and convert them into buyers?
People and Partnerships
What roles will you need to hire and what professional relationships will you need to form in order to succeed?
Financial Planning
How many clients or sales will you need in order to break even? How much money will it take to get there, and where will you get the funding?
Step 3: Form Your Business
Registering your company as a legal business entity — such as an LLC, corporation, or nonprofit — has two major advantages:
Increased credibility
Protection from personal liability in the event your business is sued
Find out which business structure is right for your new business.
LLCs
A limited liability company (LLC) combines the personal asset protection of a corporation with the tax flexibility of a partnership or sole proprietorship. Most small businesses prefer the LLC structure due to its easy maintenance and favorable tax treatment.
Corporations
A corporation is a separate legal entity that is owned by its shareholders. Corporations have more formal regulations than LLCs and tend to be more attractive to investors. Most large companies like Apple fall under the corporate category.
A nonprofit organization is one that is funded by donations instead of investors. Nonprofits are typically created to further a social cause and are exempt from paying taxes. The Red Cross is an example of such an organization.
How to Form a Nonprofit
If you choose not to register your company as a business entity, you will be held personally responsible for the debts and liabilities of your business.
In addition, partnership and sole proprietorship business owners may need to file a DBA, sometimes known as a "fictitious name," "trade name," or "assumed name" depending on the state. A DBA IS NOT A Business Structure.
Find out if your business is required to file a DBA. If you're in USA Note that three states (Kansas, New Mexico, and South Carolina) do not have DBAs.
Step 4: Register For Taxes
With limited exceptions, most businesses require an Employer Identification Number (EIN), also known as a Tax ID Number. An EIN is used to identify a business in its federal tax filings. Without an EIN, you can't hire employees or open a business bank account.
You should also be aware of important state taxes that may apply to your business:
If you are selling a physical product, you will typically need to register for sales tax in your state. Five states (Alaska, Delaware, Montana, New Hampshire, and Oregon) do not have sales tax.
If you hire employees, you will typically have to register for Unemployment Insurance Tax and state income tax withholding on behalf of your employees.
Step 5: Create Business Banking and Credit Accounts
Using dedicated business banking and credit accounts is essential for personal asset protection.
When your personal and business accounts are mixed, your personal assets (your home, car, and other valuables) are at risk in the event your business is sued. In business law, this is referred to as piercing your corporate veil.
You can protect your business with these two steps:
1. Opening a business bank account:
Separates your personal assets from your company's assets, which is necessary for personal asset protection.
Makes accounting and tax filing easier.
2. Getting a business credit card:
Helps you separate personal and business expenses.
Builds your company's credit history, which can be useful to raise capital later on.
Step 6: Set Up Accounting
An accounting system helps you track the performance of your business and simplifies annual tax filings. Quality accounting software lets you download your bank and credit card transactions, making accounting fast and easy. Learn more about the importance of accounting and how to get started with accounting today.
Step 7: Obtain Permits and Licenses
To operate your new business legally, you will need to comply with federal, state, and local government regulations. In many cases, this involves obtaining one or more business permits and/or licenses. For example, a restaurant will likely need health permits, building permits, signage permits, etc.
Step 8: Get Insured
Business insurance helps you manage risks and focus on growing your business. The most common types of business insurance you should consider are:
General Liability Insurance
Workers' Compensation Insurance
Professional Liability Insurance
We recommend that all small businesses, including home-based businesses, purchase a general liability policy. Businesses selling professional advice or services, such as consulting and accounting firms, should also consider a professional liability policy.
Each state has its own workers' compensation requirements and often depends on the number of employees a business has.
Step 9: Define Your Brand
The strongest and most memorable businesses are built on a solid brand.
When developing your brand, think about what your business stands for. What are the core values that drive your business? Customers and clients are looking for companies that have a compelling brand, as much as they are shopping for high-quality products and services.
Step 10: Establish a Web Presence
A professional website is critical to the long-term success of your business, regardless of what industry you are in. A website allows potential customers to find your business online and discover the products or services you offer, and it also enhances your business's credibility.
In addition to a website, you should also consider other avenues for promoting your business online.
Follow me on LinkedIn
Join my LinkedIn group Be Your Own Boss
Email: [email protected]
WhatsApp: +23230333027
Enjoy this post?

Buy Hamidu Ansumana a coffee