Episode 8 - Please Stay In Your Seats UPDATE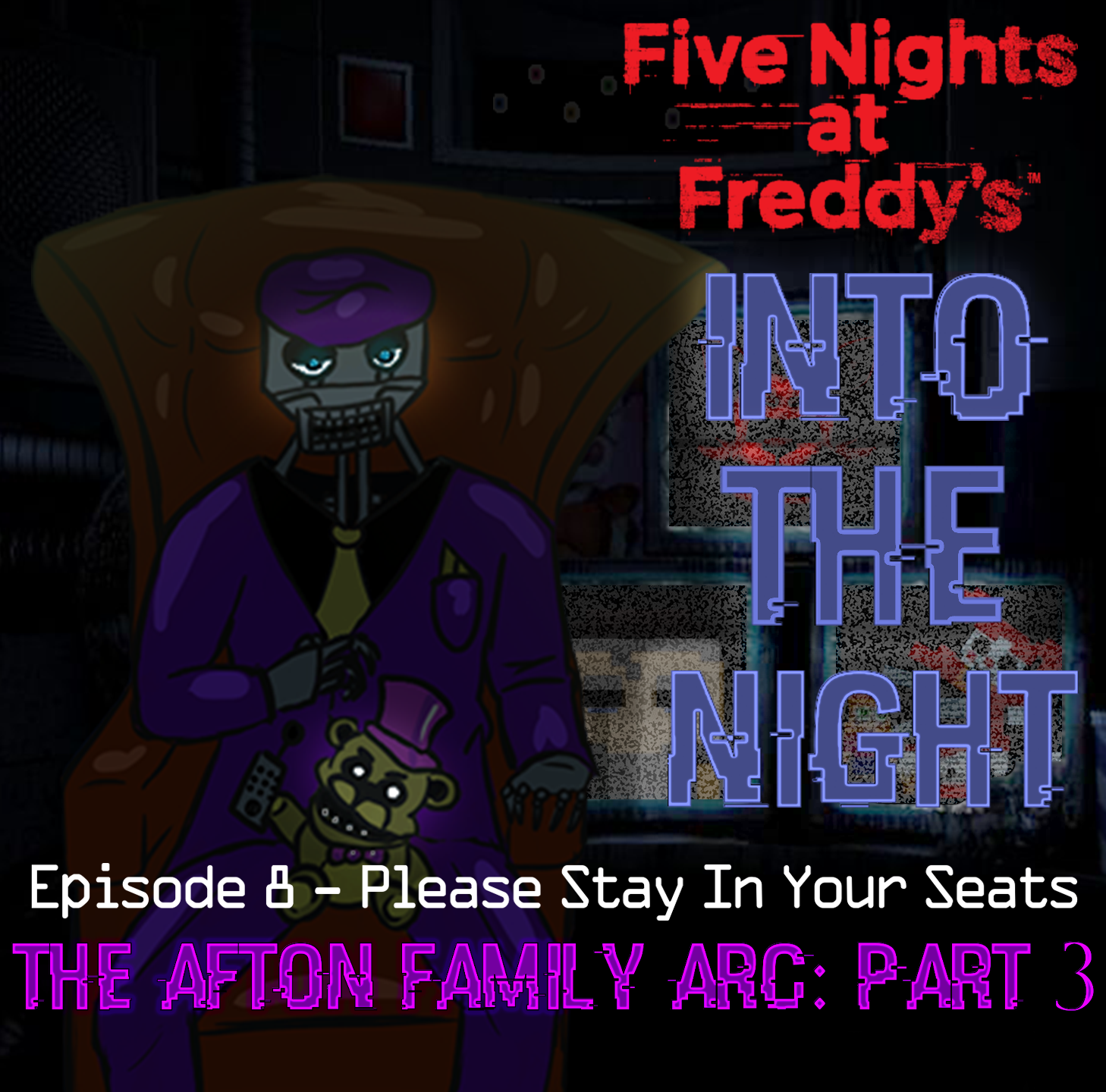 THE SHOW WILL BEGIN MOMENTARILY. EVERYONE, PLEASE STAY IN YOUR SEATS!
We're starting the new year right with a new episode of "Into the Night!" Our next episode will all be about finishing up Sister Location, and the remaining mysteries and plot elements we haven't explored yet!
Personally, I have to say that working on this script was a blast, as well as creating the thumbnail with @CouchGang2 (Jackson Goyette) who drew Endo-03. He was also responsible for Chibi Endo-00 back on Episode 4 - Tomorrow is Another Day, which was absolutely adorable. Now that I think about it, I don't think we have ever talked about our Endo being the podcast mascot, let alone that we named him Endo-03. (Yes, we know it's, in reality, an OG animatronic endoskeleton, but we called him Endo-03 based on mp3 files because we are freaking Adobe Nerds.)
I have to say that I have been looking forward to getting into the later entries into the series, as I believe this is where Five Nights at Freddy's really took off in a more narrative direction. And I have wanted to do episodes that are dedicated to specific characters ever since the creation of the show. Few may know, but the reason why I even began doing this show was that I had originally done analysis on the series on Freddit (FNaF Sub-Reddit). While some of it has aged, I am still vividly proud of what I had done and what it has inspired.
This episode does come after a long hiatus, I know, but there was a combination of reasons for it that I would like to explain. For starters, I have always held a personal goal to release at least one episode per month. These episodes take time, and they are not my primary duties on a given day, that will always be my occupation and education for the current moment and that work philosophy is shared by everyone who works on this project!
Another was the holiday season, in which I took a nice long break thanks to the craziness that was 2021. Hopefully, everyone was able to spend time with family, friends, and away from the everyday worries of life. Christmas is a beautiful time of year where everyone acts a little nicer and the world feels a bit brighter and softer, and I hope you could all share in the holiday magic, no matter what holiday you celebrate.
Finally, this being the biggest one, Security Breach was released last month. While I will keep my opinion to myself right now, I'll leave my review as: "Not what I was expecting." I had to sit back for a while and really analyze what I was engaging in, both as an FNaF fan and as someone who appreciates video games as an interactive medium of art. With those perspectives in mind, it kept my brain racing and juggling my final conclusions for the game, and I started to fear becoming burned out on the series I hold dear.
Luckily, we will not be getting into that in this upcoming episode! This episode is all about Sister Location, my absolute favorite of the series! We sincerely hope the wait will have been worth it and you will enjoy the show!
Have a Good Night!
Enjoy this post?

Buy Into the Night: A FNaF Podcast a pizza