[BOOT-CAMP Dec] - Extra - Psychology about sucessful trader
Hello traders,

Do you know what is the most difficult step to get profitable & consistency in trading ?

When I tried to find out the best way to trade through many diffirent method and a lot of time.
I realized above road that every traders should refer to understand our career.

1/ Practice trading stratety - super easy to master because it was built base on logical steps.
A logical steps will help you reduce stressful and increase your confident to entry.
The more understanding the strategy, the less stressed and more confident you will.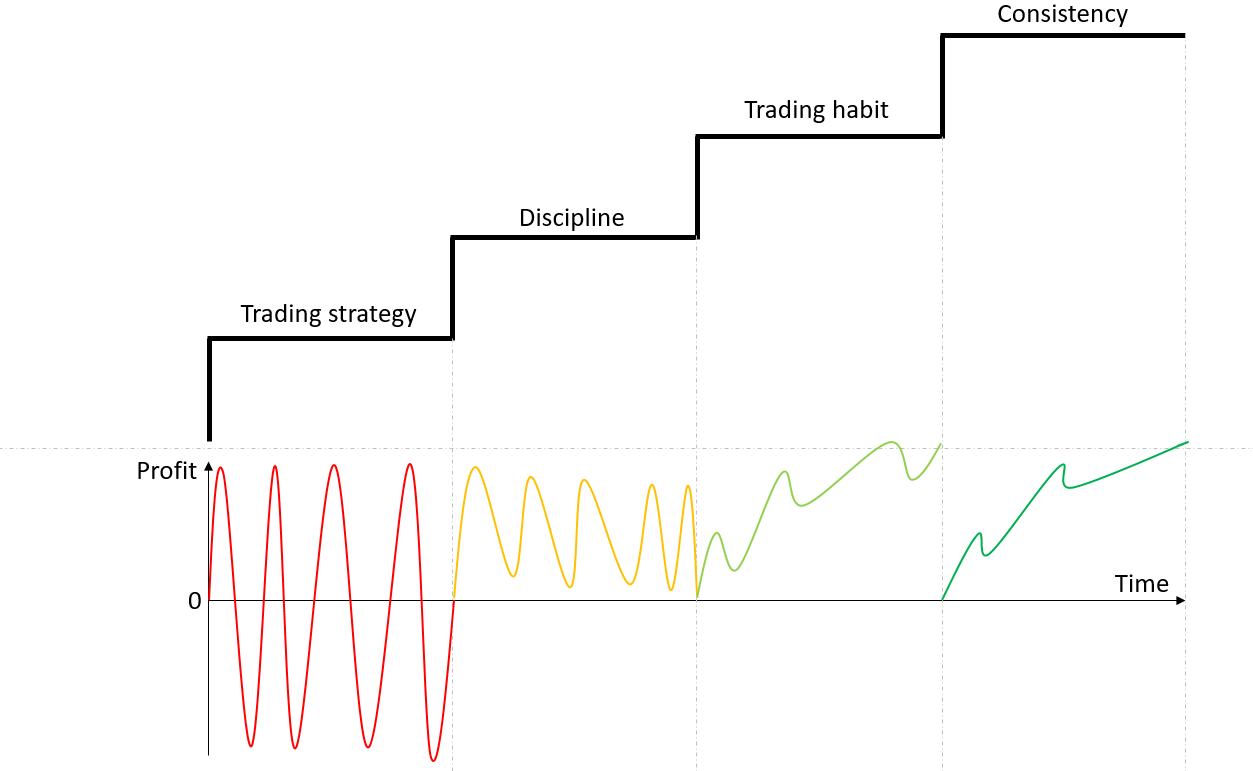 2/ Discipline

Everyone call here is the key to be succesful in trading. But, for me, it is just half of road. When you achieve the trading strategy & discipline, your profit may in positive status but the deviation between WIN & LOSS is quite big.

Everyone quit the office job to be fulltime trader with a free-dom dream. This mindset accidentally creates undisciplined to make trading/investing become your new real job.

We're having the link between step (1) and (2) here. That's emotional barriers.
You want to jump into the chart and analyze - find an entry anytime, have no any the carefully selection based on satistic after series of practical activities.

Whenever you failed, big lost or consecutive lost, that effect to your trading result. Your brain will blame to "trading strategy".
You will try to improve it many times. I call here is "Dead cycle" for your career to grow it up.
In boot-camp, we're practicing it by doing assignement and submit it every day, combine with only allow you to take 1 entry/day during boot-camp.

3/ Practice trading habit is the most difficult step here.

To have trading habit, it means that :
- You know which asset is the most suitable.
- You know when you should analyze.
- You know where is the best entry place.
- You know where is the best risky place.
- You know when you have to quick exit.

Practice it become your "unconditioned reflex" - it works like you see a lemon and feel sour.
You don't need to think too much - over thinking cause un-decision & bad results in trading normally.

4/ Consistency

When you established the trading habit, profitable & consistency will come naturally. You will trade more carefully, catch the trend to take profit by trailing more confident, quick exit without undecision.

That's the winner's "unconditioned reflex" in trading.

----------------------------------------
That's my little sharing during weekend.
Hope it useful for everyone.
Wish you guys a nice weekend.

----------------------------------------
Warm regards,
CEO FTG,
Jayce PHAM




Enjoy this post?

Buy Jayce PHAM | Funded Trading Group a beer