Enya Rolls Out a New Ethereum Scaling Solution of Boba Network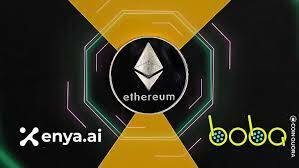 Enya hinted at the rollout of the mainnet beta of the Boba network.

The mainnet beta is an upcoming generation Ethereum Layer-2 scaling solution.
Enya, the top developer of decentralized infrastructure solutions, has announced the rollout of the mainnet beta of the Boba network.
The mainnet beta of the Boba platform is a next-generation Ethereum Layer-2 scaling solution. The Enya team insists that it lowers gas fees, supports transactions across the network, and enhances the capabilities of smart contracts.
In addition, the team stated that the cost-prohibitive NFT and DeFi apps on Ethereum have become affordable on Boba. Currently, Boba is the leading among Ethereum Layer-2 solutions.
Additionally, Boba NFT Bridge lets NFTs cost-effectively establish on Boba. Even more, the NFTs can be transferred to the Ethereum ecosystem.
Also, Boba enables Ethereum developers to build smart contracts that influence code generation on the web-scale infrastructure. One of the smart contracts includes AWS Lambda that supports advanced algorithms to carry out on-chain.
Additionally, the Enya team stated that Boba DAO sets the foundation for decentralized governance. Furthermore, it motivates the community to suggest platform improvements and endorses the projects right on the Boba network through voting.
Founder and CEO of Enya, Alan Chiu, expressed his delight in a statement where he said,
"We welcome the entire DeFi and NFT developer community to build on Boba so that together we deliver a faster, cheaper, and more delightful experience to the next billion users of Ethereum".
He also added that the Enya team is passionate about establishing an inclusive, decentralized ecosystem. He stated the team is doing this by minimizing challenges to adoption for developers and users.
"The launch of Boba's mainnet beta today brings us one step closer to realizing that dream," he said.
Enjoy this post?

Buy jerrysmart07 a coffee