Updates - News, Talks, Tours, Pods & Event
Hello everyone - hope you are having a wonderful weekend - here are some updates for you.
First, some wonderful news that the A-bombed warehouses in Hiroshima will be preserved for future generations to learn about the history that happened here and hopefully the structures can be reused in meaningful ways to promote peace, creativity and innovation in Hiroshima.
Women to Inspire a Sustainable Japan Event - May 14th was a huge success!
Wonderful event to hear inspiring talks of women entrepreneurs, farmers, researchers, and educators who are putting ideas into action for the benefit of their communities and finding innovative ways to better balance the needs of people and planet with profits. We also had a Mitarai walking tour focused on the sustainability issues of the dark past and dying town present with new ideas & hope for a better future. Great food and a plastering workshop were also a part of the event. Join us in July as we do another event in Onomichi, Hiroshima and then in September in Aki-Takata Hiroshima. I would love to organize events like this is other areas of Japan as well - we need to hear these stories from women leaders in our communities.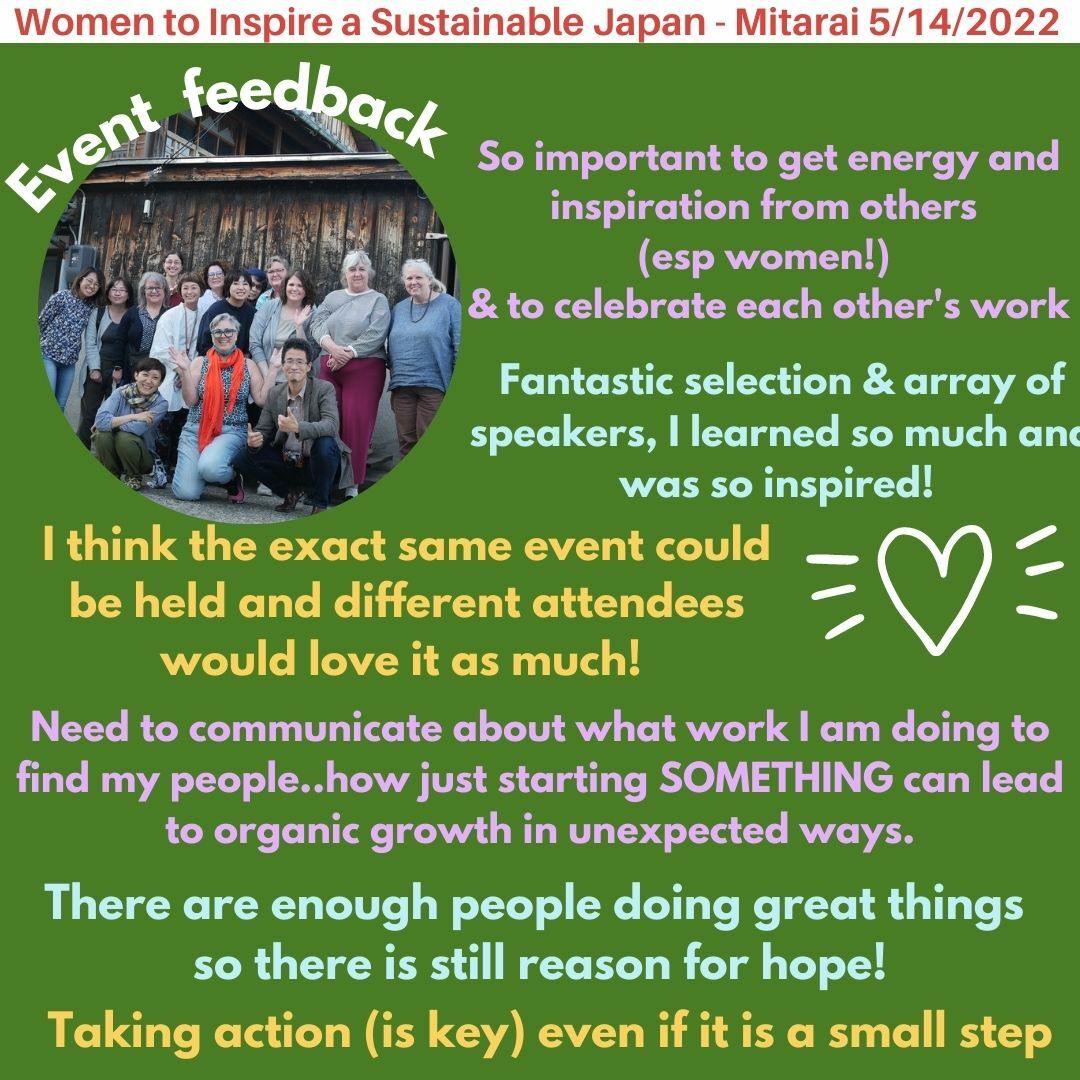 Upcoming talks on Seek Sustainable Japan
Brett Rasmussen originally came to Ojika island, Nagasaki as a JET assistant language EFL teacher and then worked in tourism, but now renovates and builds houses and structures to help revive his local community on this remote island in the Goto island chain. I am so impressed by all of his work to reuse these old houses and make them beautiful, but also his reuse of old (still usable) materials in houses - even the old dirt walls!
Lee is doing so many interesting projects in Wakayama and his cafe and guest house will be open soon - I love the beautiful videos he is making about the area and the introductions he is making to others who want to buy houses in this beautiful village.
Alex Kerr talks about the Minka Summit which he calls the Woodstock of Japan

Andrea Carlson talks about dismantling instead of destroying old houses in Japan to send them to eager buyers in the USA and Europe

Tove & Joy (me) talk about Craft Beer Paper - Circular Yokohama - and give a preview of the Women Inspire a Sustainable Japan event
Enjoy this post?

Buy jjwalsh a coffee