Walnut Challenge is coming
So what is this all about I hear you cry!
We have decided to do our first "Just Making Conversation Group Build", must be nuts right!
This challenge is inspired by our listener Paul Gallagher. Who, after listening to one of our podcasts Episode 21 "Going small" and being inspired by the the subject matter. Paul embarked on the journey of building a model using the Walnut as the base. He said "This stuck in my mind and I think was a key inspiration for a bit of "ModelMagic" I attempted recently with a spare 1:144 Kübelwagen (or two, not to give too much away)."
Check it out on the link below, o my if we had just a small amount of inspiration in you doing this, we are blown away. https://www.instagram.com/p/CZ36USbBzWC/
Amazing work Paul, keep it going.
Inspirational picture- This is the person who made it was Mark Zax and the youtube link to watch how it was made https://www.youtube.com/watch?v=S6vDsUlAK-o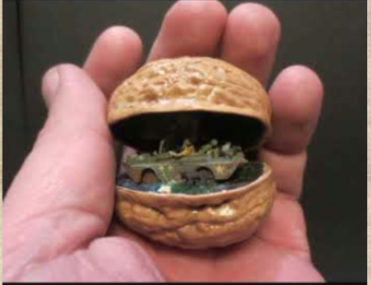 So, you are first to find out all about this'd its full detail.
We have set up a group build page on facebook which is only for the group build. Sign up and get inspired.
https://www.facebook.com/groups/700475447967102
If you need a supply of walnuts we can help. Simply drop us a line with your address with a request for nuts, by personal message or email. Then buy us a coffee or two which in turn we will use to cover the postage of the nuts to your home. Or search a online retailer for a more local supply.
Sign up and the rules for the build are below……… Good luck and get inspired.
Walnut Challenge Group Build Rules
(AKA The 1st Just Making Conversation Group Build.)
Here are your group build rules and guidelines:
Make a diorama entirely inside of your Walnut. Opening the walnut will reveal your work. Closing the walnut will hide what is inside.
Start date is: 1st May 2022
End Date is: 1st August 2022
1/ Entries can only be entered through this page on Facebook.
2/ Make your own album on this page with your name for your nut pics. Your progress of your nuts and your final entry pics for your nut projects.
3/ Your Walnut used must be able to be fully closed and shown closed in your final entry pictures. It does not need to be hinged.
4/ Your Walnut base itself must be a real walnut birthed by a real Walnut Tree, not 3D Printed, sculpted, moulded or fabricated in any way other than naturally grown.
5/ Use any media for the diorama, 3d printing, photo etch, plastic, metal, resin is allowed and encouraged.
6/ Enter as many completed nut projects as you wish.
7/ Combined work on nut projects is accepted.
If you can not get hold of a walnut for yourself chuck us some pennies on Buymeacoffee.com/podcast.jmc and we will send one or two out to you (your country import restrictions allowing)
Enjoy this post?

Buy Just Making Conversation a coffee