Sims Mods Updater 1.6.0 just came out
Hi 👋👋👋
The first release came out the 21st of January 🥳. During a week, a lot of things happened.
First of all, I'd like to say : thank you all for your support on Mod the sims, discord, mail and Buy a Coffee. I did not expect such support from the community. I also did not expect to have coffees on the first week :)
Some highlights of this first week
More than 2 300 downloads 💻, without doing any advertising, which is incredible 🥳

Around 10 active users at any time of the day 🥳

Around 200 daily users 🥳

More than 100 000 search requests 🥳

More than 5 500 mods installed using the application 🥳

And more than 130 mods updated using the application 🥳

Exactly 109 errors occurred (yes, I receive a notification when there is an error, this help me to fix them quickly) 🥳

6 coffees ☕ 🥳

A total of 412 521 requests served 🥳

2 minor updates and 1 patch 🥳
I had to increase my database server in order to handle this traffic. Now, everything seems to work fine 🥳
Let's talk about the new version
The main goal of this version is to enhance the search experience.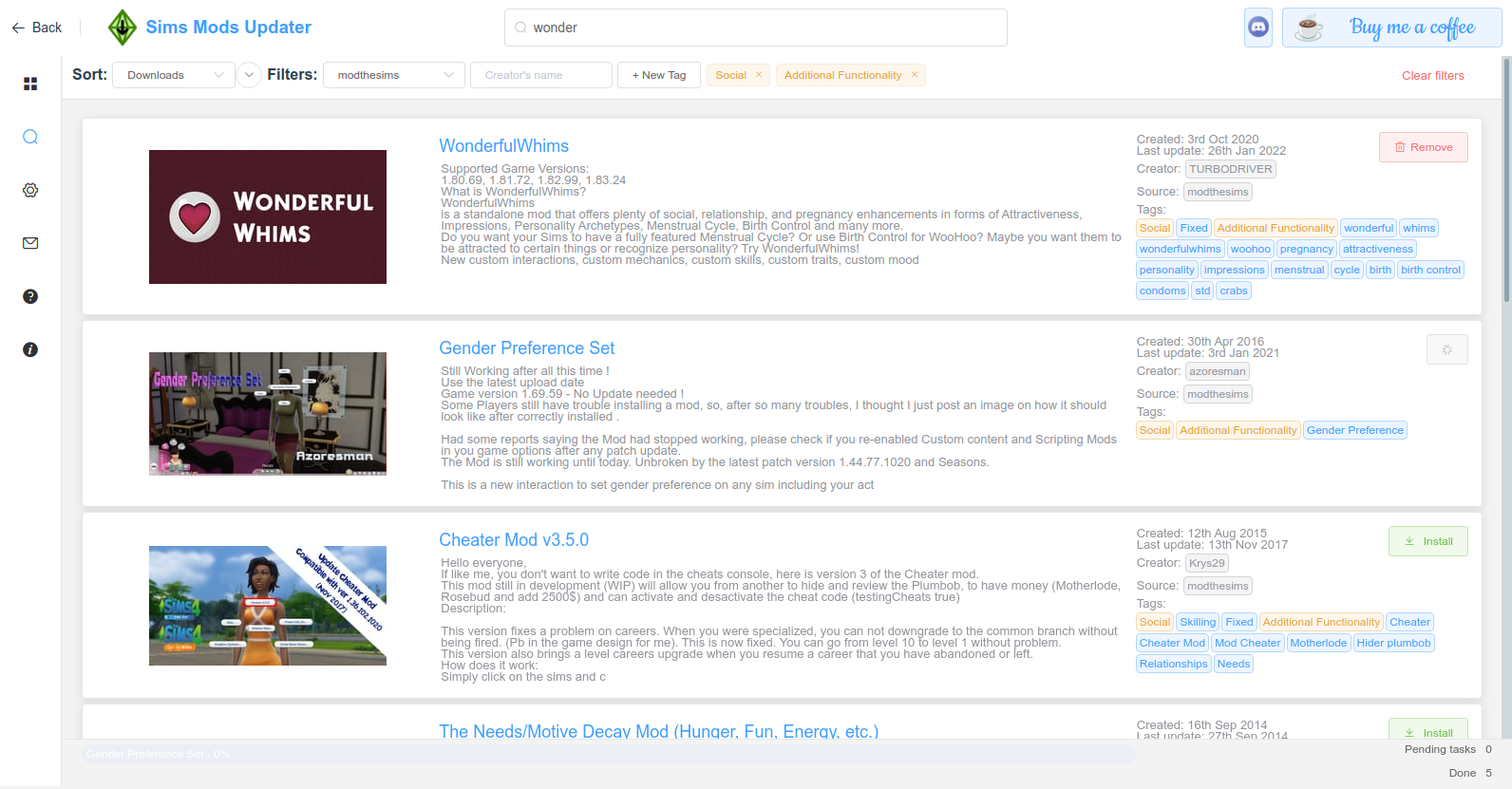 To manipulate filters, you can click on the tags, source and creator 's buttons to add or to remove the filter. The search request will be automatically updated and the results will come in less than a second. Also, you can click the install button to install a mod, without seeing the detail. You can also do the same with the remove button.
Also a lot of minor things have been made, to improve the user experience and to improve the performance.
What's next ?
I am currently building a database with mod files' signature, which means that I will be able to try to guess your manually installed mods. I also want to work on mods management in order to prepare the next thing: share your mods' configuration with others. I also want to add new mods providers.
Changelog 1.6.0
- Display changelogs on new minor versions

- You can disable ads by subscribing to "membership Supporter" on https://www.buymeacoffee.com/joch . You will need to provide your BuyMeACoffee's mail in the configuration's menu

- Mods are indexed more often (1h instead of 1 day)

- You can now use filters to filter search results (already in production without any app update)

- You can now filter by the creator's name

- You can now install and remove mods from the search screen

- Fix performance issue on the search screen (happened only when you scrolled too much)

- Fix update detection when there is only 1 file

- Fix extraction from rar file where it could lead to a crash (Out Of Memory)

- Keep scroll position on the search screen after opening a mod's detail
Do not forget to see the full description of the tool here: https://modthesims.info/d/663925/sims-mods-updater.html
Also, you can directly go my website : https://sims-mods-updater.com/
Feel free to join the discord : https://discord.gg/ZDjc2C4Vfv
Thank you for your support and feel free to join the discord !
Have a nice day,
Joch ☕
Enjoy this post?

Buy Joch (Alex) a coffee