Sims mods updater 1.7.0 is here 🥳🥳🥳
Hey 👋
It was a long and challenging release, but it's finally here! 🥳🥳🥳 Some changes have been made, so I'll talk about them in this post. However, first of all, we need to talk about highlights 👍
Almost one month after the first release
Almost one month since the app has been release. And a lot happened :
⬇️ More than 4 300 downloads

👤 More than 15 active users at anytime of the day

👤 Still around 200 daily users

🔍 Almost 1 million search requests

🔥 More than 38 000 mods installed using the application

✨ Almost 500 mods updated using the application
Let's talk about the 1.7.x version
The main goal of this version is to handle mods that was installed without the application. This was not easy because the application has to detect which mod and also which version. However, I found a solution that works pretty well 🔨
So, when you open the application, it will scan your Mods and Tray folders. This may take some time for the first run, but it will be faster for the next starts (some cache stuff). During the scan, the application will discover your mods and also their version. After that, the application will be able to check if there is an update for them.
With this version, the home screen has been redesigned : it was not usable with lot and lot of mods and there was not a lot of useful information. Here is what it looks like now :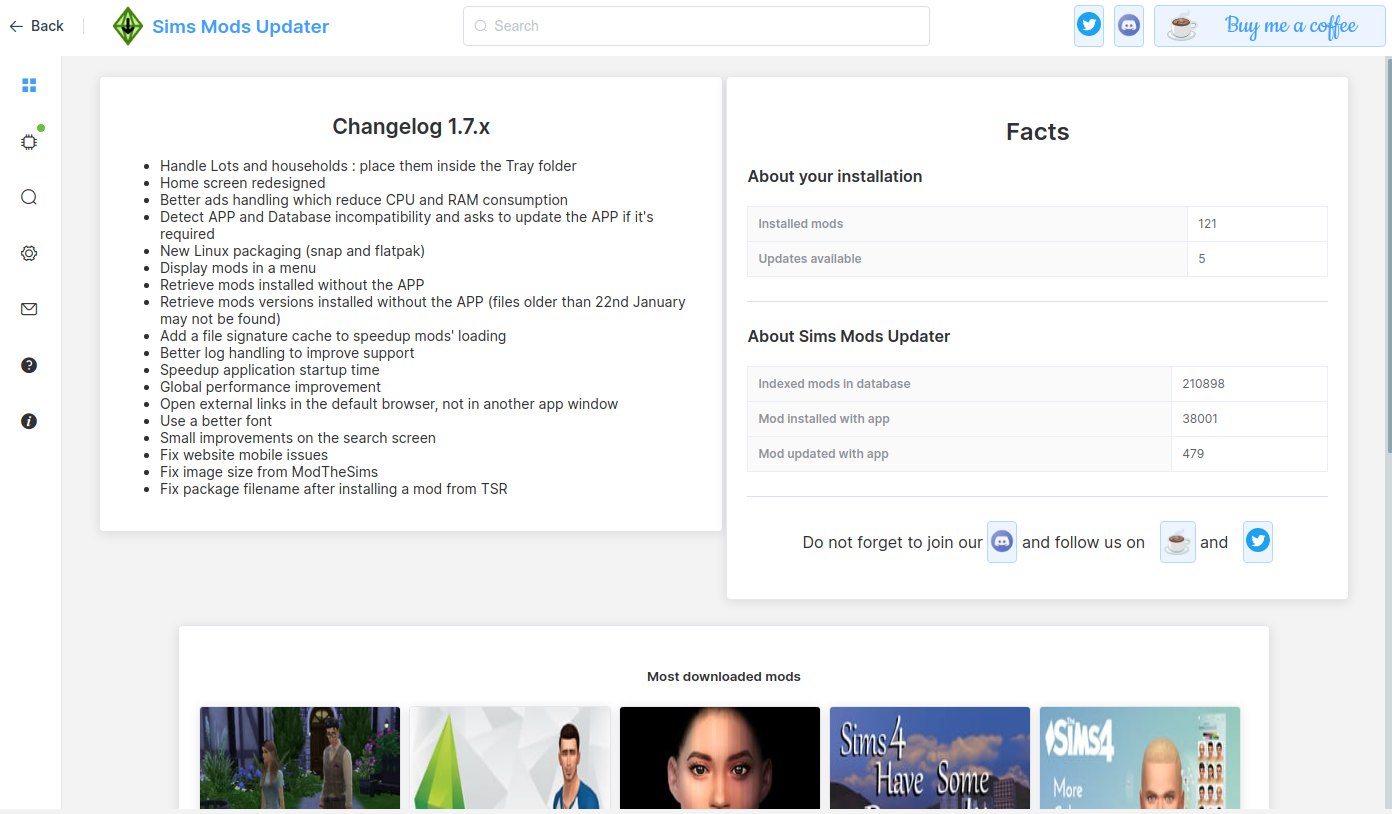 The changelog is always displayed (previously, it was a 'one time display' popup). Also, some facts are now displayed : about your installation with yours mods and how many updates are available, and about Sims mods updater.
All installed mods are now in a menu : it will be easier to see which mods are installed. It will be useful for the next release (you'll see) 👍. Here is what this new menu looks like :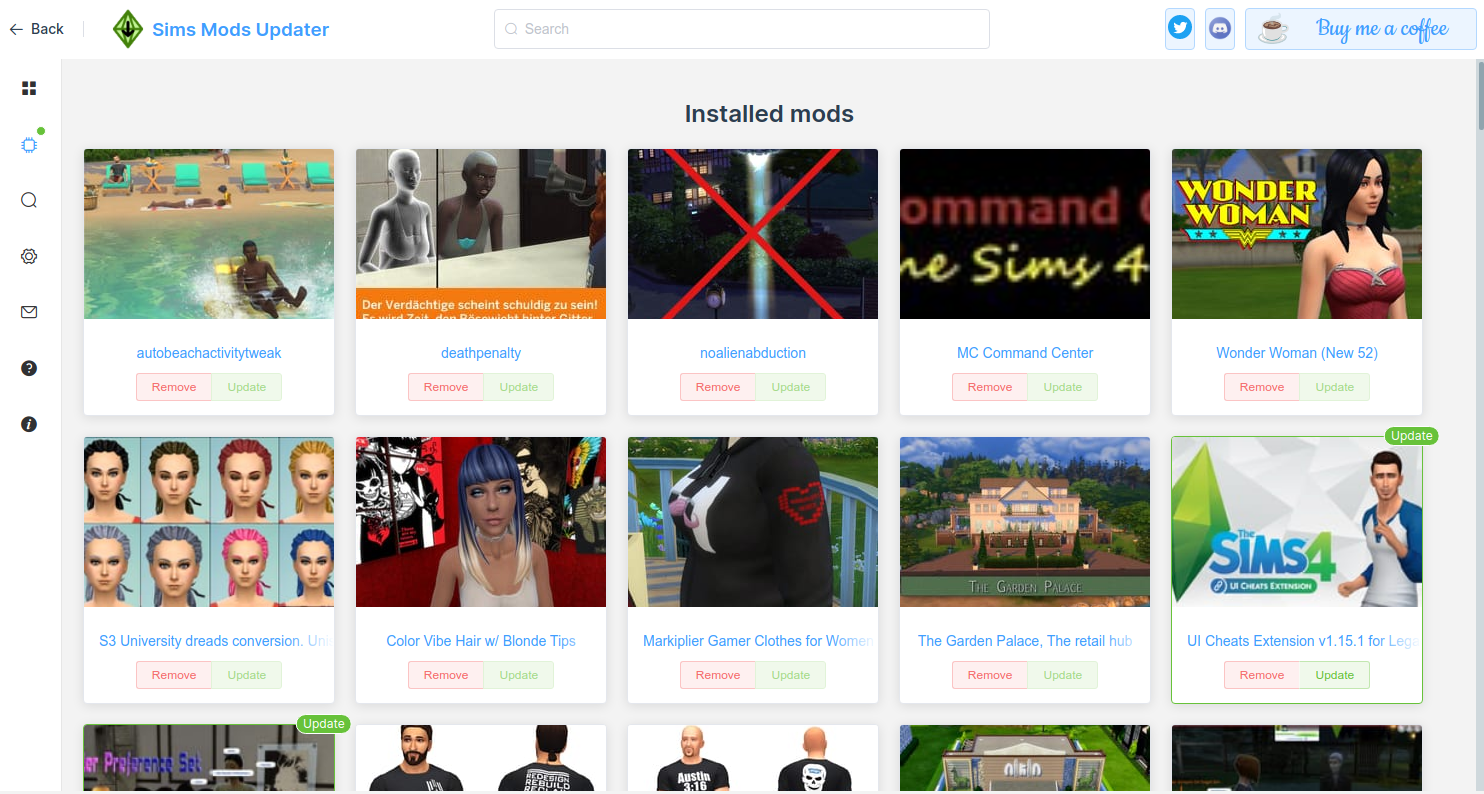 You can see all your installed, you can remove them and upgrade them if there is a new update available. You can click on the mod to have more detail about the installation.
The purpose of this version was to improve performances. I know some of your had issues with "Out of memory" or "Browser crashed". So a lot has been made to :
🏎️ Speed up starting time

📉 Reduce RAM and CPU consumption

🖱️ Smooth scrolling

🕐 Global performance and application reactivity improvements
What's next ?
The next release will focus the mods' management. Here are some of what you can see on the 1.8.x release :
Enabled & Disable mods

Choose which files you keep when installing a mod (for instance, you will be able to remove an optional feature bundled inside an archive when installing a mod)

Detect mods incompatibilities

Tag installed mods and organize your installation folder

...
Full 1.7.x changelog
Handle Lots and households and place them in the Tray folder

Home screen redesigned

Better ads handling which reduce CPU and RAM consumption

Detect APP and Database incompatibility and asks to update the APP if it's required

New Linux packaging (snap and flatpak)

Display mods in a menu

Retrieve mods installed without the APP

Retrieve mods versions installed without the APP

Add a file signature cache to speedup mods' loading

Better log handling to improve support

Speedup application startup time (at a cost of some application weight, sorry)

Global performance improve

Fix website mobile issues

Fix image size from ModTheSims

Fix TSR package filename

Open external links in the default browser, not in another app window

Small improvements on the search screen

Bienchen's mods are now in the database

MCCC mod is now in the database
Do not forget to see the full description of the tool here: https://modthesims.info/d/663925/sims-mods-updater.html
Feel free to hit the follow button in Buy Me A Coffee and Twitter (https://twitter.com/SimsModsUpdater).
Do not hesitate to join the discord https://discord.gg/ZDjc2C4Vfv . I am willing to have your feedback about this release :)
Thank you for your support !
Have a nice day,
Joch ☕
Enjoy this post?

Buy Joch (Alex) a coffee