Sims mods updater 1.8.0 is here 🔥🔥🔥
Hey 👋
The new release 1.8.0 is now out 🥳 After a 1.7.x version which was quite challenging, this version should be more stable and will fix a lot of small issues found in the 1.7.x. Before talking about this new release, let's see some highlights 👍
Highlights
Almost 2 weeks after the last version and we can see that the application is more and more used :
⬇️ More than 4 300 downloads

👤 More than 18 active users at anytime of the day

👤 Around 300 daily users

🔍 More than 1 million search requests in 2 weeks (x2 in 2 weeks)

🔥 More than 60 000 mods installed using the application (x2 in 2 weeks)

✨ Almost 20 000 mods updated using the application
Let's talk about the 1.8.X version
The main goal of this version is to allow the user to manage its mods. This part is not finished and a lot will come next, however, this version is the first step to this direction.
First of all, you can now choose which file to install when installing a mod, even if you download an archive (zip or rar). As you can see on the screenshot bellow, the application knows which files are included in the zip, before you download it. Now, you can install mods where you have to choose which file to install. Isn't it pretty cool ? 🥳

But wait... What happens when there is an update ?
Well, the application will try to guess which files are installed and will pre-select the files that needs to be updated. This is not a perfect science, but if the modder is coherent between its updates, it should do the trick !

In the example above, which is quite dumb I admit, you can see that the application detected that the package was not installed intentionally. So when updating the mod, the application will not select the .package file by default. Keep in mind that you can check this file and the application will install it.
A lot of work has been made on the Mods screen, as you can see on the screenshot bellow :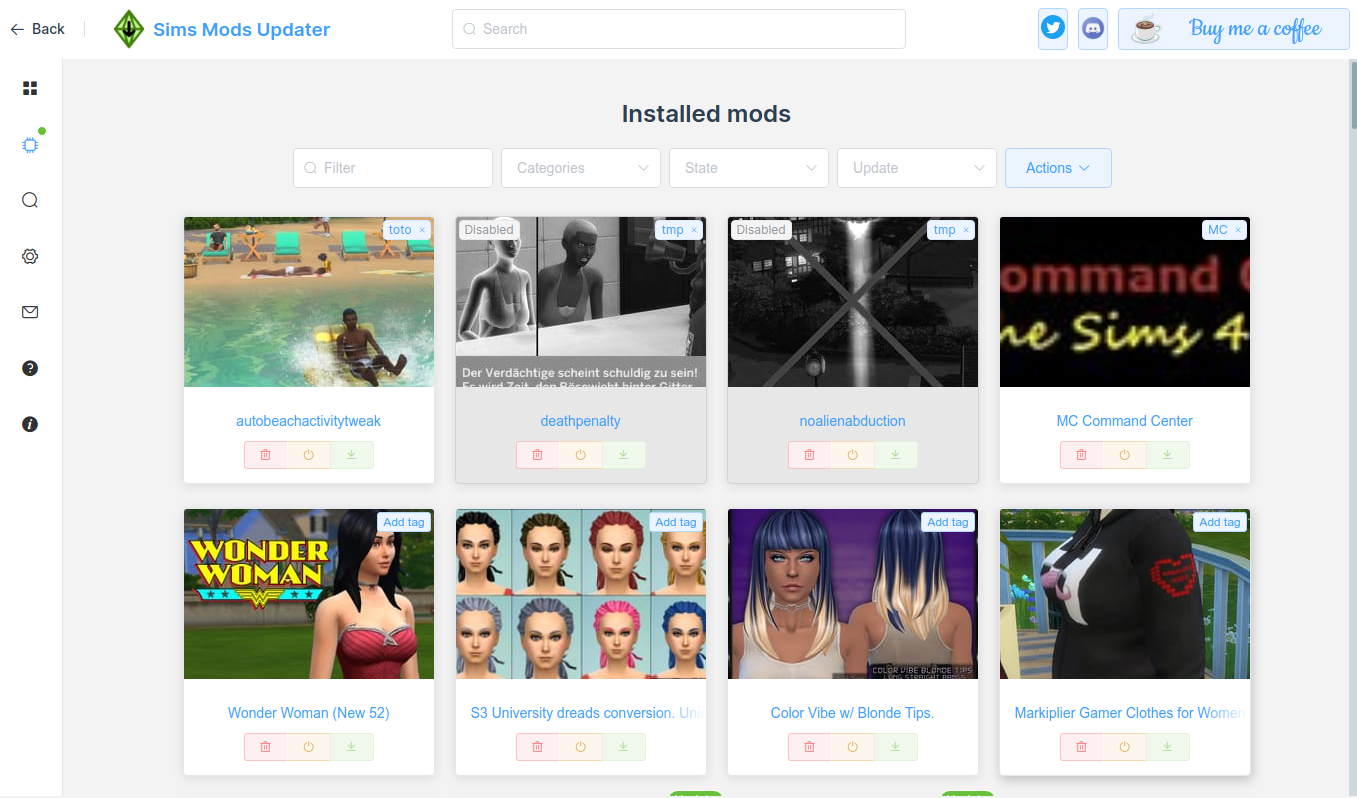 You can search on your mods by filtering on the mod's name, on a tag, etc.
As you can see, you can also enable or disable a mod. And guess what ? This is using the method as the Sims 4 Manager tool, which means that both tools can work together 🥳.
On this screen, you can also ask to rescan your mods folder and you can ask to check updates !
This version was designed to fix a lot of issues from the previous versions :
Fix wrong version detected for some mods

Fix crash when scanning a large mod folder

Speedup loading time

Fix TSR version detection

...
Also, there is some others modifications on this version :
Less ads displayed (around 30% less)

Indexing performance and frequency improvements

Migration to a better server to handle more and more requests
What should come next ?
On the next release, I would like to improve the mods' management. The 1.8.x is the first step and I'd like to make a second one on the 1.9.x, by focusing on mods compatibility. I also want to redesign the mod screen to group mods with the same tag, display smaller titles, etc.
Full 1.8.x changelog
Features :

Choose file to install when installing an archive

Enable and Disable mods (same way as Sims 4 mod manager, so you can use both tools)

Add tag to installed mods

You can now search on your installed mods (by state, by category, by update status and by full-text). Please, let me know if you encounter any performance issue : in my laptop, this is working great, however, it requires a lot of CPU to render the screen dynamically, so let me know if I should work on it or if it's already enough :)

You can ask to rescan your mods folder

You can ask to check mods update

Faster mod detection

Fixes :

Fix mod version detection issue when a file included inside an archive is not updated between 2 versions

Fix update guessing algorithm when there is no doubt about what to do

Fix issue with remove mod feature

Fix mods not recognized when there is too many files to scan

Fix mod recognition with large files (more than 200 Mo)

Fix TSR mod's version recognition

Other :

Reduce number of ads displayed (30% less)

Improve indexing performance and frequency

Migrate to a better server
Do not forget to see the full description of the tool here: https://modthesims.info/d/663925/sims-mods-updater.html
Feel free to hit the follow button in Buy Me A Coffee and Twitter (https://twitter.com/SimsModsUpdater).
Do not hesitate to join the discord https://discord.gg/ZDjc2C4Vfv . I am willing to have your feedback about this release :)
Thank you for your support !
Have a nice day,
Joch ☕
Enjoy this post?

Buy Joch (Alex) a coffee