🔥 Sims mods updater 2.0.0 is out 🥳
Hi 👋
The brand new version, the 2.0.0 is now out! In this post, we will detail what's new in this version. However, let's start with some highlights ✨
Highlights
⬇️ More than 31 000 downloads

👤 More than 30 active users at anytime of the day

👤 Around 100 daily users

🔍 More than 28 million search requests in a month

🔥 Almost 300 000 mods installed using the application

✨ More than 164 000 mods updated using the application (thanks to the last patch)
Let's talk about the 2.0.X version
The first big feature added to this version is a dark theme 🕶. This theme is enabled by default now. You can switch back to the light theme by sliding the switch in the top bar. Also, there is a little UI upgrade. You can see what it looks like :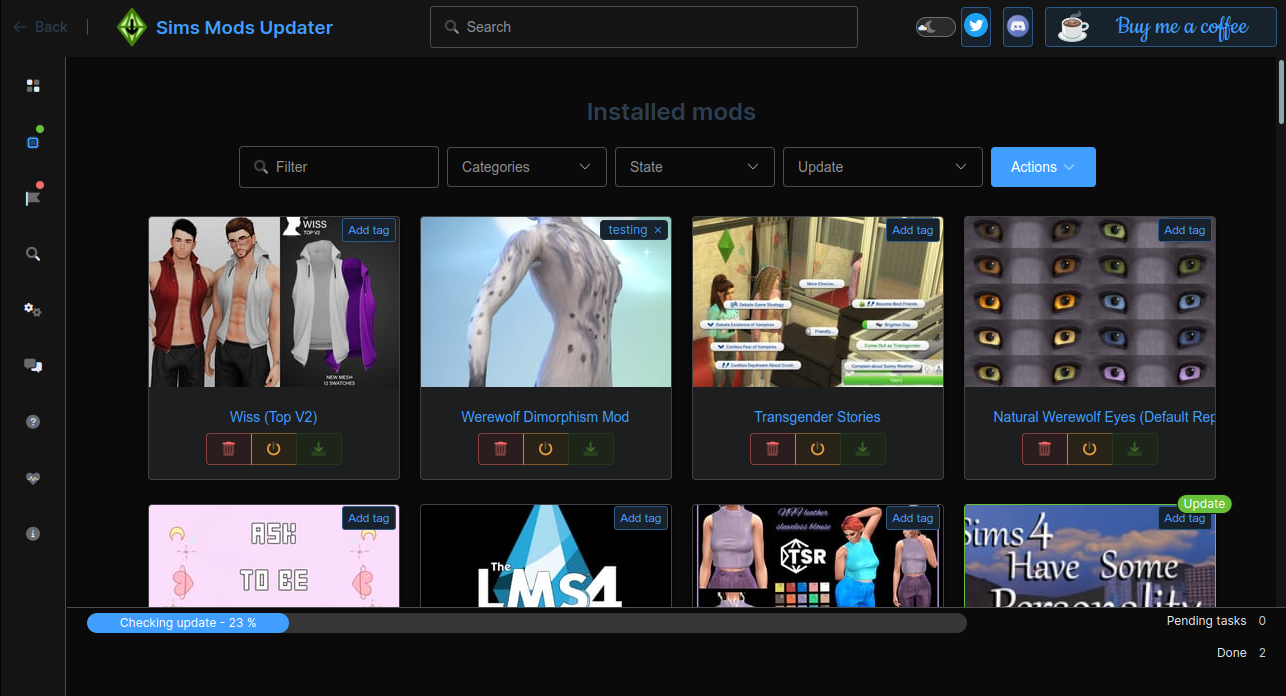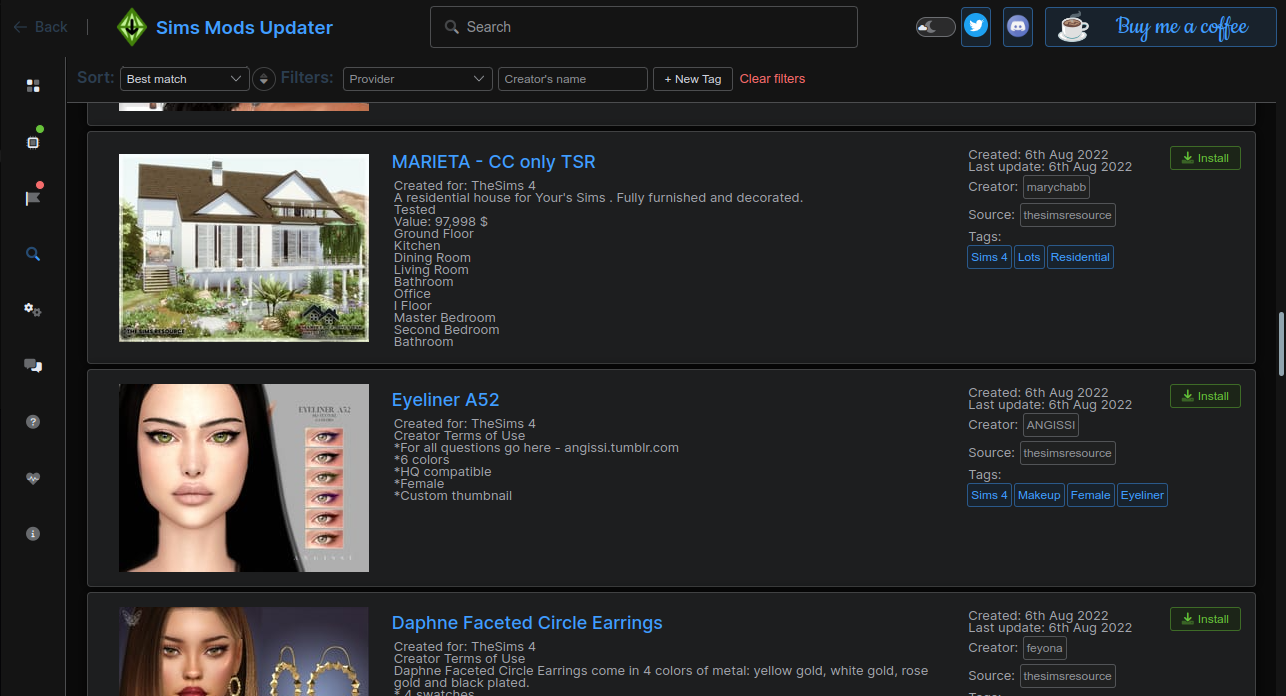 The second main feature is a service checker. This is a component that checks each component and will notify you when a component is not available. You will also receive a notification when all components are up after a failure. This is really handy to understand why a mod can't be installed right now.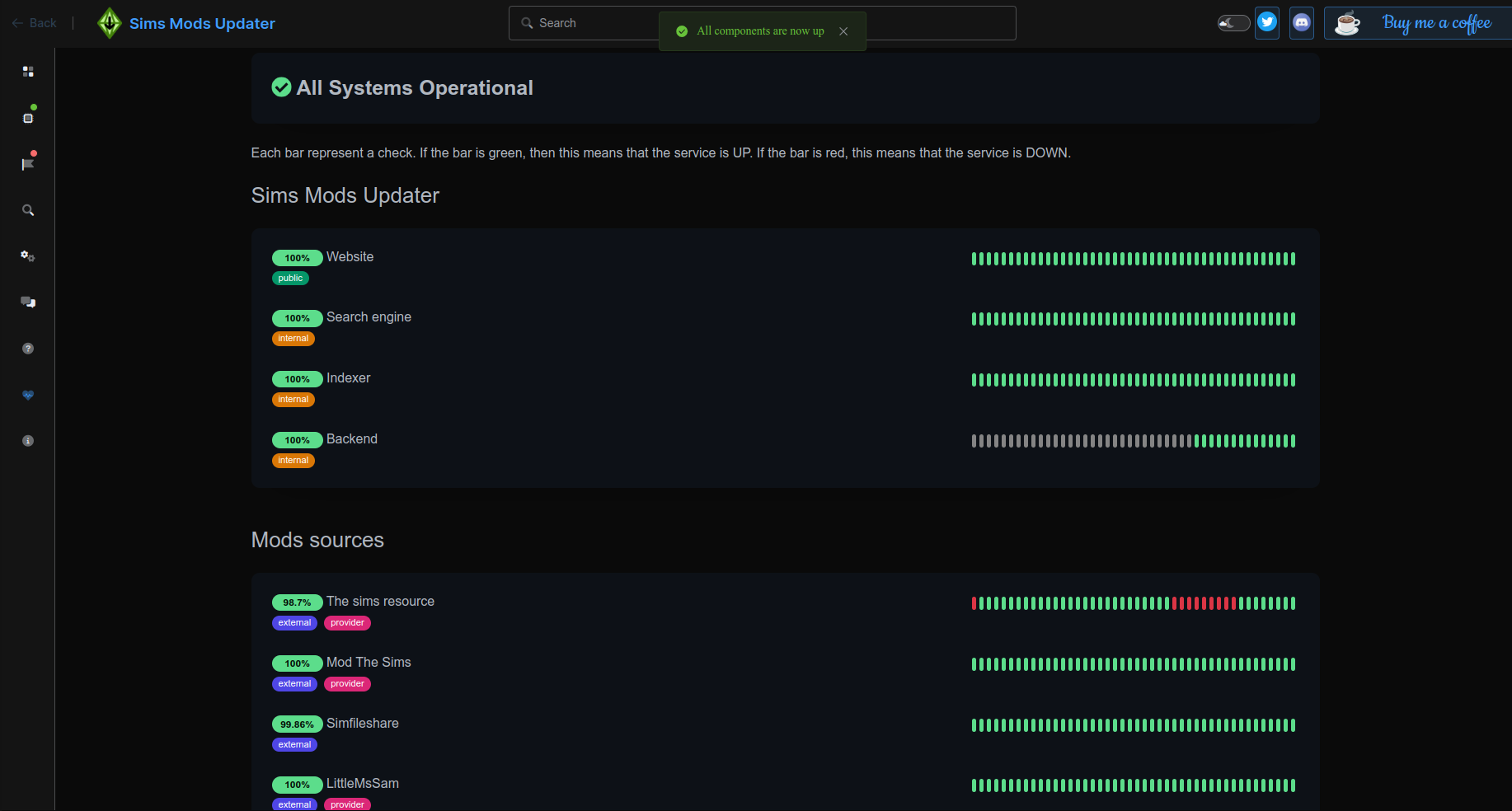 Thanks to that, I saw that the biggest are not the best 😂
This version comes with some rework on the folder created by the app. Now, the app will put updated mod files in the same folder where the previous files were. Also, the app will automatically remove empty folders created. More over, you can now customize the folder name ! In the settings screen, you can change the pattern used to create folders. You can see what it looks like bellow :


Another new feature is the mod suggestion. When you consult a mod, there is now a new menu called "suggestion" which will suggest some other mods, based on what users installed. This will require some time to be accurate, but this is the first step to mod suggestion.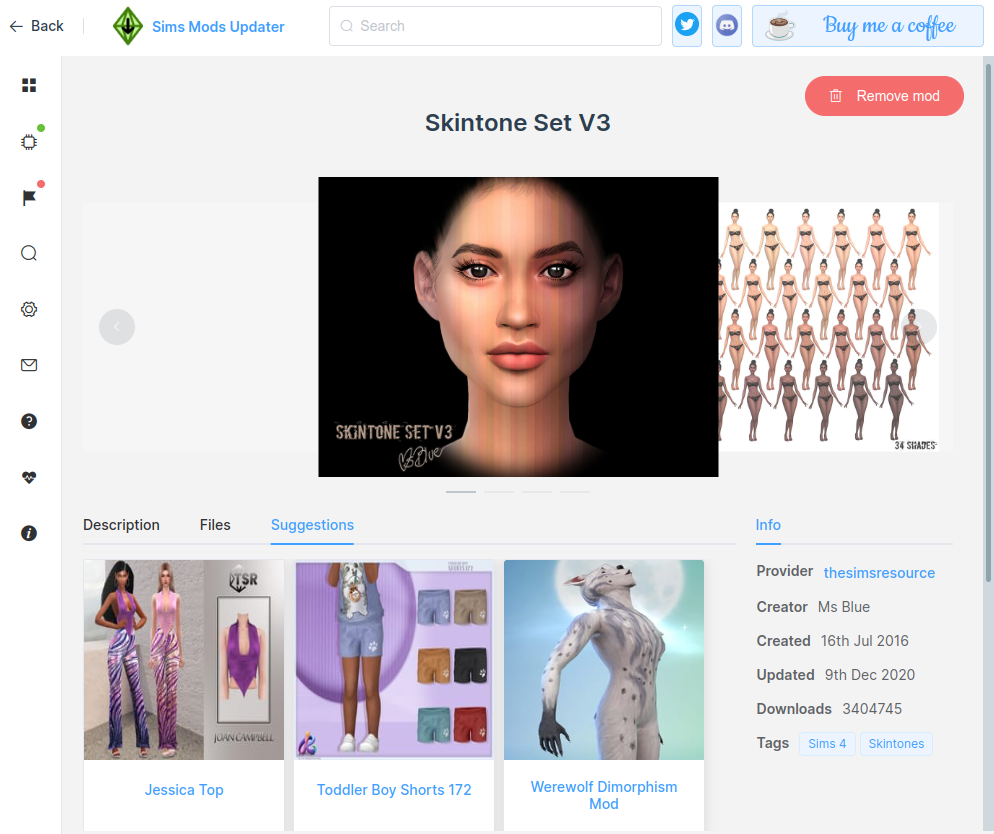 Thanks to that feature, I'll be able to develop new features based on the user, like mod rating, mark mod as outdated, etc.
Also, some performance improvements have been made : the app will be more fluid, specially on "Mods" screen. This screen requires some other performance tweaks to be 100% fluid, but this will come in a next release.
To finish with the last new features, Lumpinou's mods are now indexed and you can disable "Hardware acceleration" (do not disable it unless you experience some laggy issues).
Changelog 2.0.x
Features

There is now a dark theme, which is active by default ; if you want you can use the switch on the topbar to get back to light theme

Delete empty folders after installation or removal

You can now configure the pattern for folders' name created by the app

When you update a mod, new files are now moved to the same folder as previous one, instead of creating a new folder

There is now a mod suggestion on mods detail (may take some time to be accurate)

You can now disable hardware acceleration in settings

There is now a status page which tracks every components used by the system. You will receive a notification when a component is down or when all become available

Lumpinou's mods are now indexed

Fixes

Fix mods not well installed when the mod folder isn't on the main storage drive

Fix useless files not removed after installation if there were not checked

Fix simrealist update tracking on some mods

Fix updates not well tracked on some mods from TSR

Fix issues preventing app from starting

Fix some minor issues while installing / upgrading a lot of mods at the same time

Other

Website errors are now reported to me

Add some help in settings menu

Improve performance on mods screen (still have work to do, but this is a huge improvement x20 faster with 2000 mods)

Reduce wrong file detection
What's next ?
Let's develop some features around the user : mod rating, mod config sharing, etc. And also, as always, add new providers !
Do not forget to see the full description of the tool here: https://modthesims.info/d/663925/sims-mods-updater.html
Also, you can directly go my website : https://sims-mods-updater.com/
Feel free to join the discord : https://discord.gg/ZDjc2C4Vfv
Thank you for your support and feel free to join the discord !
Have a nice day,
Joch ☕
Enjoy this post?

Buy Joch (Alex) a coffee