💰🌎📰 Referral World News for the Week of 9/18/22
You've reached "old news!" Click here for the latest in Referral World News!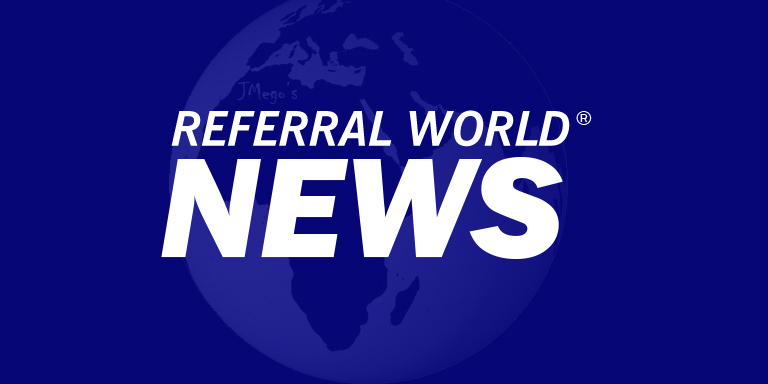 9/22/22
Temu Turmoil
You may be familiar with Temu if you've read my recent articles. They're the shopping app - similar to Alibaba and Wish - that has been offering instant bonuses when you refer 2-3 people. Only requires an email/phone to sign up.
I want to rave about Temu. I really do, because I've earned nearly $300 from them since they went viral last week. I can't do that, though, for the following reasons:
1) Temu keeps changing their promotion daily, and even multiple times daily. It's starting to give me and other referrers whiplash, telling people about the $20 referral promotion, only to have it change to $10, then to $5 (it's currently $5 for two referrals).
2) Referrers have to babysit the referral tracking, because once the spots are filled with 2 or 3 people signing up, the referrer won't be credited for subsequent signups until the referrer has claimed their bonus.
3) They seemingly have arbitrary caps of how much a referrer can earn, which varies by referrer, at which point Temu switches the promotion over to "$X off $200 coupon" bonuses (for example, "$20 off $200 purchase," instead of "$20 Cash" bonuses).
4) Referrers, including myself, have been ripped by Temu - due to system glitches - when we click "Redeem to PayPal" to get our owed bonuses, and are instead issued a "$X off $200" coupon.
5) Temu's customer service is a JOKE. As I type this, I have been going around in circles with them, trying to get the $20 I'm owed from my last round of signups. I've sent them the screenshots reflecting that I had the "$20 cash" promotion, and also of the app error that switched it over to a coupon while I was redeeming the $20 to PayPal. Temu's customer service loves to recycle the same handful of canned auto-responses, including these gems:
"Please note that this activity is arbitrary and the presentation will vary depending on how the page is shown."

"Again, we're deeply sorry that this has happened to you."

"Please accept our sincerest apologies for any inconvenience it has caused."

"If the participation fails, please check and verify if there is an unusual circumstance with the related account."
"We appreciate your understanding and support."
These responses have been sent to me multiple times. The only thing they haven't said, thus far, is that they'll be sending me the $20 I'm owed. I'm really starting to feel like the paperboy from "Better Off Dead"!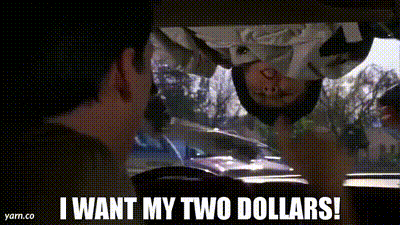 For my own sanity, I am going to personally stop promoting Temu until they fix these issues.
Update: It looks as if Temu's random bonus feature may finally be working as intended. Signups are randomly getting $5, $10, $20 referral offers (none appear to be guaranteed).
Oxygen Ends $5 Signup, Referral Bonuses
https://oxygenbank.onelink.me/vjPj/vel2zas7
Up until now, Oxygen has offered $5 near-instant signup and referral bonuses when new members sign up using an "Earth" member's referral link (Earth is the free banking version). Oxygen has removed this promotion. If you use an Earth member's referral link, you and the referrer can still get a $100 deposit bonus when you sign up and set up direct deposit, receiving $500 or more deposit, and make five debit card purchases within 60 days.
Air, Water and Fire Elements still offers a $10 near-instant signup and referral bonus, in addition to the $100 direct deposit and spend bonus.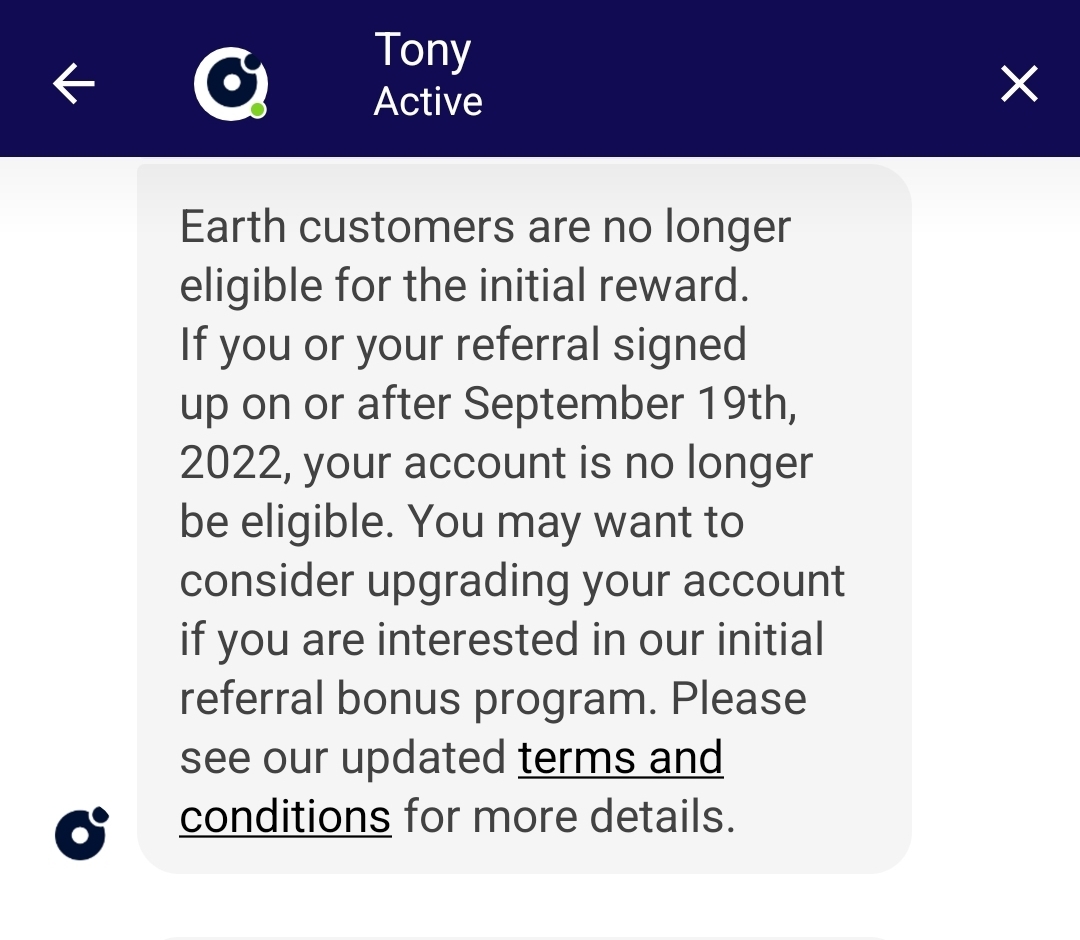 9/21/22
Temu Now Offering $20 Instant Referral Bonuses!
https://shr.temu.com/Pfp3nlzFPGKCwN?ba=rpf
Temu is on Fire! I reported last night, they doubled their referral bonuses from $5 to $10 when you refer two. Overnight, they increased their bonuses again. Now, they're offering $20 when you refer 3! Not quite double considering the third person being needed, but definitely one of the best instant bonus offerings in Referral World, right now!
9/20/22
Temu Doubled Their Instant Bonuses!
https://shr.temu.com/Pfp3nlzFPGKCwN?ba=rpf
Temu, the viral app that hit Referral World last week, is still running, and after initially lowering their bonuses from $20 to $5, they have now increased the bonuses back up to $10 for every two people you refer. Simply sign up using your email or phone number. You'll get a $5 coupon to use on the site. And for every two people you refer - as of now - you'll get $10 instantly sent to you through PayPal.
As previously reported, this is still considered TESTING as the app has been changing things up. It's unclear at this point whether it's unlimited referrals, or if it caps at $50.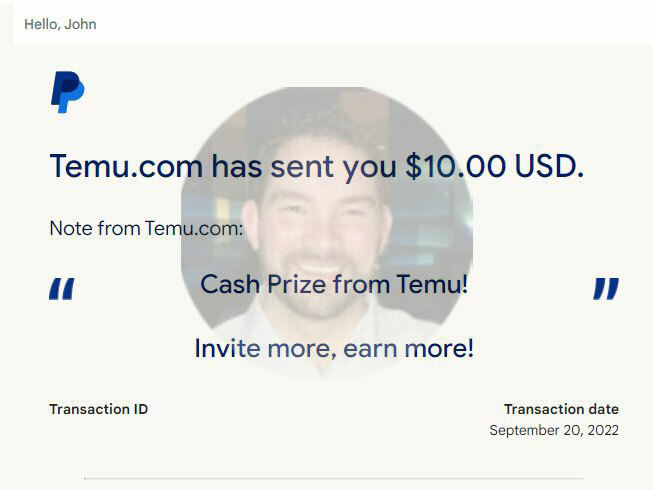 FatCoupon Tightens Belt on Referral Bonuses
https://fatcoupon.com/auth/sign-up?referrer=UTRDBEC3EA
FatCoupon, the popular cashback site I reported on 5 months back, has suddenly "gone viral", being promoted as the latest "New! New! New!" app in Referral World. While it's great that the app is getting some extra exposure, it's also being terribly mispromoted. Mostly due to the "viral effect", where people are signing up and "flipping it" in order to maximize their potential referral bonuses. Referrers who were promoting it today, by and large, appear to not have caught this portion of FatCoupon's terms and conditions:

"Qualified Referral" must:
Be a new member of FatCoupon.

Be a natural person (no business entities, groups, pets, or anything other than a singular person).

Be referred by you via your unique referral link, the links via the invitation forms on this page, or other methods that FatCoupon provided for proper tracking of referrals.

Have earned and redeemed 50,000 FC Coins ($50) in cash back within one year of signing up.
I knew about the $50 minimum redemption, but was not aware of this new policy FatCoupon recently added about having to earn $50 before the referrer gets the referral bonus. What this means is:

1) The person signing up will get up to $15 in signup bonuses and will be able to redeem them, once they've reached $50 in cash back and other methods of earning on the site (such as logging in once a day).
2) The referrer will only get the $10 for this signup once they have earned and redeemed the $50 within a year.
I wanted to make sure I was understanding these terms correctly. I opened a ticket with FatCoupon and they confirmed my understanding is correct.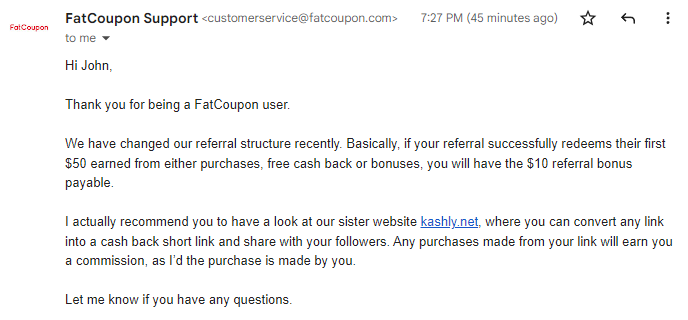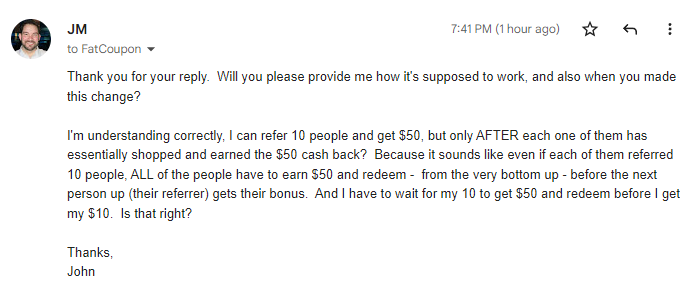 Note that this isn't necessarily new with cashback portals. RebatesMe requires earning $10 cash back within a year before being able to withdraw signup/referral bonuses. Rakuten requires a $30+ purchase(s) before earning the bonuses. That said, the "earn AND redeem" requirement is something I haven't seen with other cashback portals, which is bad news is for anyone thinking they'll hit a quick payday with this [not-so-new] viral-ish app.
That said, there is good news. I've been using FatCoupon since April and have made it a point to use them over other cashback sites because of the multiplier perks they offer. Essentially, your first purchase at any store, you get an extra "10% off your first purchase" (per store, up to $10-$15 max in extra cashback, typically). And I believe they recently added a "5% off your second purchase" If you sign up and plan your online shopping trips accordingly, you should be able to reach the $50 cashback threshold relatively quickly. Additionally, you can visit this page for tasks you can complete each day to quickly build up bonuses.
I still highly recommend FatCoupon due to their generous multipliers and also their decent signup bonuses. That said, if you're a referrer looking to sign up for an app, and flip this app for oodles of referral bonuses and cash out your instant riches, this may not be the app for you.
Steady Results
https://share.steadyapp.com/Brett19
If you've been following my nearly two-month saga with Steady, I have some "good" news. To briefly recap, I noticed in early August that I stopped receiving referral bonuses, despite regularly promoting Steady. My early tickets, messages, etc., were ignored for the first couple weeks, followed by a few more weeks of runaround. First, Steady was asking the common question, "which specific referrals are you talking about, please provide their emails" I've found apps will sometimes do when trying to get out of honoring bonuses. After some runaround, they ultimately dug deeper and found I had reached their $200 referral bonus cap. It turns out that, even though a W9 form isn't typically required for IRS tax purposes until you've earned $600 during the year, Steady requires a W9 once you've reached $200 in gift card earnings. Also interesting, is how they require a W9 while issuing gift cards. To my knowledge, they're the only app who does this. Compare this to Swagbucks, where I've earned over $5,000 to date, and have never had to provide them with a W9.
Regarding my missing bonuses: to Steady's credit, they followed up with Extole, who handles Steady's referral promotion, and found they still owed me $50 in referral bonuses that weren't issued. With that W9 issue out of the way, I will now be receiving that $50 along with all future referral bonuses.
The $200 cap and W9 requirement, I was told, is a change Steady made in January of this year. I was unaware of this since I didn't sign up for Steady until May.
If you've run into issues receiving your referral bonuses recently, you may have hit their $200 cap and will want to reach out to Steady. Their support email is [email protected]. And if you haven't signed up for Steady, yet, I am once again recommending Steady, now that they've fully addressed my specific issues and are honoring the bonuses I'm owed. For more information on Steady's current referral promotion, click here.
9/18/22
RWN Weekly Blog, Daily Updates
If you don't already know, I publish these Referral World News blogs once per week, and I also update this post daily. Be sure to follow me here on BMAC, and/or bookmark www.referralworldnews.com so you have access to "new new new" apps, breaking news, and more!
Impressive Acorns "Refer 4, Get $1,200" Promo
https://share.acorns.com/mpho2002
Acorns is back with a brand new promotion: Successfully refer 4 people between now and 9/24/22, and you'll get $1,200 from Acorns (in addition to $5 per referral)! This is one of the biggest referral bonuses I've seen in my two years of referring Acorns. As is standard with Acorns, each of your referrals must be new to Acorns, sign up using your link, ensure their account is verified, and deposit $5. They must leave this $5 deposit in their account until you receive your bonus, which would be 10/8 (at the earliest).
If you haven't signed up for Acorns, yet, you can sign up using my link above. Acorns has weekly promotions. Once you sign up and we get our bonuses, you can cancel and avoid the $3 monthly fee. Though I recommend keeping and referring Acorns because of their great bonuses.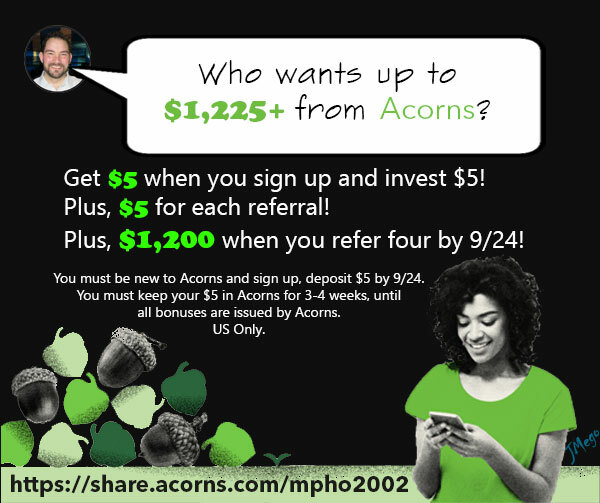 Final Millions Withdrawal Reminder
For Millions members, be sure to withdraw or spend your account balance by tomorrow (9/19). Millions' host bank, Bancorp, will be shutting down debit cards and part ways with Millions at that time.
MoneyLion's $10 Bussin' Bonus Extended through 9/26 (code $60FREE);

Webull's Referral Promotion Rebooted, Extended through 10/12;

Temu shutting down referrer's promo, not honoring $5 bonuses;

Updates on Steady, $200 bonus cap;

Millions Withdrawal Reminder.

Have a Referral News Tip?
Please send me an email if there's any new app/referral news you think I should know about and/or would like to see featured in Referral World News!
And, As Always, Be Sure To Check Out...

Check out my profile, where you can follow me and find my latest posts! Check out my new blog/website, referralworldnews.com, updated daily. You can also find more of my referrals at https://invt.co/@johnmego . And if you haven't signed up for BuyMeACoffee and/or Invitation yet, please use my referral links below to sign up:
Enjoy this post?

Buy John Mego a coffee