November's Creative Challengers Design-Off Details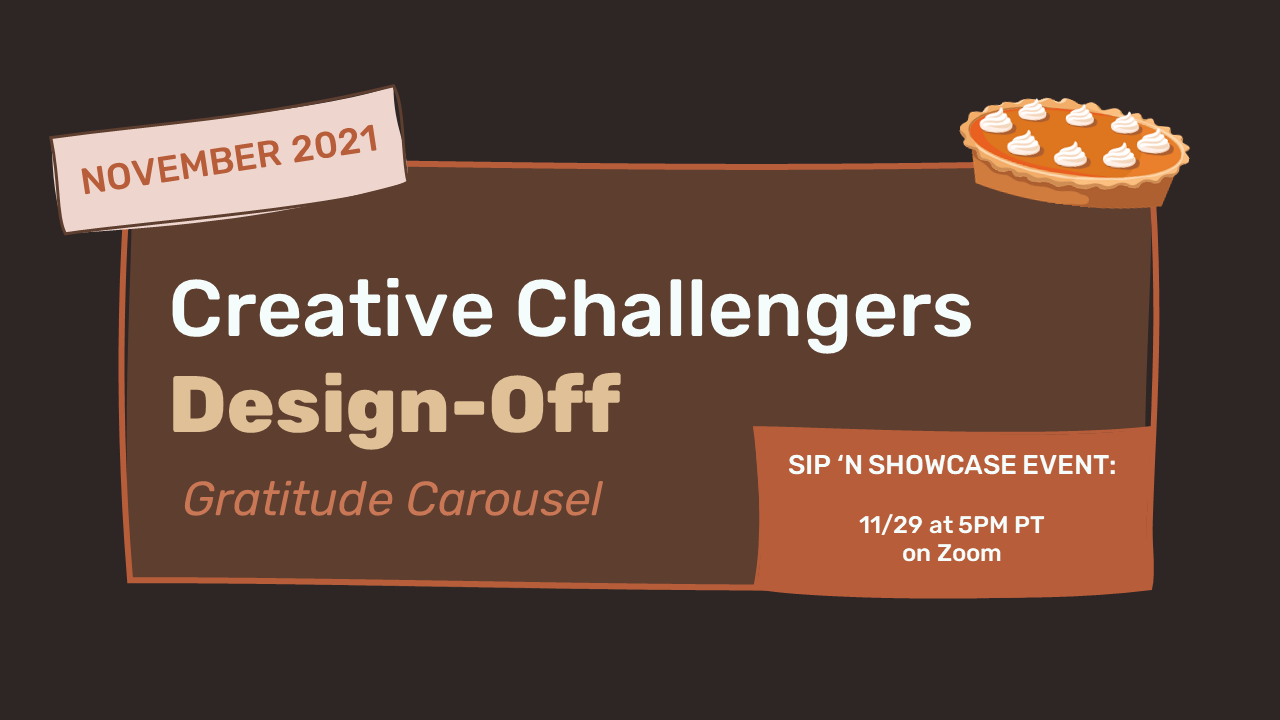 What's this month's challenge?
CREATE A GRATITUDE CAROUSEL 🙏
Using this month's Project Details and Event Bundle PPT assets, create a 9-slide, 1:1 ratio carousel that conveys your gratitude using words and pictures.

You can deliver this in PPT, but you can also go the extra mile and create interactivity in a program like Rise or Storyline, too!

You'll insert your final deliverable into a Google Doc "Process Document," along with other glimpses into your creative process to share with others. (Palette, design inspiration, etc.)
☑️ Submission Requirements
9 individual slides on a 1:1 square canvas

One title slide

Seven (7) content slides (one for each of the seven items you're grateful for)

One wrap-up slide with a call-to-action

One or two of three pre-determined fonts

One of four pre-determined color palettes

Interactivity:

The actual ability to progress forward/backward, OR

Arrows on the slide indicating what the ideal user experience would look like

A progress indicator of some type
NOTE: FULL DETAILS AND EXAMPLES PROVIDED AFTER DOWNLOADING THE PROJECT DETAILS & EVENT BUNDLE
📅 Deadline
🍷 Sip 'n Showcase Happy Hour
We'll host a "Sip 'n Showcase" Zoom Meet-Up on Monday 11/29 at 5PM PT for this month's participants to meet virtually and share their work!
WHO CAN ATTEND? This event is open to both Creative Challenger members (for free), as well as as guests who purchase the November Project Details and Event Bundle.
Want to participate?
YOU HAVE TWO OPTIONS!
🌟 Participate as a Member
Become a monthly Creative Challengers member to download this month's Project Details and Event Bundle and attend this month's Sip 'n Showcase for free.
🚩NOTE: Current members will need to log in to their Buy Me a Coffee accounts to download this bundle for free. (Weird quirk of this system.)


As a member, you'll also get access to our our private community on the Kaborzi Learning Network, where you can meet other IDs and show support for one another's work in our private platform!

You can become a member for just $10/month.
👋 Participate as a Guest
Download this month's Project Details and Event Bundle to get the full instructions, and "drop in" for this month's Sip 'n Showcase on 11/29 for just $10.
As a guest, you won't receive access to the community cohort on the Kaborzi Learning Network, but you WILL still get to see others' work and have the opportunity to share your own.
Why become a Creative Challengers Member?
Community: When you join the Creative Challengers membership for $10/month, you'll get access to the private eLearning community on the Kaborzi Learning Network!
There you'll get access to monthly creative challenges (like this one!)

You'll also meet other IDs and build connections with others hoping to grow.

Source files: All members will receive in-depth details and directions for this assignment, as well as access to my own Storyline source file so you can see how it's done yourself.
Support: It's fun to create together in a supportive environment! Plus, all members will get to see everyone else's submissions, too. 👀
Friendly competition (and encouragement!) We'll also vote as a group for winners in FOUR categories:
🏆 Most Quirky

🏆 Most Elegant

🏆 Most Detailed

🏆 Most Impressive Creative Evolution (from start to finish)

HAPPY DESIGNING!
Enjoy this post?

Buy Kathy Borysiak a coffee