Why buy me a coffee?
Welcome friends, fans, followers, and anyone else who stumbled upon this page.
I'm Kelly - a mixed media collage artist in Rockport, Texas.
Buy me a coffee is an opportunity for you to make a difference. Maybe you don't buy art. Maybe you don't take art classes. That's okay. You can still leave me a "tip" by "buying me a coffee" to show your support for the work that I am doing every day.
I've also got some membership options that will give you a "Behind the Scenes" look at my art practice and teaching. I'll regularly share works-in-progress, my messy studio, and classes that I'm preparing for in-person or online teaching. I'll show you the real "behind the scenes" and talk about my process, my inspiration, and everything else that's happening in my little corner of the art world.
Here's an example of the content you will see when you go "Behind the Scenes" with me:
Tuesday, January 11, 2022
I am still pinching myself to make sure this is real, but Friday night I was awarded "Best in Show" for my mixed media encaustic artwork "Square Peg | Round Hole" in the All Membership Show at the Art Center of Corpus Christi.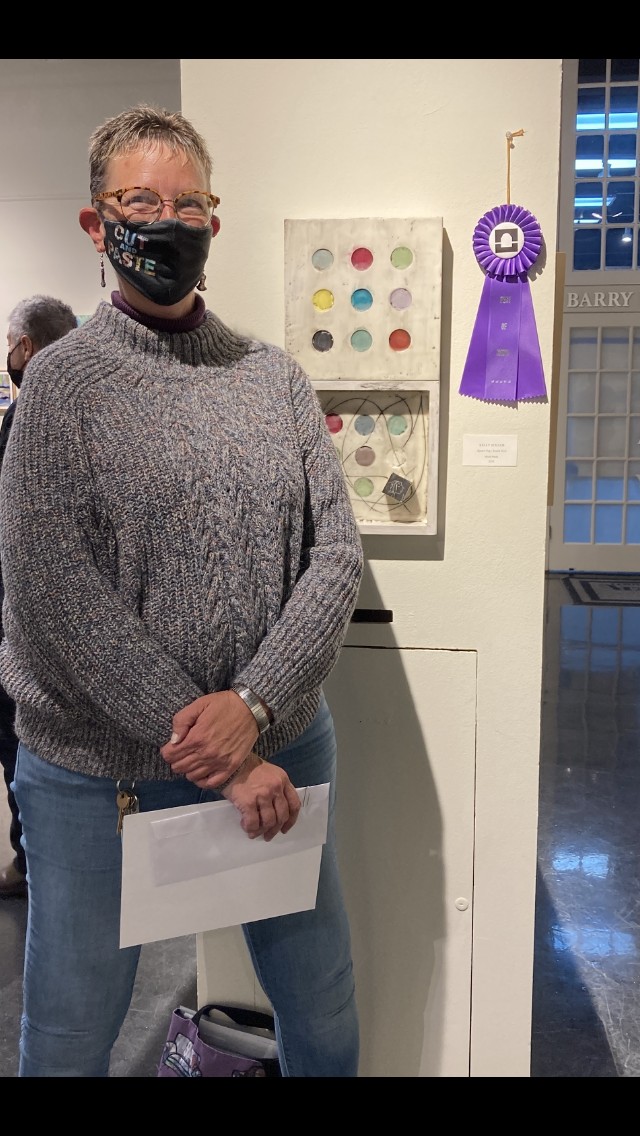 I've been calling myself an "artist" for about 5 years now, and have been teaching collage for about 4 years. I've received some nice recognition in that time, and started teaching online at the beginning of the pandemic. But - full disclosure - I don't sell a lot of work. And in-person teaching hasn't made me rich - my last 2 in-person classes had 3 students in one and 2 students in the other. I try to keep my online classes affordable and offer scholarships, payment plans, and several free events. So, while I would say that I am successful, I'm also not getting rich, and that's okay.
Back to the "Best in Show" award... this honor means that I get a solo exhibit next year in the Kucera Gallery at the Art Center of Corpus Christi. And I'm thrilled! But also terrified... I've never had such a large show, and I've actually never had any of my work professionally framed. Yikes - the expense of creating so much work, the materials, the framing, the time... So, I figured this was a great time to solicit some support AND offer something of value to my supporters.
Every level of monthly support helps immensely. It really does. And, in return you receive a very real, transparent look "behind the scenes" at my successes and not-so-successful attempts. All monthly supporters will get exclusive access to posts at least weekly. You'll be a real insider and know what I'm working on, how the planning for my solo exhibit is going, what I'm planning for in terms of in-person and online classes - all of it! Probably even some messy studio tours! Different levels get different perks, and all support is greatly appreciated.
So - that's it. You can "buy me a coffee" just to show some support, or you can sign up to be a real insider and go "Behind the Scenes." Any and all support is appreciated so very much. Thanks for reading this.
More about me: https://www.playonwordsdesign.com/
More about Collage-Lab: https://www.collage-lab.com/
Contact me if you have any questions at all.
Thank you!
~Kelly
Enjoy this post?

Buy Kelly Schaub a coffee