I Am Obsessed with the Lil Nas Video Just Like Everyone Else
Lil Nas X's video for "MONTERO (Call Me By Your Name)" dropped the day after I came out. Along with millions of fans, I clicked over and watched because the song is a bop and I knew the video would be fun. Like a whole lotta people I've had the track stuck in my head a couple days: it's popped up on Reels and Tik Toks, and has been a welcome soundtrack (on Spotify or just in my braincase) while I work.
So yeah - the song slaps. It's also more than just a hot track, it's a deeply meaningful one: "MONTERO" is a coming-out letter to Nas' 14-year old self, christened after his given name.
And the video is great. The video is... really great. SUPER great! At this point I've watched it a ... few times (mind your business!) - including showing my 19 year old son last night after dinner. ("He's hot and he knows it," my oldest child remarked. Indeed!)
Briefly: the video opens up with Lil Nas as Eve in Eden, strumming his guitar against a tree and daydreaming. He's approached by the Serpent (also played by Nas) who begins making sexual advances. As Nas/Eve flees through the garden he's accosted by strange, lascivious imagery while the song lyrics describe using drugs to cope with the pressure of staying closeted. The Serpent springs up in his path and stares into his eyes; Eve/Nas falls into a sexual trance, allowing the Serpent to kiss him and then begin licking his body.
So at this point in the proceeds I'm thinking, Wow, this is cool. Great imagery and we don't see Black queer love in mainstream music videos much.
Oh honey. Just wait.
The video progresses through three more tableaus; Nas on public trial ("They condemn what they do not understand" inscribed on the hall floor) as his verse increases in pitch, urgency, and more direct sexual lyricism. An audience of stone-people shout angrily and then stone him to death. Next scene: he begins to ascend to Heaven where his angelic (closeted) lover hovers just out of focus. Instead of accepting the invitation, Nas grasps a black spear thrown from below, transforms into a pole dancer in thigh high platform boots, descends to Hell, confronts Satan with a lap dance - then breaks the Prince of Darkness' neck and places Satan's horns on his own head as his eyes begin to glow.
I... I just.
We'll be seeing a lot of analysis of and reactions to the video this spring (and a lot of upset homophobes). The production is packed with religious and cultural commentary and imagery - and perhaps even its own theology (the Eden tree's text, for instance, is translated as "after the division the two parts of man, each desiring his other half", from Plato's Symposium). Twitter is abuzz with discussions about religious trauma and the heavy costs these upbringings inflict on our queer youth.
My thoughts, for what it's worth.
If the video were to claim an energy, I suppose it would be: "I Do What I Want". It's not just a repudiation of religious indoctrination and homophobia, it is a staunch, underlined, festooned-with-a-wax-seal letter scripted by an assured hand. For all the pageantry and some lusty lyrics and imaginations, the video is devoid of a hyper-masculined hardness or aggression. It's beautifully vulnerable, then defiant, then measured and assertive; culminating in Nas' choice to move forward (and confront the devil) instead of staying hidden (and "angelic").
It's also a creative expression that I would guess pretty much reflects exactly what Lil Nas has to say right now (a suspicion bolstered by the fact Lil Nas plays every character in the cast - and [edited to add] Nas' own recent commentary). The strength of the video's statements are simply breathtaking. He could have taken things all kinds of directions but he took them exactly where, I suspected, he wanted to.
And as an artist that's what's really getting to me.
We produce our work and the truth is, we can't stop. We create, create, we write, we express ourselves. We can't halt our creativity (so it's futile to try) - but we don't always get it right. Sometimes what we write, what we say, what we express, what we sing - it isn't quite there. Sometimes we're not bold enough, we're not real enough.
And sometimes, we are.
This video is fearless, this video is beautiful - and this video is buckets of fun! This video - full of CGI devils, towering wigs, and technicolor excesses - feels real.
No one has to come out until they're ready. But one thing I believe: when we come out we are often free to express ourselves - personally, professionally, and artistically - as we never have before. For myself, coming out means I can look at my writings, my work, and I can know I expressed myself exactly how I wanted to. Wherever the future takes me, I know I made a record of the Now. Making a record of the Now is precisely what I always mean to do.
Yes, I'd love to be welcomed and celebrated when I publish my work; in fact, I crave validation and acknowledgement. But having expressed myself perfectly, is more important still. When I express myself correctly, I embolden others to do the same. Authenticity is a tuning fork which strikes within us all when the note is hit.
I want nothing more for Lil Nas to achieve his agenda - saving young queer lives! - and I wish him safety and fullness of expression.
I wish this for us all.

"they will say i'm pushing an agenda. but the truth is, i am. the agenda to make people stay the fuck out of other peoples' lives and stop dictating who they should be. sending you love from the future."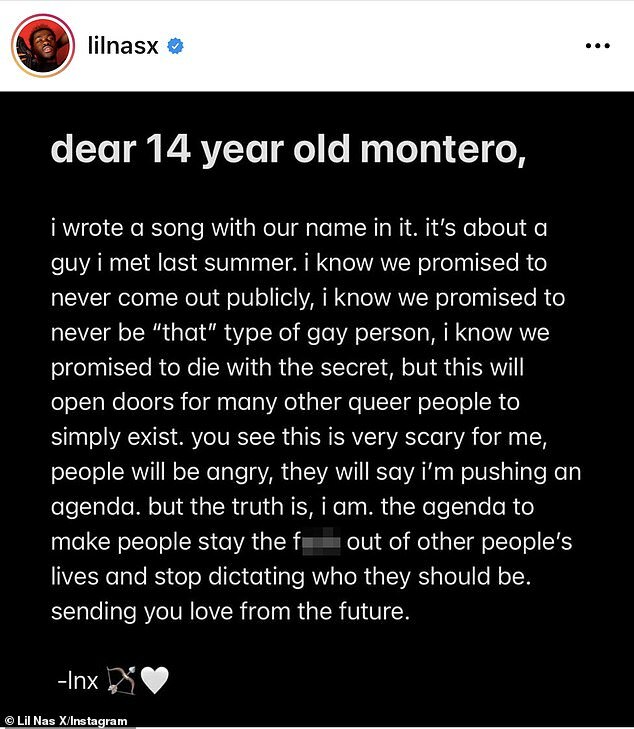 Enjoy this post?

Buy Kelly Hogaboom (they/them) a coffee