I am Alive.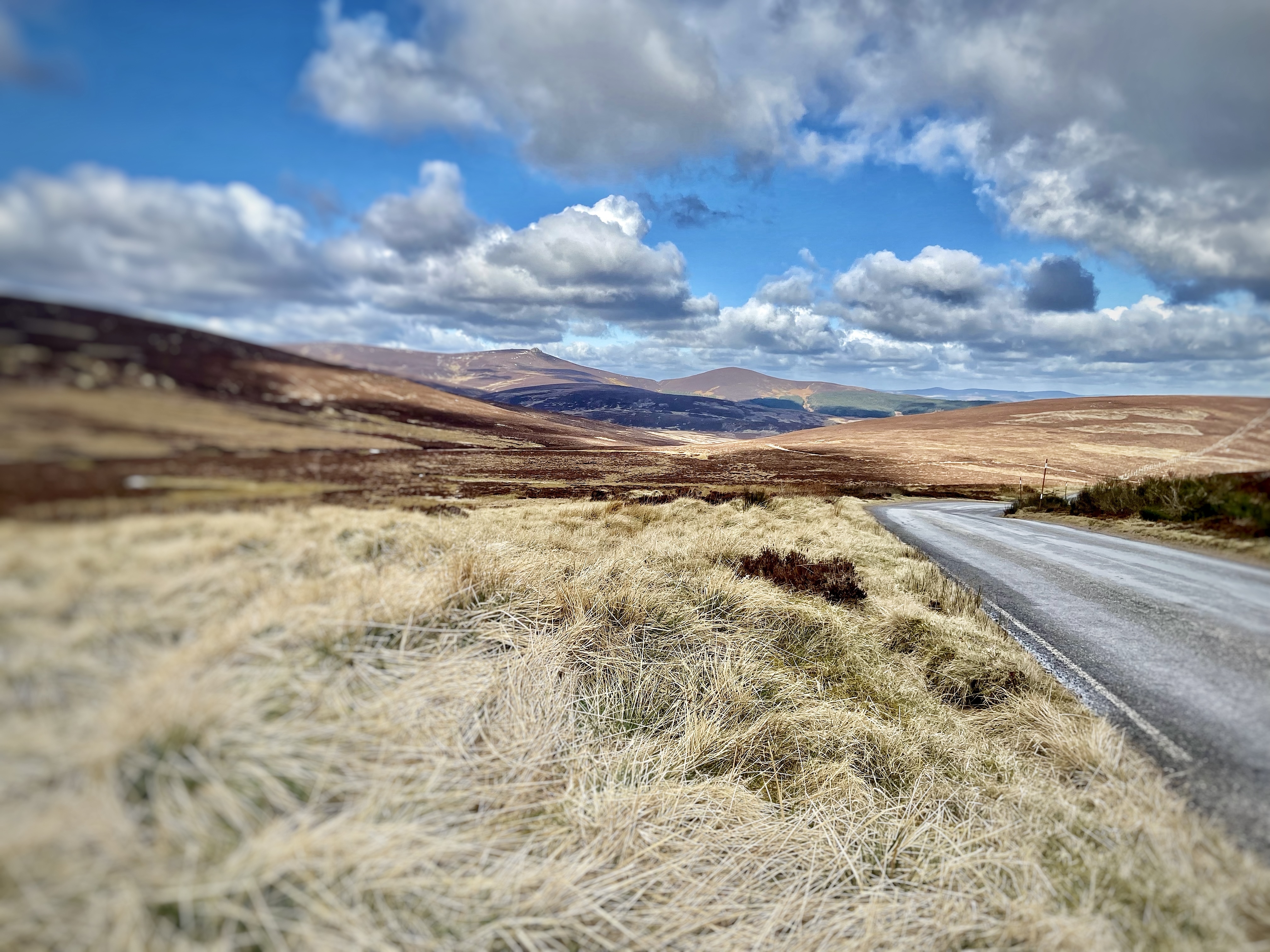 I missed yesterday's blog because I was getting ready for a great big adventure. I don't go anywhere much, but a delightful friend had asked me to go to Kelso races with him and I suddenly thought it was time to leave my comfort zone. It's a four hour drive, so that felt like a voyage to me, and it required some planning.
Thus it was that I leapt out of bed at 6am and put on my glad rags and made a special picnic (I always get peckish on the road) and set off into the glancing morning sunshine.
To get to the main road south I follow the lower side of the River Dee and then turn off to the Cairn O'Mount. This is a great landmark in our neck of the woods - a mighty cairn on top of an elegant, sloping mountain. The countryside round about is wild and empty, mostly heather and threading silver burns. It's high up, above the treeline, and there is not a habitation for miles. It's proper wilderness, something that always astonishes me in this tiny, crowded island.
I was loving it, driving up into the sun, feeling lucky that I had this place. I know the route like the back of my hand; I've been driving it for twenty years. I always feel happy on that road.
I was just noticing how much frost there had been in the night. The gritters had not been out, so I steadied into the next bend. I was going up a steep slope, and curving round to the left.
And then, without knowing how or why, I left the road.
It was as if the car had taken on a mind of its own. It raced hard into the undergrowth. The smooth tarmac was replaced by packed, rutted earth. There was a great, angry noise as we ploughed through bracken and heather.
Time speeded up and slowed down. The screech into the tundra lasted for perhaps seven seconds. It felt like a flash in time and it felt like it went on forever.
The car juddered to a stop.
Everything was a blur.
I thought: 'I am alive.' And, 'I have crashed the car.' And, 'Never mind, I'll just reverse it out.'
I tried to go forwards and backwards. Forwards was a bust, but backwards seemed to have some purchase. I was at an angle, having rocketed through a dyke. But I still had optimism, until smoke started billowing from the left side of the car, along with an acrid smell of burning.
I leapt out, feeling proper fear for the first time.
That was when I saw that the left front wheel was bent at a horrible angle and the tyre had come off. It was the metal rim against the dry heather that was causing the smoke. There would be no reversing out.
Luckily, no spark had caught. There would be no fire. My heart rate steadied and my mind started working. I'd boasted to someone yesterday that I was good in a crisis. (This always surprises me.) I told myself, sternly, 'Be good in a crisis.'
Everything was still a blur and I finally realised that this was because my spectacles had come off in the crash. I got back in the car and fumbled about and finally found them under the accelerator pedal. That was the weird thing: I felt no bumps or bruises, no ache from where the seatbelt had restrained me, but there had been so much kinetic energy in that car that it had plucked my glasses clean off my face and hurled them five feet to the floor.
I contemplated that for a moment, and concentrated on resetting my nervous system. I needed to get out of fight and flight, so that I could think and plan. I didn't want the trauma to settle in my body. 'You are alive, you are alive, you are safe,' I kept telling myself.
The absolute miracle was that, if I walked farther up the slope, I could get a single bar on my mobile. The lonely bar flickered in and out, uncertainly, as if the wind was blowing the signal away. But there was something.
There followed an hour and a half of trying to get through to the AA. As I was doing this, battling the wind, a stupidly long wait, and the taunting, disappearing signal on my telephone, I wrote it all in my head. (I write everything in my head.) At the time, it was an epic tale of frustration and disbelief and rage. At one point, I yelled, into the wind, into the empty spaces, 'Pick up the fucking telephone'.
After twenty minutes of being on hold, I finally got through to The Most Useless Human in the World. This is very unlike the AA. I've been with them for thirty years, and they have always astonished me with their empathy and efficiency. I don't know what happened with this person, or how he slipped through the net. I kept explaining to him that I had little battery left and the signal was unreliable and that I was on top of a mountain in the middle of nowhere and he made surly remarks about having to go through his systems and kept asking me whether I had taken any drugs.
'I've had some coffee,' I said.
'Be patient,' he said, crossly.
'This is not impatience,' I said, my voice quarrelling with the wind. 'This is desperation.'
The slowness and the surliness eventually doomed us. The battery died, on top of that lonely hill, and I was left mouthing into vacancy.
I had to go back to the car and recharge the telephone, watching the battery tick up with agonising slowness, before I tried again. This time, the accident line kept me waiting for twenty-three long minutes, but then, like an angel of the north, there was the enchanting, reassuring, human voice of a woman called Jeanette. She got it at once. She worked like lightning. She did not ask me if I had taken any drugs.
The signal held, even though I had to shout louder and louder to be heard over the wind. 'I am sorry about the terrible noise,' I said. Jeanette was not fazed. She was, truly, good in a crisis.
At last, at last, I knew that someone was coming.
I got back in the car and took out my notebook to write down that story I had written in my head, but my hands were too cold to hold a pen. I could only make some indecipherable scratches on the page. I thought of Captain Scott, keeping his diary. I thought of the superhuman effort it must have taken him to write those tragic, stoic words. I had never really thought of what cold can do to the motor functions. Now I knew.
I could not write, so I turned on Radio Four instead. Here was another miracle - not only was there a faint mobile signal up on that great crag, there was a radio signal too. (You often lose the radio in these wild sweeps of Scotland.) Even more astonishingly, there was the voice of Nick Robinson, reporting from Ukraine.
He told how he had spent the night in perishing cold on the stone floor of a basement car park with his team, sheltering from the bombs. He told of how they had got out of the country the next day, and how he had seen and spoken to so many lost and bewildered people - one minute ordinary citizens, the next moment helpless refugees. He said that he had been frightened, but now he felt guilty that he could leave and go home.
Perspective settled on me. I was alive, and I was in one of the most beautiful landscapes in the world, and someone was coming to get me.
I got out of the car again, and went to look at the view, and thought that this was the universe telling me about second chances, and not wasting my life, and damn well getting on with it.
And here was the most beautiful part. I was up there for another couple of hours, and people were appearing now, and everyone stopped. Cars stopped and vans stopped and bicycles stopped. 'Are you all right?' said the kind people. 'Are you all right?'
They offered me lifts, and they offered me water, and they offered me their mobile telephones. One man looked sad that he couldn't pull my car out of the dyke with his bare hands. 'If only I had a tow rope,' he said, wistfully.
Another gentleman told me about his own car crash, when he had broken two ribs. 'Never saw it coming,' he said.
Two lovely men in a John Lewis delivery van walked down the slope and consoled me and offered their help and stayed for a merry conversation. 'We are on our way to Laurencekirk,' they said, as if this was the most terrific thing in the world.
At least three concerned women wanted to put me in their cars and drive me towards home. I explained that help was on its way.
'Thank you,' I said, over and over again. 'Thank you for stopping. Thank you for asking.'
'It could have been worse,' I said, as if on repeat. 'Thank you, thank you. Goodness, you are kind.'
People, I thought. The absolute wonderfulness of people. My faith in human nature was restored. The goodness of heart was universal, instant, without stint.
And then two more people did something generous. My friend Emma drove up from the valley to get me and a brilliant man called Ian took his tow truck up the winding road and pulled my car out of the ditch.
So I ended up at home: safe, warm, intact. The landlord arrived to check on me, looking me up and down with gentle eyes of concern. The dogs were delighted that I was back. I turned on the racing and caught one of the loveliest horses in training, Nuts Well, winning against the odds.
I am alive, I tell myself, and I get to write my story. I don't take that for granted, not for a single minute.
Enjoy this post?

Buy Tania Kindersley a coffee