More Than a Horse Story.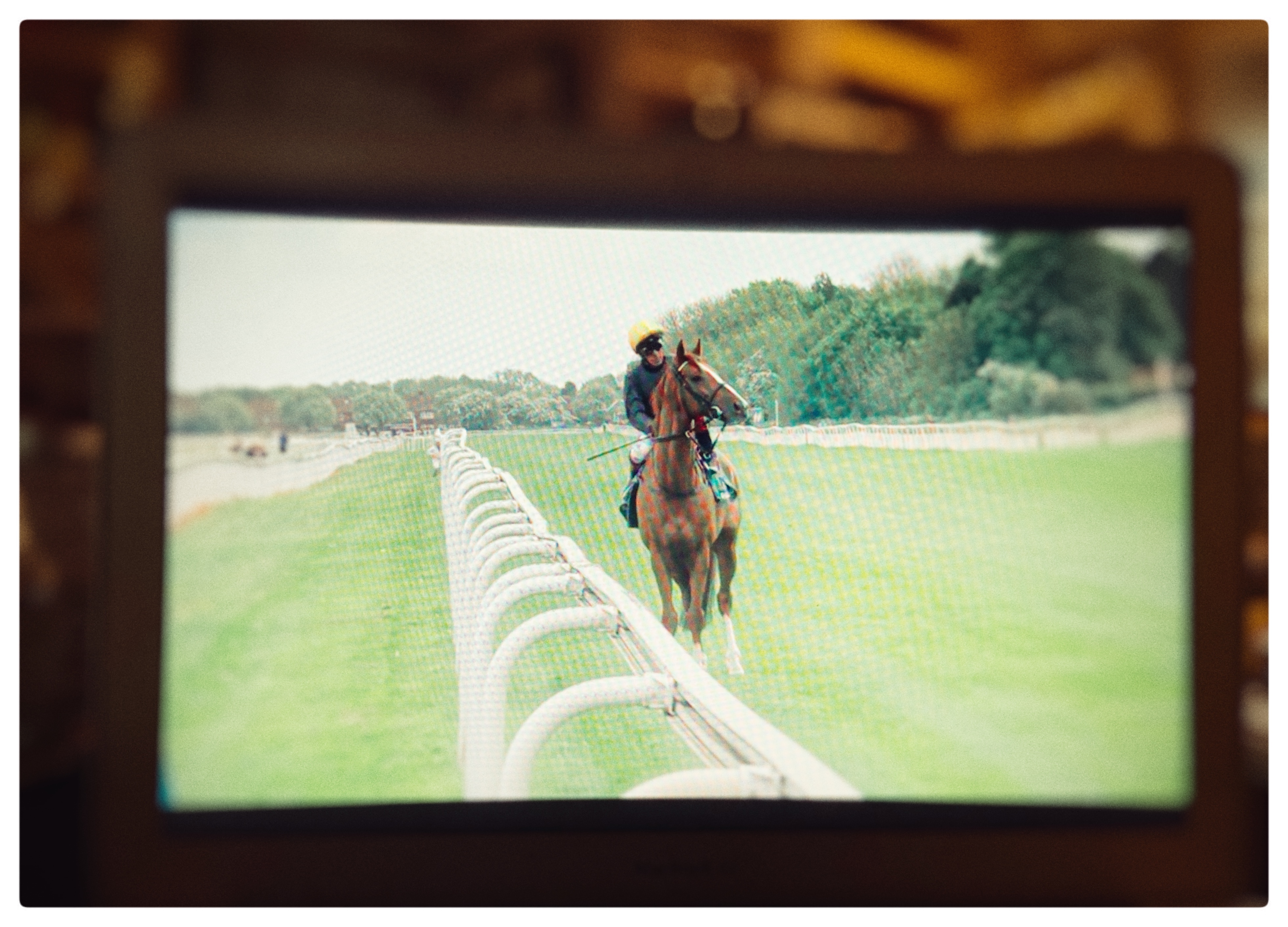 In the world, there is a horse called Stradivarius. He's a bonny chestnut, a great, muscled streak of red, with a handsome white face and an imperious air. He's not vastly big, but his presence is such that he seems taller than he is. I always think of him as Big Strad, and not just because he has a comical habit of swinging round the paddock before his races with his - how can I put it delicately? - manhood on full display. The poor ITV Racing team have had to, over the years, work out a vast array of euphemisms. 'He's looking a bit frisky,' or, 'He's got his eye on the ladies,' or, 'Perhaps he needs to get his mind on the job.' This became such a Stradivarius tradition that Racing Twitter, when it was not falling about laughing, would get a bit worried if he didn't have the old fella out.
He's a long distance horse, which is a very special type; they offer the particular blend of stamina, speed and guts which tends to touch the spectators' hearts. There are the grinders, who stay all day, but the top class stayers have a change of gear which is particularly thrilling to watch over such epic distances.
Strad liked to have a little joke with the crowd. He'd often hit a flat spot in his races, when he looked as if he'd gone to sleep or lost interest, and then, just as everyone's blood pressure was going through the roof, he'd wake up - 'Ha, ha, ha, ha!' - and put on his dancing shoes and waltz to the line.
He's adored because he's such a character, and because he's so damn good, and because he's been around forever. He's eight, which is old for a flat horse, and, most unusually, he's still entire. He's a stallion, who would normally be at stud by now, making future champions, but his sporting owner and breeder keeps him going, to the delight of the crowds.
And just to add an extra scatter of stardust, he has forged a partnership over the years with Frankie Dettori, the greatest showman in racing. Strad tends to lift his head and survey his people with an imperious air; there's a strut to him which enchants the crowd. Frankie is famous for his acrobat's flying dismount (his mother was actually in the circus) and his emotional post-race interviews. There is no stiff upper lip for him. They are, wonderfully, two showboats together and they know each other like brothers.
Today, Stradivarius was coming out for what was billed as his farewell tour. It looks like we've only got one more season to love him and bite our nails for him and cheer him home. He was back at his beloved York, where he's won everything in sight, and the Yorkshire crowds are known for their racing knowledge, their appreciation of the horse, and their admiration of toughness and guts. Stradivarius was once so far above the rest that when he turned up, everyone else might as well go home. But as he got older, the occasional chink appeared in his armour. Sometimes he would win on sheer heart, rather than overwhelming talent; sometimes he'd go down on his sword; sometimes he'd get beat a long way out, and his adorers would sigh in disappointment and wonder whether the old legs still had the power in them.
He had showed that he knew how to battle, but the first seeds of doubt were sown. No horse can go on forever. The old king has to hand the crown over to the young king.
So nobody quite knew what was going to happen as Strad stalked across the long grassy stretch of the Knavesmire. I'd been in a work storm at the actual moment of the race, so I did a social media blackout and watched the replay as if it was in real time. I listened to the presenters talking of nothing but Stradivarius, trying to manage their expectations and failing hopelessly. They all wanted the fairytale, just as the thousands of watchers did: Stradivarius back in his castle, emperor of all he surveyed.
He looked fine. He was his bright and bonny self; head high, eyes alert. You could feel the love as he wandered round the paddock and cantered to the start. Frankie kept him away from the other horses, as he always does, and there was a perfect moment when the entire screen was filled with Stradivarius, turning his head to look about him, as the jockey allowed his grand horse to get his bearings. 'Frankie basically lets Strad do what he wants,' said the commentator, with wry affection.
And then they were off and I could hardly watch and Strad was up against the rail, surrounded by a pack of horses, and I thought he wasn't going to find a way through. He hit his flat spot, but it was his usual joke; the gap suddenly appeared and he sailed through it, owning the track, owning the field, owning the world.
He hit the front and the last challenger, on the far side, tried to live with him, but in the end nobody was getting past the champion. He put his ears flat back to his head - what I call bugger off ears - and stretched out his glorious stride and flashed past the post in front and the cheers of joy and acclamation rang and rang. The old king was still in his castle, on his throne, wearing his crown.
Frankie, giving the public what they wanted, like all true showmen do, cantered the old warrior all the way down the course, back in front of the stands, right down to the cheap seats. The noise was tumultuous, a cacophony of gratitude and love.
This is what astonishes me about thoroughbreds. The doziest old cob would wig out at that much rumpus, but Stradivarius pricked his ears and stretched his neck and took it all in. Frankie came back and stopped and dropped the reins and lifted his arms above his head in triumph. Stradivarius stood stock still in front of the yelling thousands, soaking it all up, taking the adoration as his due.
Frankel used to do that. He was a sensitive, nervy sort of fellow when he was young, but as he got older and more seasoned, he too would take in that tumult. I was there when Tom Queally paraded him for the crowd at York, over the exact stretch of grass that Stradivarius cantered today, and the look on Frankel's face was just the same. 'He knew it was all for him,' Queally once said.
Horses, particularly the intelligent ones, make associations. And the great champions do seem to have something in them which responds to the outpouring of delirium that comes with victory. They have an extra sense of self. My mother called it the look of eagles. Ankle had it, and Desert Orchid, and Enable, more lately. To a human eye, it looks as if they know they have won.
I suspect that the association they make is: great noise comes with happiness and pleasure. Horses are finely attuned to human emotion. When they win, everyone around them is exuding love and joy. That wall of sound, which most flight animals would associate with threat, becomes connected with something benign. And so they learn to take it as something not frightening, but good.
That's as close as I can come to an explanation. Most stallions need careful handling. Strad stood still in front of a banshee crowd, pricking his ears.
As I watched my old friend - for he does feel like a friend to me - and all the sheer human happiness he was generating, I found myself bursting into tears. He released in me a wellspring of emotion I had not known I was carrying around. It was something to do with something marvellous coming to an end, because I won't see him for much longer and I shall be left only with memories. It was something to do with so many simply happy people. It was to do with a horse who was starting to be counted out - he's too old, he hasn't got it any more, he's vulnerable to those younger legs - proving the naysayers wrong. (I always find this inexpressibly moving.)
It was gratitude to a creature who asks so little and gives so much. Horses are amazingly complex creatures, but they don't demand anything excessive. They need a human who understands them and listens to them and respects them; they need care and feeding; they like to be physically fit. The special ones, the ones who compete for a living, get a bit of stuff that ordinary horses don't get, like dedicated bodyworkers with healing hands and heatlamps and the best dentists. (Mill Reef used to have his dentist flown over from America.) But their needs are nothing like as complicated and picayune as those of a film star, say, with their retinues and drivers and special diets and couture clothes. They drink water from the tap and regard a carrot as a luxurious treat.
And in return, they lift human hearts, and make ordinary people forget their troubles and travails for a moment, and write stories that will be passed down the generations. There will be fans in that crowd today who will tell their grandchildren of Stradivarius, and how he made them feel.
They take us mortals to another plane, these magnificent, galloping horses. They show us another country. They are generous and honest and full of courage, and perhaps they make us want to be like them.
I think that is why I cried.
Enjoy this post?

Buy Tania Kindersley a coffee