2021 HIAW Virtual Conference
So excited! So pumped! This is going to be EPIC!
As we Celebrate a number of Channel milestones this month (first YouTube Video, first Live Show, first reviews, first how-to, first organic subscribers, etc) we've got something special planned. A 2-day Virtual Conference with world renowned speakers touching on everything businesses, brands, influencers, and entrepreneurs need to know to position themselves for success with Video.
The 2021 How it all Werks Virtual Conference will be May 30-31 from 2-4pm both days!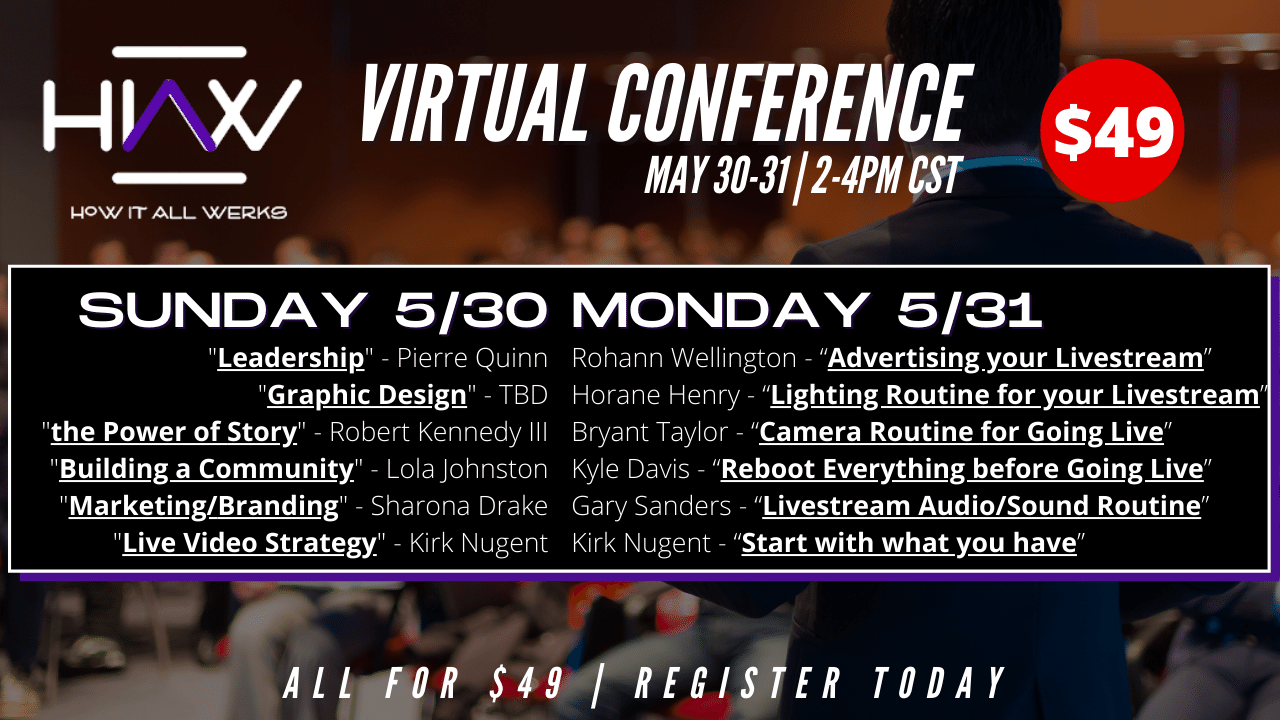 Go to https://howitallwerks.com/register/

To Register for the Conference and

To Secure your spot with Payment

You can also pay securely here - https://next.waveapps.com/checkouts/41d8086dd7a94bf79e4c232db5e054a4
Day 1 Speakers and Topics:
"Leadership" - Pierre Quinn
"Graphic Design" - TBD
"the Power of Story" - Robert Kennedy III
"Building a Community" - Lola Moore Johnston
"Marketing/Branding" - Sharona Drake
"Live Video Strategy" - Kirk Nugent
Day 2 is both a mini-conference and reunion from the 1st Season 1 Episode 1.
Speakers and Topics:
Rohann Wellington "Advertising your Livestream"
Horane Henry - "Lighting Routine for your Livestream"
Bryant Taylor - "Camera Routine for Going Live"
Kyle Davis - "Reboot Everything before Going Live"
Gary Sanders "Audio/Sound Routine for your Livestream"
Kirk Nugent - "Start with what you have"
More details to come, stay tuned!
HIAW Team
Enjoy this post?

Buy Kirk Nugent a gadget