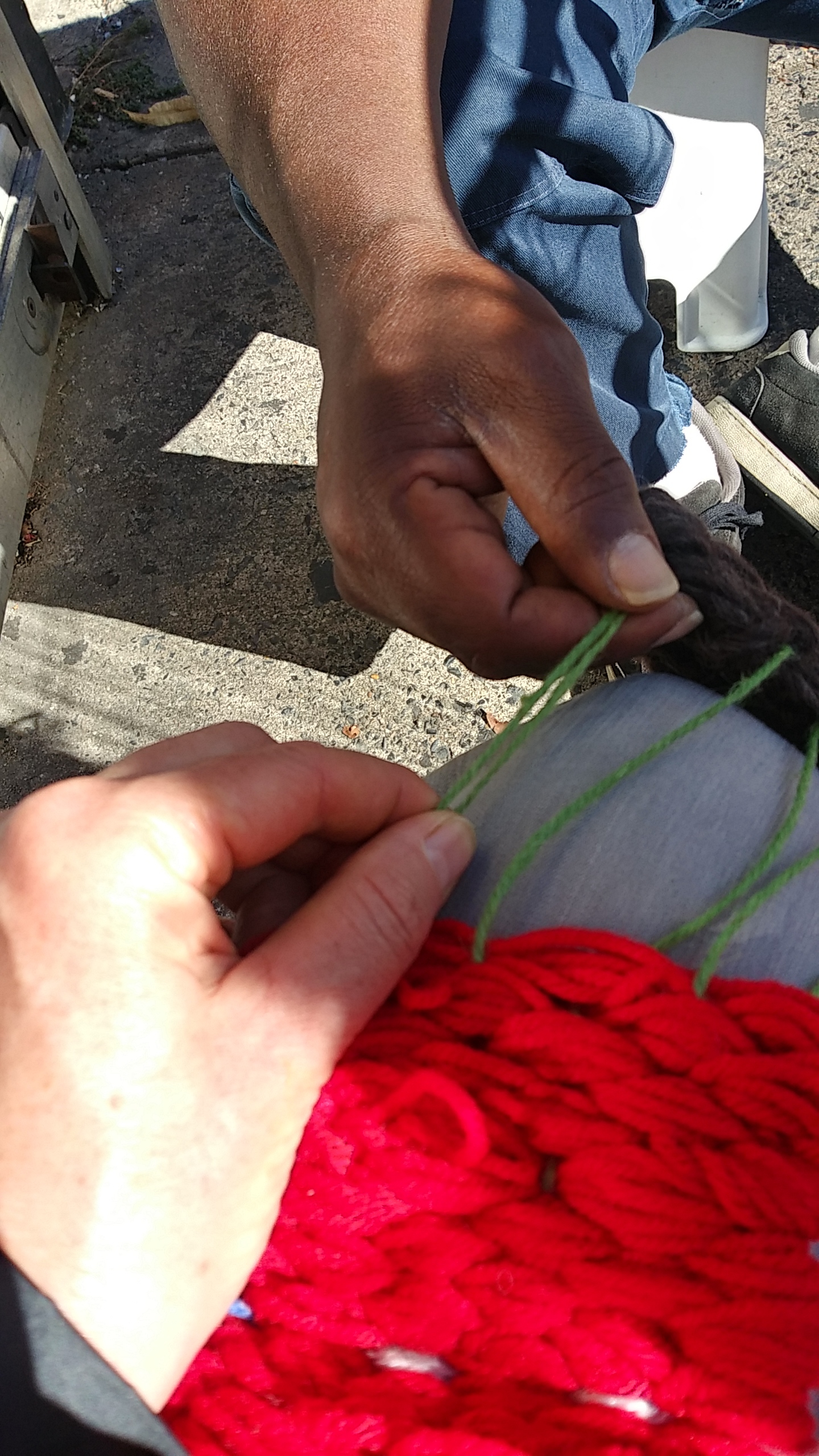 These have been such surreal times. I hope you and yours are doing ok. This past week I spent the day on Tuesday in Kensington and Thursday in Germantown, connecting with people that would pass by and stop to check out The Listening Loom. Wowzer, the conversations shared... what a beautiful gift to meet someone and hear the 'story' of their day, their week, years... their thoughts, feelings and circumstances, sometimes all tumbling out in response to a simple "hello, how is your day going?". I've shared some more pics and 'blurbs' on my social media pages/FB & IG, if you care to read more details. There's a lot of pent up frustration I'm noticing... fights broke out nearby from where I was on Tuesday. On Thursday the Germantown neighborhood was reeling from a very early morning car jacking/chase, and 2 homicides.
Can a consistent presence of someone with a loom, weaving, listening, holding space for peace and love make a difference? Can shaggy yarn art knotted on a neighborhood's fence on an empty lot uplift? Can a 'lil note of encouragement mailed out with a sprig of lavender make someone's day? Do small gestures of kindness make a difference to everyday people, to those who experience homelessness &/or addiction, to our Nanas and PopPops, to the someone's someone we pass by as we go about our busy days? There are many, sooo many, who do not have easy access to the internet or a phone, or who might, but whose lives are riddled with isolation & despair. These are the peeps with whom I feel called to connect with...
Please consider making a donation to my art-for-all/kindness-for-all mission. Check out this home page for details/perks... all $ increments help for a one-off donation; or, consider an annual patron/membership donation at $10/month ($120.) and feed 'two birds with one seed', helping my mission AND receiving an original work of my drawn/color art. This donation platform receives PayPal, however you can also donate to me directly (same perks honored) via Venmo, or write an ole fashion check. Reach out to me at [email protected] or 6140 Wayne Ave., #5 Philadelphia, Pa 19144.
Thanks so much for your cheer and encouragement. It really does make a difference. Enjoy your week.
Best,
Kathryn
textile/visual/community artist