Weekly WingTsun-ChiKung ZOOM training with Master Ralph Hänel (Qigong)
Email at sifuralphhaenel (at) gmail.com to receive a ZOOM invite and information.
Motivation - Concentration - Focus
Health training for advanced movement coordination, the development of functional strength flow and healthy self-confidence.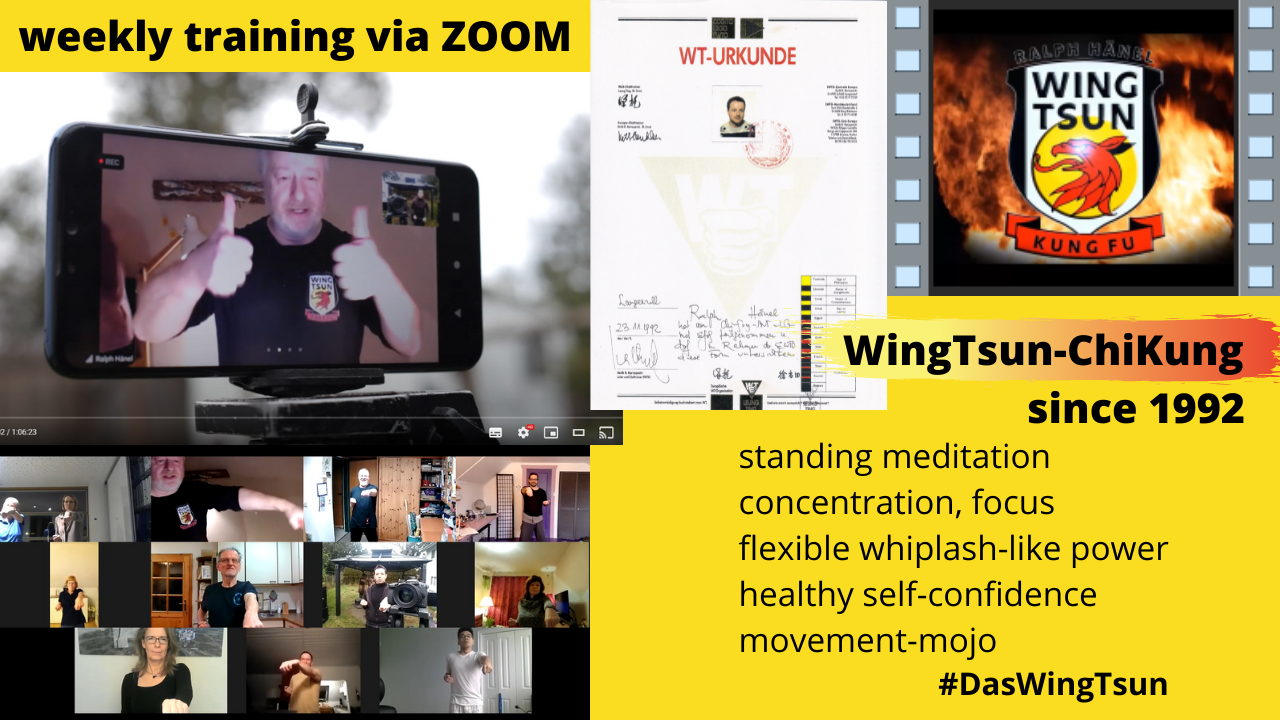 Master Ralph Hänel has been learning and teaching Wing Tsun Kung Fu since 1984. His martial arts training began in 1977 and lead him from Judo to Trybull Jiu-Jitsu and Shotokan Karate.
Ralph gave the first private lessons in 1980. In 1983 he became the first and only official Jiu-Jitsu trainer in the DTSB, the main sports organization of the GDR (East Germany). He founded the first Wing Tsun schools in the GDR and in Canada in 1994. He has been teaching Wing Tsun as a full-time professional instructor since 1992.
Also in 1992, Ralph attended as one of the first 50 instructors an EWTO seminar by GM Leung Ting to learn the health Siu-Nim-Tau. For 30 years he has been cultivating the Wing Tsun ChiKung training.
In weekly ZOOM sessions especially participants with no martial arts background whatsoever enjoy the challenging health workout.
subscribe at 👉 http://www.youtube.com/kungfucoach
support at 👉 https://ko-fi.com/kungfucoach & https://www.buymeacoffee.com/kungfucoach
visit 👉 http://www.wingtsunkungfu.com
#qigong #chigung #wingtsun #wingchun #daswingtsun #martialarts #kungfu #hänelwingtsun #movementmojo #functionalstrength #zoom
Enjoy this post?

Buy Ralph Hänel a coffee