Dinner at Damian DTLA. Beautiful spot, great employees, and food that's just short of impeccable. Ordered the uni tostada, ceviche, chileatole, carne asada, and cafe con leche soft serve and b r u h. Bruh. BruuuUuUuuHhhhHhHh. Ugh... just... chef's kiss. Literally the only thing holding me back from saying the meal was impeccable is that the salad that came with the carne asada was a taaaad over-salted, but aside from that, the restaurant's ambiance and chefs' masterful balance of flavors and commitment to precision were just so. spot. on.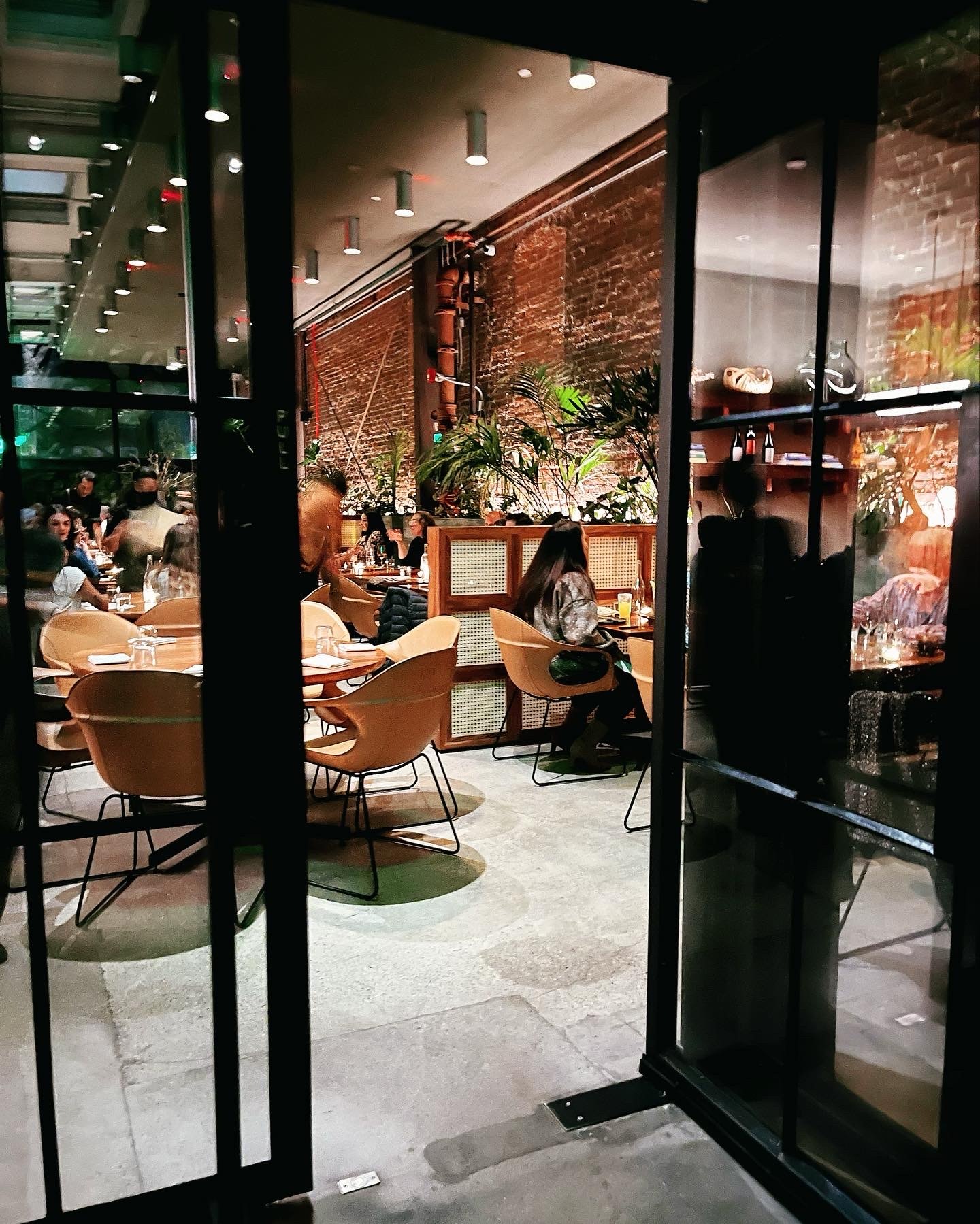 Honoring context is key to making any kind of artistic experience fully cohesive and Damian's Head Chef proves he knows this with Damian, showing off his experience, his understanding of the fact that the devil is truly in the details.
Damian is a true love letter to Los Angeles, an ode to Mexican cuisine; evident from the moment you step foot out of your car, you feel that restaurant is seemingly exactly where it belongs: right next to the historic neighborhood of Boyle Heights and right down the street from Olvera--locations that countless Mexican American Angelenos have called home, community for the past couple of centuries. As you head towards Damian, you walk past the brick, metal, concrete, and all the grit that makes LA's Arts District the industrial glory that she is at the same time that you look down and find your foot meeting an indignant weed growing in the breath and space of the cracked pavement's crevices, that you see a wild vine crawling up a building and cherry blossom trees lining the street in full bloom. Inside, you meet the same layering of manmade atop untamed earth, but in a curated form--inside, a blend of concrete slabs, wood, foliage, soft and grounded tones, and grounding gray/black/cream textures come together.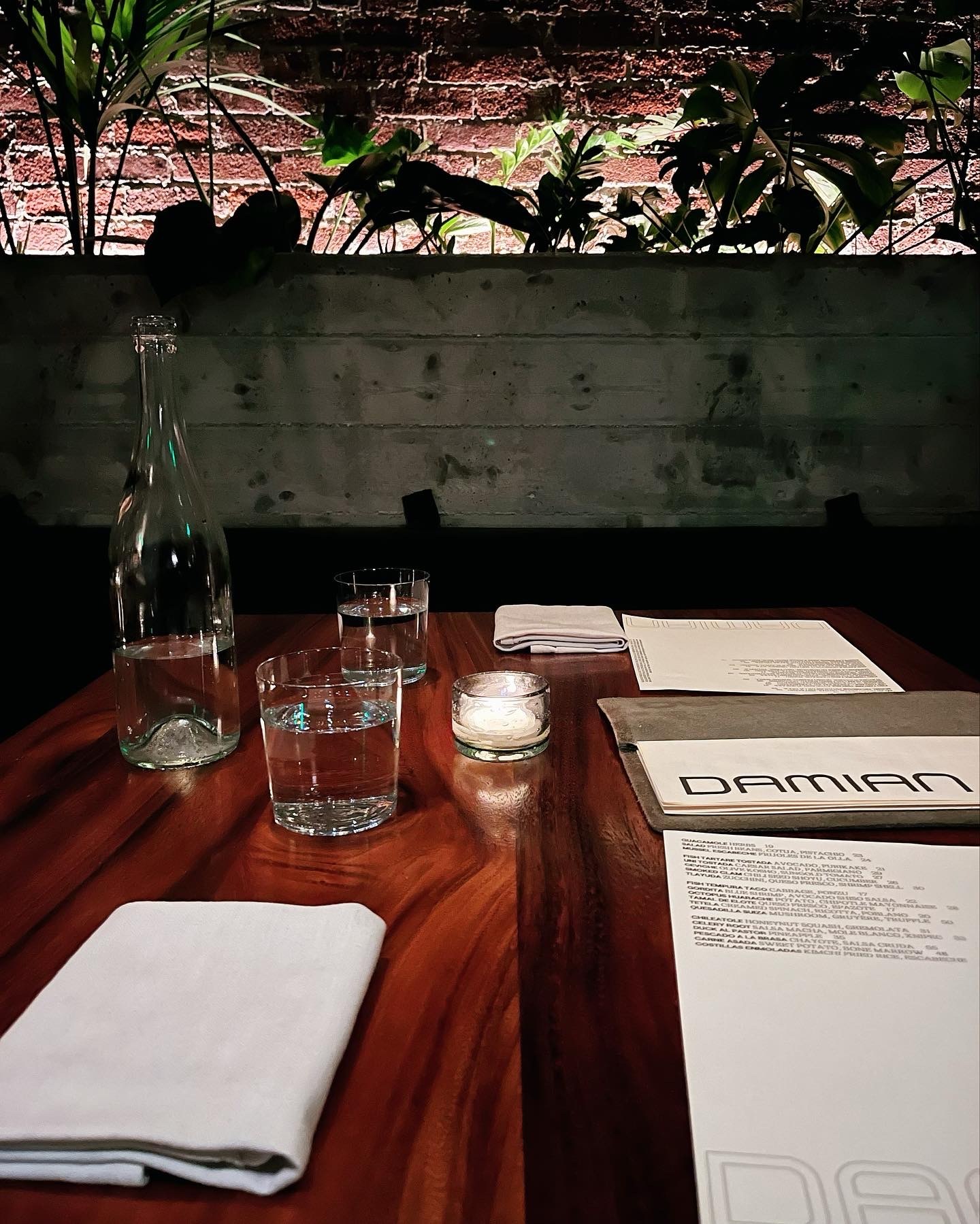 You're greeted by a staff that marries that same cool and warmth: they're collected and maintain an award-worthy composure, even as lines form out the door (and having worked in restaurants with 2+ hour waits, I know how challenging it is to maintain an appearance of control amid fuckin' chaos), and they do it while being still so, so conversational. They chat with guests, several of them in Spanish, and glide from kitchen to table, setting down brown woven baskets and bowls mimicking husks, space grey plates, and cutlery down between each course.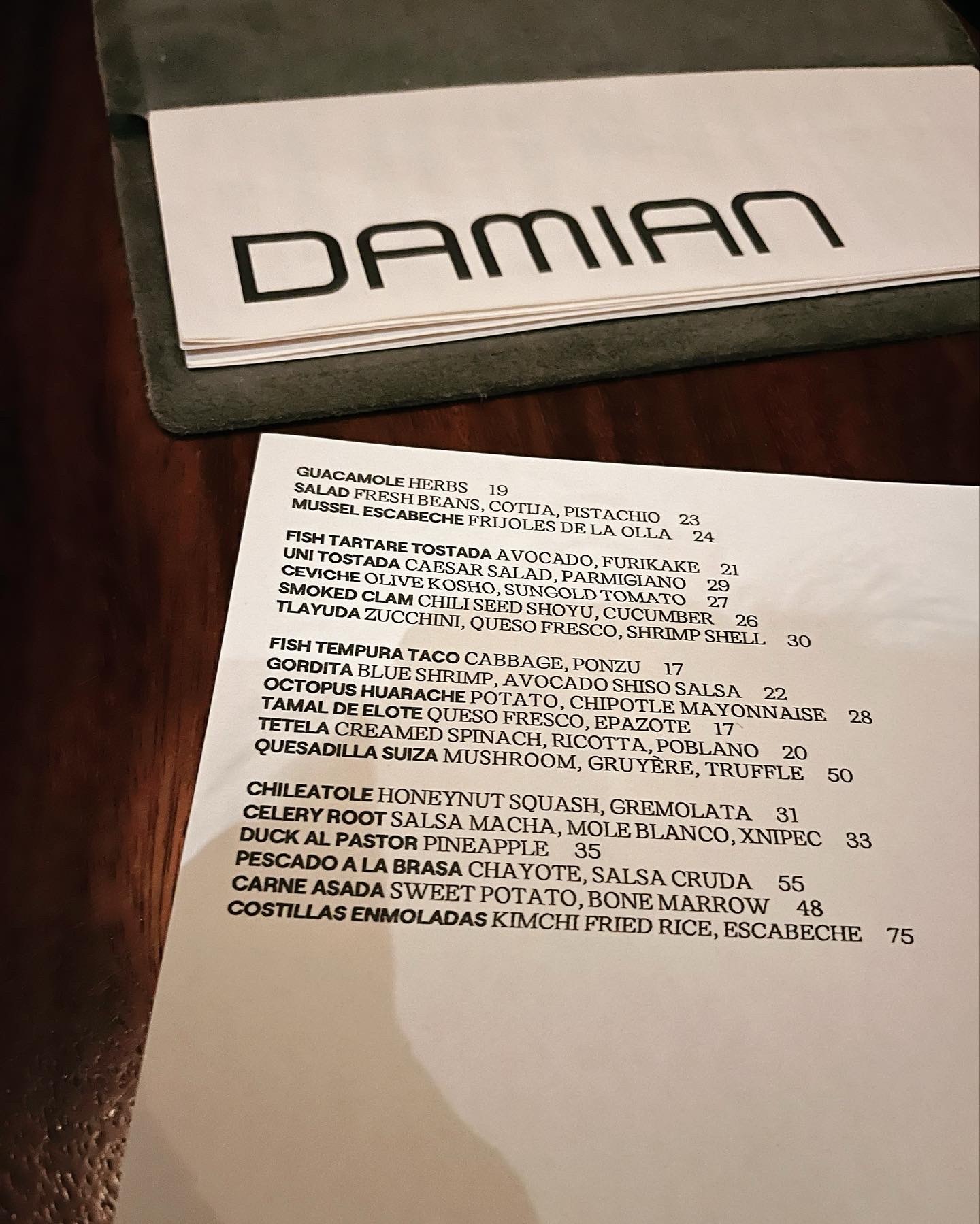 And then the star of the show: the food.
First, crispy tortillas and pickled vegetables and a light sauce to warm up your palette and then... a full understanding of why "World's Best" titles have been given to Olvera's restaurants and Damian's chefs--under their treatment, their work with local fisherman to source sustainable seafood and use of seasonal ingredients come to life. In two words, the entire meal from appetizer to dessert was: fresh, balanced.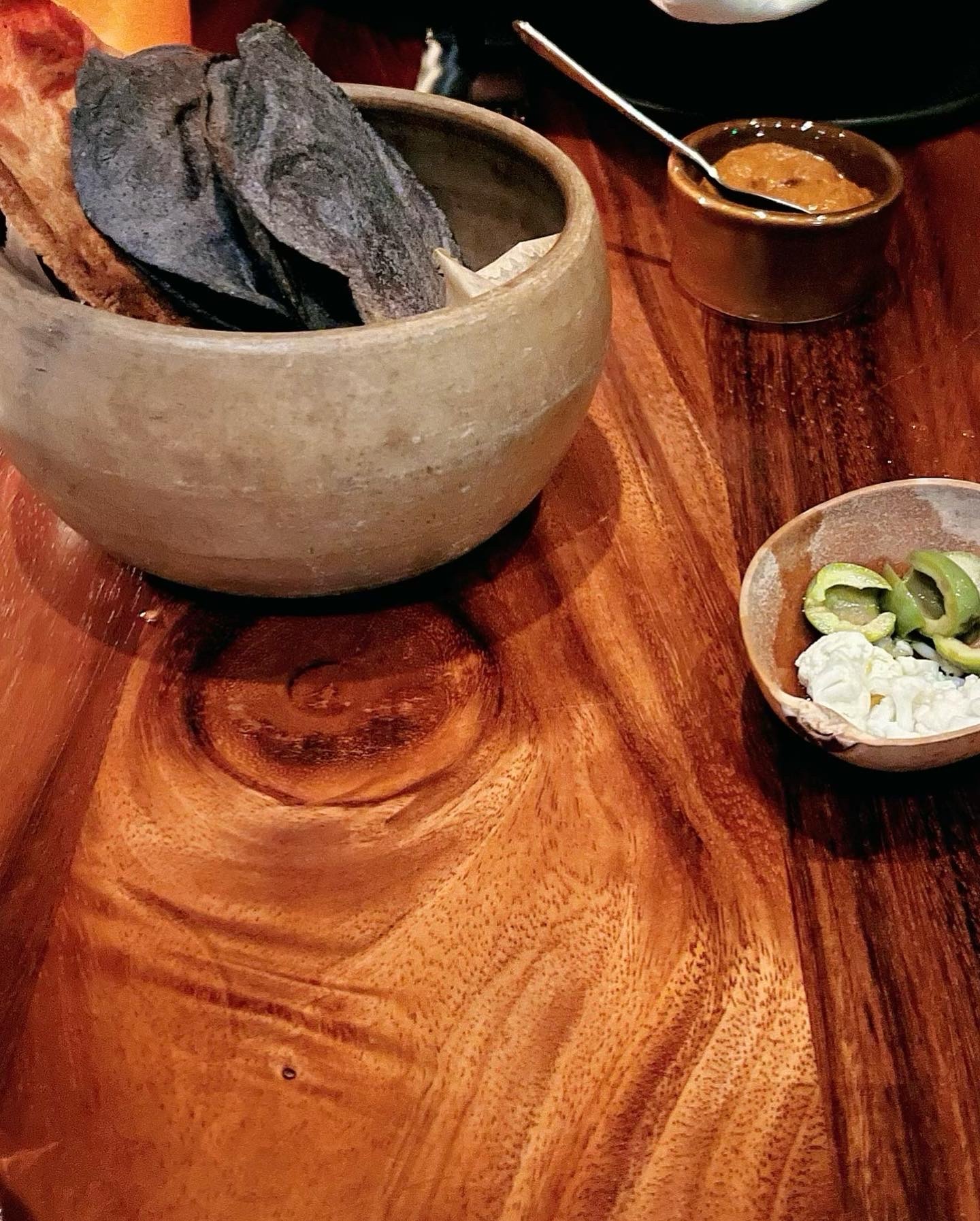 The chefs found the perfect middle between fat and acid in the ceviche: succulent cubes fish and avocado rested immersed in a shallow ocean of yuzu and olive oil, with delicate halved cherry tomatoes, slivers of purple onion, paper-thin slices of jalapeño, and cilantro to add body and additional notes to each bite.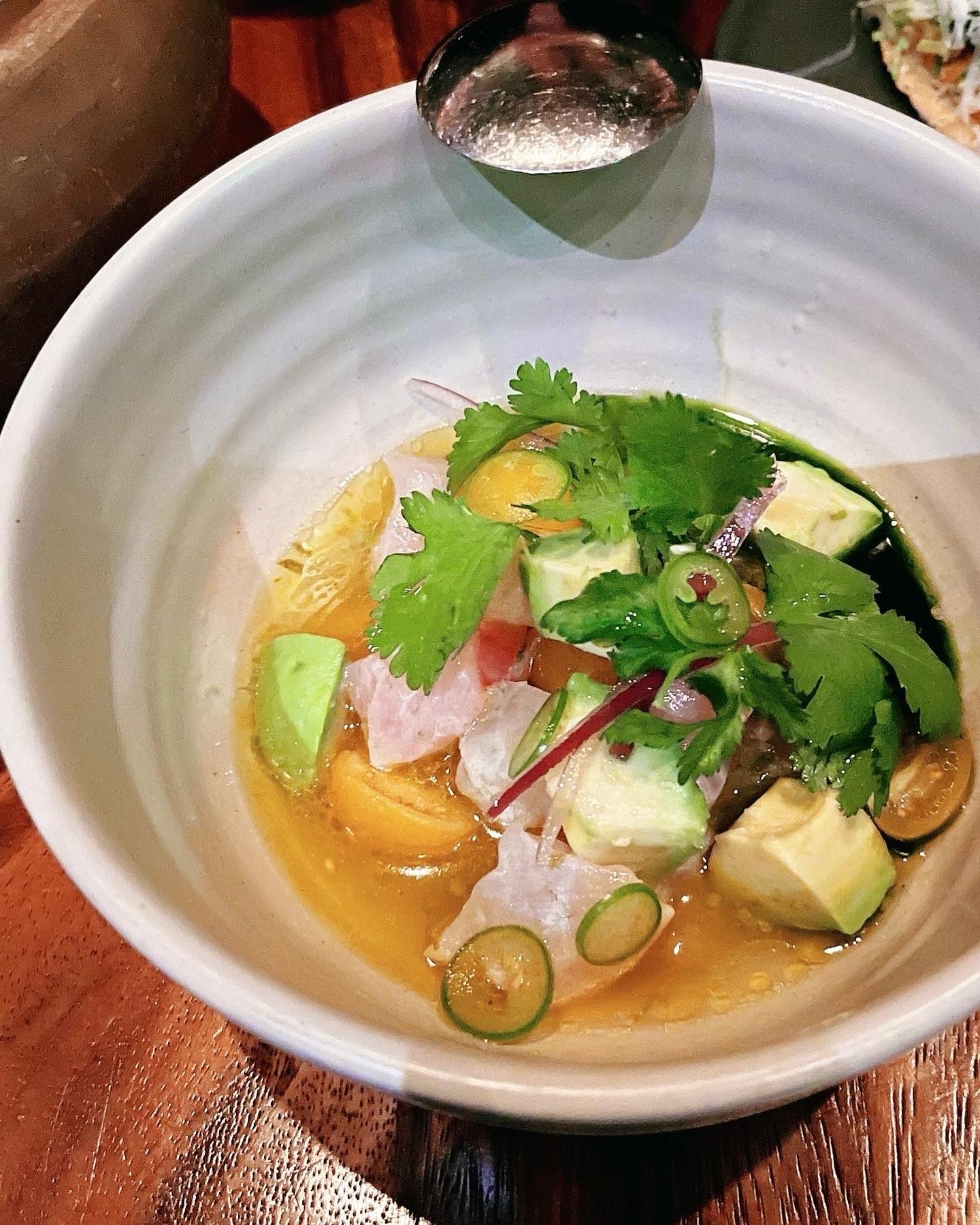 The uni tostada--topped with Parmesan and Caesar salad--was nutty, funky in the best way, and multi-dimensional with every bite, and the accompanying tart lemon wedge tempered the flavor explosion.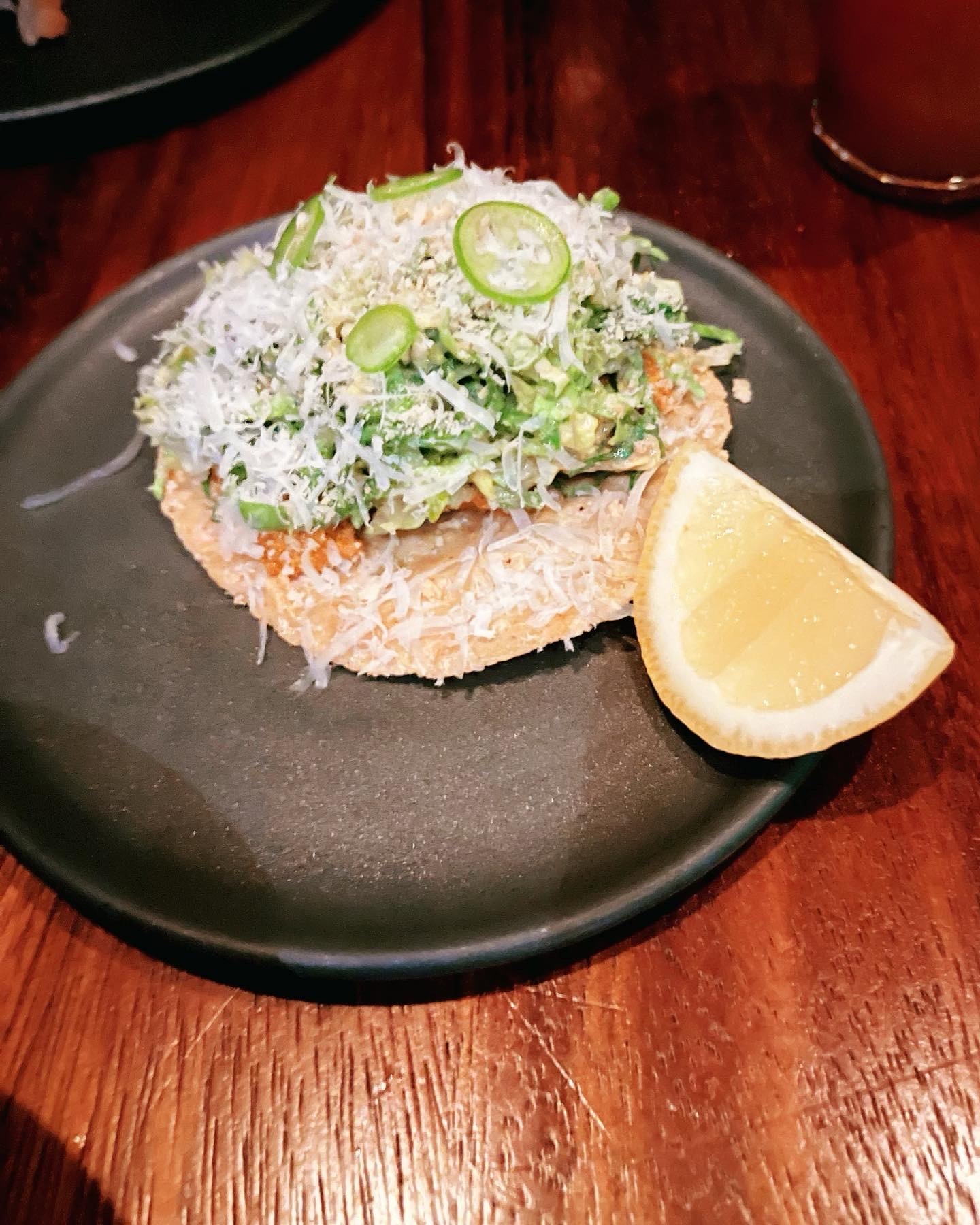 The chileatole was everything you wanted it to be: hearty, comforting, and a reminder that "home" doesn't need to be a place or even a person, it can exist in a dish. The carne asada was the star of the show for me (aside from the salad, which I commented on earlier,): there are no words for how fantastic this dish was/how perfectly cooked and juicy (and smoky, even) the cut of meat was, how well it paired with the homemade tortillas and bright sauces, how the melt-in-your-mouth-soft sweet potato was covered in just the right amount of bone marrow.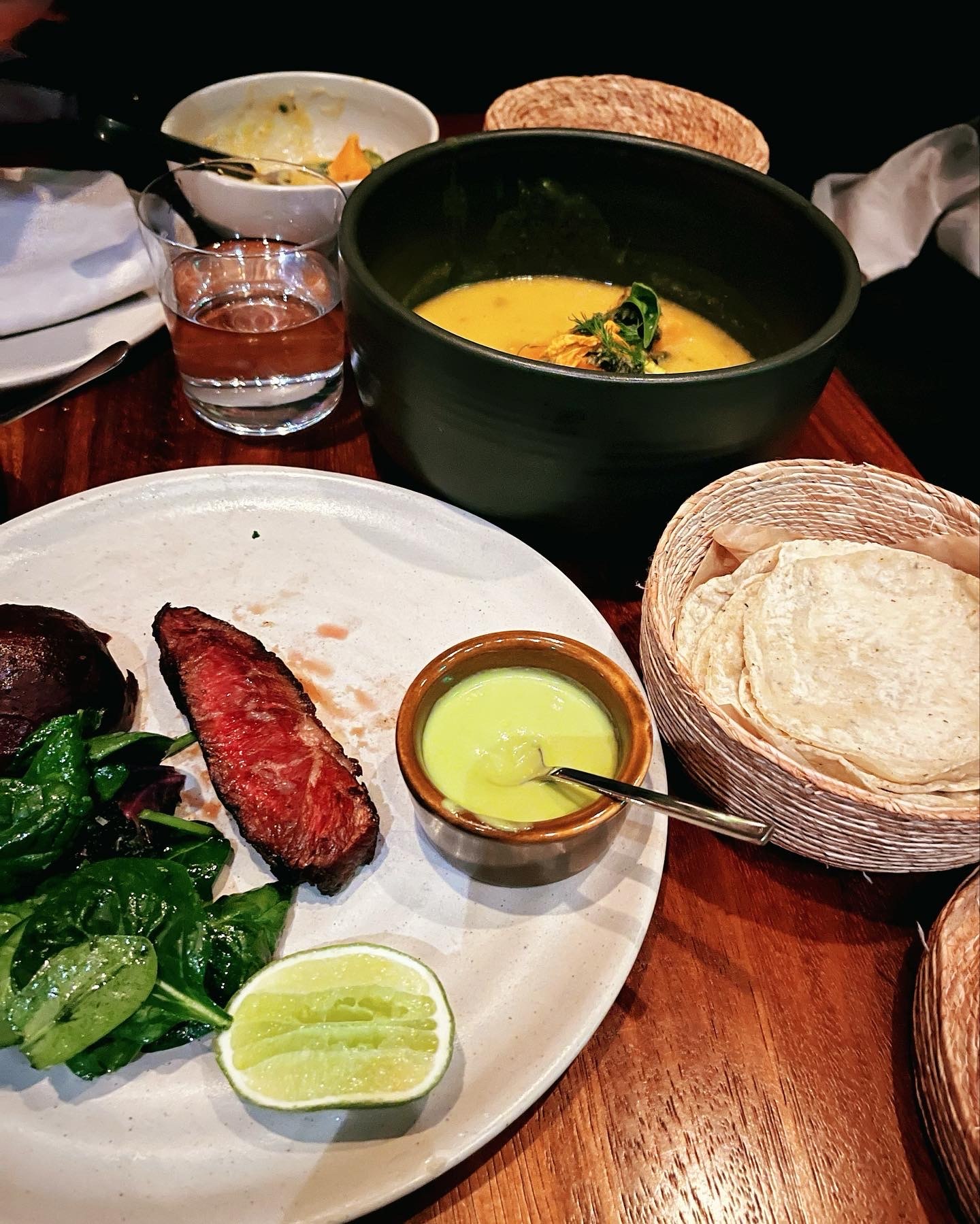 And the dessert brought the meal to perfect end: cinnamon, a gentle bitterness, and layers of flaky, crunchy, caramelized sugar pastry defined the orejas and they stood their own next to the sweet, but not cloyingly, and refreshing cafe con leche soft serve.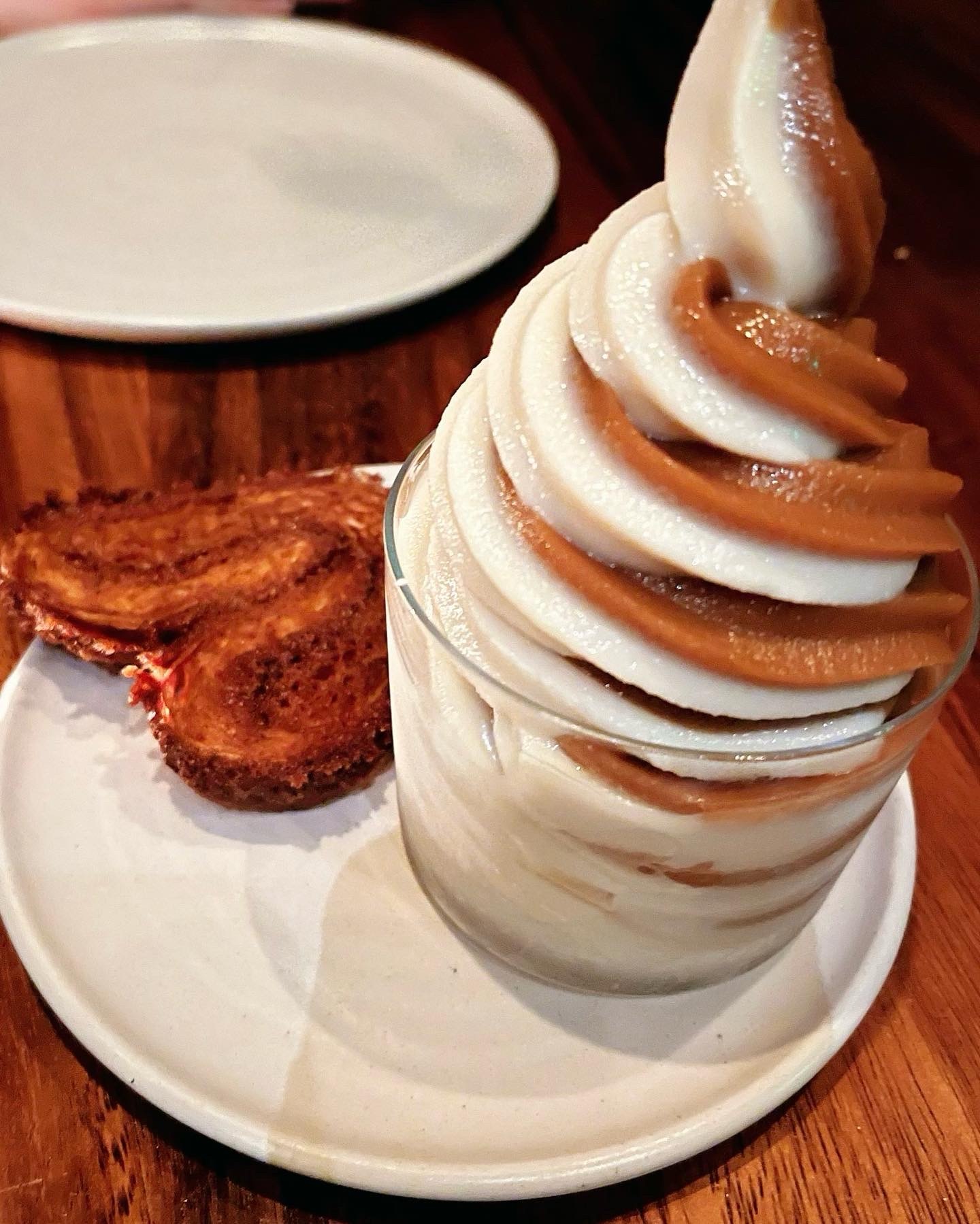 Every individual dish was so balanced and so fresh; it was an absolute joy to dine here.
Eating at Damian made my heart so happy. The presentation was gorgeous, the ambiance was *it*, and the technique was there. Food is my love language and Damian was speaking it. If you love yourself (and if you love whoever you're taking out for a nice dinner), go to Damian.