A $200 weekend in Bentonville, Arkansas | Kendyl Travels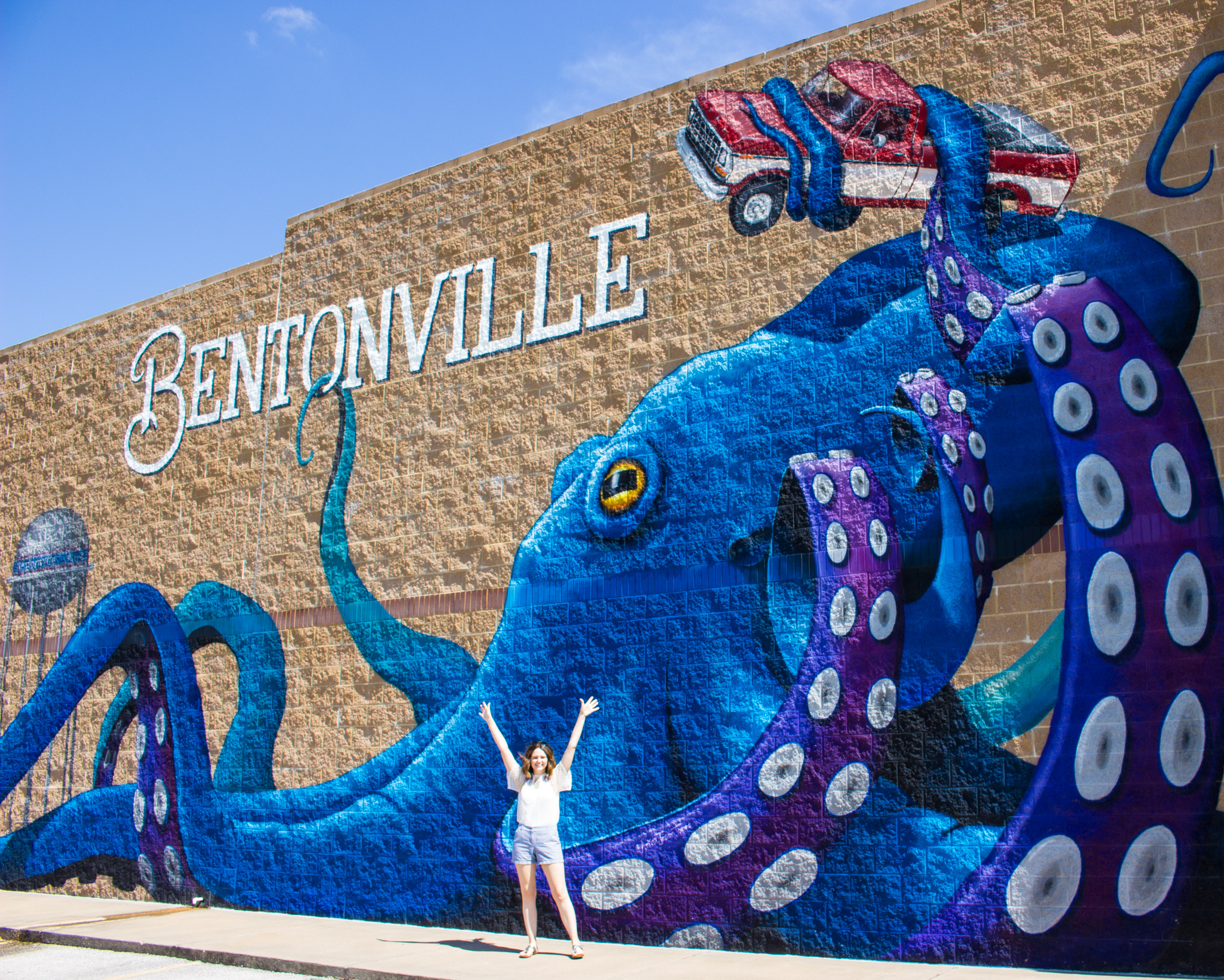 Hi from one of my favorite weekend getaways, Bentonville, Arkansas!
Bentonville is a great little town to spend a couple of days exploring. When I first started travel blogging I even wrote a quick itinerary for an evening in Bentonville. (I took this photo of me with the native octopus of Arkansas on that trip. Yes, they are that big.) What makes Bentonville a great town are all the hiking and biking trails, the Crystal Bridges Museum of Art, and the quality, local food everywhere you look.
But this time we're doing it a little differently. I have just $200 for me and my husband to spend for the entire weekend. That's on our hotel, food, entertainment, and getting around - literally anything we spend money on for this trip has to come from that $200.
Here are a couple of hacks that are helping us and can help you lower your travel costs, too.
The Happy Hour Hack

Generally, when you're traveling it's the locals that know of the best happy hours - not the tourists. But you can easily find some really good options by searching: "town" and "day of the week" and "happy hour" or even just searching "town" and "best happy hours" to find some really great deals. We ended up at Scotch and Soda, which has a $7 cocktail happy hour until 7:00p on Fridays.

The Local Entertainment Hack

Like the happy hour, local entertainment is generally something only locals know about. This evening, we're attending a free bluegrass outdoor concert. The event is a part of a larger initiative by the town for weekend entertainment for locals. How can you find these sorts of things? The best thing to do is search: "town" and "things to do this weekend" to find a lot of local listings for shows, activities, etc.

The Cheap Eats Hack

I've talked a lot about my love for finding cheap eats. (You can even listen to my reference it on the Geobreeze Travel Podcast.) And there are so many amazing bloggers writing about them. To find them, you can start with a search of: "town" and "cheap eats blog." From there, consider other combinations of words related to cheap eats, like cheap food, food deals, food under $10, etc.
Explore on. - K
Read my blog.
Follow me on Instagram.

Enjoy this post?

Buy Life Half Full / @KendylTravels a coffee