2020 December: Cheers to new beginnings!
Hello, and welcome to the first issue.
First and foremost, thank you for signing up to follow Liquid Matters!
If you are looking for the Top 5 places to drink cocktails in Denmark, then Liquid Matters will disappoint you. Liquid Matters is a publication for, not on, the Danish bar and beverage industry, whether you work in it or simply find yourself frequenting establishments with an above average passion for liquids. It is not the brand, the drink or the pizzazz that we're interested in, but rather the innovation, passion, endeavour and creativity portrayed via the personal stories of the men and women who call this industry 'home'.
Why Liquid Matters?
Around this time last year, I was finishing up an article on the new menu at Tramonto restaurant and terrasse. The cocktails displayed not only the techniques of Antonino and Davide, the two former London bartenders behind the bar but also kicked up the dust in Copenhagen. There was a new competition in town. The UK's imminent departure from the EU was pushing London talent towards the favourable living conditions of Copenhagen. A change was underway, signalling a new wave of cocktail creativity in Denmark.
Then came coronavirus, crippling the hospitality industry in Denmark as it did all over the world. Even when financial compensation and subsidies came about to soften the blow, the lack of tourists mixed with a bucket-load of uncertainty meant that many bars found themselves suddenly having to appeal to a broader audience.
"In many ways, the bar industry was forced to dampen its drive. In other ways, we have never been more driven than in 2020."
At K-Bar, Kirsten Holm experienced for the first time since she opened the bar 18 years ago that she had to "down the creativity" and accommodate her creations to match new palates. Peter Krog Andersen, the manager at Deco, told me in an interview that "he felt the bars were being forced into a discount war". Back at Tramonto, the management stuck their tail between the legs. The new menu went into the archives, and well-known classics such as Aperol Spritz and Espresso Martini were reinstated to please the crowds. Antonino, who had hoped to leverage his experience from The Gibson and Oriole to make new ways in Denmark, went back home to Sicily in October.
In many ways, the bar industry was forced to dampen its drive. In other ways, it has never been more driven than in 2020. A mirror was put up in front of us, forcing us to look inwards and reassess our place in society at a time where socialising is the enemy. Bartenders ventured into digital space, drew a new blueprint for service and explored beyond their immediate network for collaborations. We broke industry taboo and engaged in political debate and activism, marching on parliament and making the national news.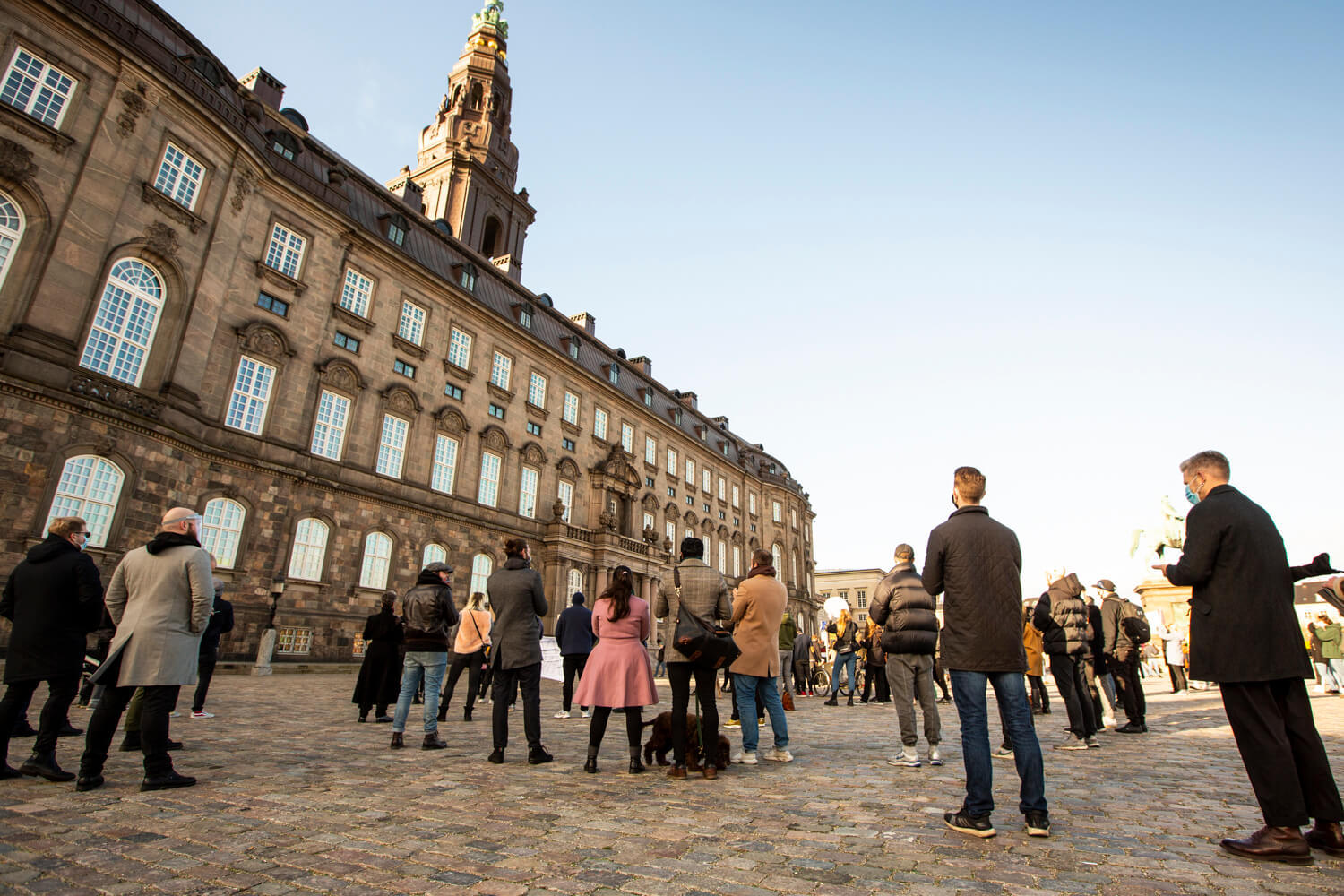 More than 200 industry personnel gathered in front of parliament to protest the 10 pm curfews. Photo by Pablo HTG
This was the year where the industry proved that if you survive working in a bar, you can pretty much survive whatever life throws at you. But there is one crucial weakness which remains. Whilst some managed to come together, the industry at large is still fragmented. When the government and media went out of their way to blame the sales of alcohol, this fragmentation rendered us unable to come together and prove that what we do is so much more than that.
Flavour in the form of liquids, with or without percentage, is what unites this industry. If anything, 2020 has proven that this message needs to be made clear. The Danish bar industry needs a place that works solely to amplify the knowledge, experience and know-how of Denmark's beverage aficionados to a larger audience. Perhaps then, like gastronomy, the Danish bar industry might also one day be included in the government's financial bill.
Liquid Matters is a voice for the industry. Because liquid does matter. And it's time to make it known.
Keep reading for:
News and events - things you need to know about.

Check THEM out! - venues in focus.

Podcast: Ted Dako and the tale of Puss Puss.

Droplets - industry-related content you should definitely check out.
Spotlight: Max Scott - voices from the industry recommends.

Logo design by Blagoy Nikolaev
NEWS AND EVENTS
The annual Bartenders Choice Awards ran as planned this year. Feelings were mixed, as many venues in both Denmark and Norway have remained closed for most of the year. But the BCA was a much-needed pat on the back for the industry. And besides the usual awards gala being replaced by a digital broadcast from Stockholm this year, everything felt pretty normal. Check out the winners here.
MAD Academy's Spring 2021 Leadership & Business program is now accepting applications. The program "focuses on the need for great leadership in hospitality," and although it is centred around restaurants, it is "open to anyone pursuing a career in hospitality". The program fee is a bit expensive, but MAD offers scholarships to help cover the expenses. MAD was founded by Noma's Rene Redzepi with the goal to promote sustainability and positive change in the hospitality industry. Deadline for applications to the Spring program is 25 January 2021. Apply here.
The Nordic Spirits Awards 2021 is coming up, marking the second year of the show. Going LIVE on Youtube on 28 January at 20:00 CET, the Nordic Spirits Awards invites judges from all over the Nordics, ranging from bartenders and booze pushers to journalists, to sit down and judge anonymised products in a variety of categories. Details of the show and broadcast can be found via their website.
CHECK THEM OUT!
Who says you can't open a business during a pandemic? In spite of restrictions, these folks are making it happen. Some are operating as usual during this period, and the rest are leaving us anticipating for the lockdown to lift.
Bird CPH has gotten us all intrigued. The latest endeavour by the creative hands that brought us GILT, has been posting renovation photos non-stop for several months now. Come January, we'll hopefully get to finally step a foot inside the finished venue.
Bar Poldo took over an old bodega spot in Inner City, Copenhagen, scraped decades of black smoke off the walls, and turned it into a low-key wine bar for true grape lovers. The power-duo behind, Marco and Davide, used to spread joy at mother wine, building up the momentum to launch their own ode to grapes this year. At Bar Poldo they're steering away from their Italian heritage and letting their palate decide, serving anything from orange Greeks to whites from Portugal and beyond.
Mads Schack, former bar manager at Gedulgt, has recently opened Force Majeure, "a tiny bottle shop with high ambitions'' in Aarhus. Citizens of Jutland will be happy to know that it's finally possible to go "window shopping" for non-mainstream, high-quality products without having to travel to Copenhagen. And of course, there's the bonus of the good service and hospitality provided by Mads.
Another new kid in town is Nordic Spirits bottle shop, focused on collecting and distributing micro-produced, Nordic spirits, according to themselves. Their portfolio is focused around local and organic spirits. They are also one of the last places to get Puss Puss' signature cocktail Made in China, winner of Denmark's Best Cocktail at this year's BCA - if it hasn't sold out yet!
Got a tip? Send it off to [email protected]

PODCAST: TED DAKO AND THE TALE OF PUSS PUSS
In 2019, Højbro Plads in central Copenhagen gained a new bar: Puss Puss. Instantly busy and making a name for itself, there was no doubt that Denmark had a new star in the mix. But alas, this month, Puss Puss had to shut its doors for good. Coronavirus and a series of bad luck and unfortunate events have sadly meant that the capital's rising star, 3x BCA 2020 nominee and winner of best signature cocktail won't reopen with the rest of Denmark next year.
Hear the full story behind Puss Puss in this exclusive interview with its owner and former World Class Denmark winner, Ted Dako.
DROPLETS FROM THE INTERNET
The Messy Epicure podcast by Jason Horn (who also writes for Serious Eats) made it to four episodes and then completely disappeared! Sadly, because his interview with Billy Ray on becoming a better bartender after going sober gave a lot of food for thought (or should I say liquid). An easy listen that'll suck you in.

This Instagram post on cocktails and latke pairings lifted the Hanukkah holiday spirit - literally. Food and cocktail pairings are always a fun game, and if there's a cultural twist, even better. It would be interesting to do the same with smørrebrød.

The Burnt Chef Project in the UK is fighting to end mental health stigma in the hospitality industry. They conducted a survey when they launched in 2019, which showed that 8 out of 10 hospitality workers have struggled with mental health issues, and 46% wouldn't feel comfortable talking with their coworkers about it. They may be UK based, but their website offers an extensive portfolio of staff training, as well as several free resources to help hospitality workers combat mental health issues and stigma.
SPOTLIGHT: FEAT. MAX SCOTT
"For those who know me, my recommendations are almost always on liquids. But this time, we will do something different.
There are a lot of good books about liquids, cocktails, bars and so on. But there is also an awful a lot of cr*p out there as well (you heard it here first!)
So, let's focus on what I think everyone should be reading.
It's not a cocktail book. It's also not a storybook about pirates and mankind´s sad imperialistic history - it's just a book about facts - and maybe, more importantly - whisky facts.
Since 2008, the Swedish author Ingvar Ronde has created the Malt Whisky Yearbook. A book focusing on Scottish whisky, but also on international whisk(e)y. Every year in October, I always look forward to the new release of this fantastic little book.
Ingvar´s yearbook gives you all the facts about the distilleries, a timeline, so you can understand its history and details on what kind of products they are making. Furthermore, it includes all the important, hard facts from malting, fermentation, distilling to capacity and so on.
As an added bonus, Ingvar invites the top writers in the whisky world to contribute with the low-down on what is going on in the whisky business, such as trends, how the market is changing etc. In the 2020 edition, we also met a lot of the true legends of the whisky world recounting their stories about their careers.
Since malt whisky nowadays is no longer just a Scottish phenomenon, the book also provides facts about whiskies from all around the world - including Denmark. I like the Malt Whisky Yearbook because it always gives a good balance between fascinating stories, articles and real facts. Ingvar Ronde doesn't score the whiskies or try to sell them. He simply wants to teach you about his passion; whisky.
Therefore, I think it is the best spirit book in the world that everyone can learn from.
Sláinte and let's hope for a grand 2021!!!"
Besides being Brand Manager for Juul's, one of Copenhagen's oldest wine and spirit shops, Max is a well-known face in the bar scene and has repeatedly been named Improver of the Industry at the annual Bartender's Choice Awards.
The Malt Whisky Yearbook can be bought in your favourite spirit shop or online for just 149 DKK.
Support Liquid Matters - invite your friends to follow along.
Enjoy this post?

Buy Liquid Matters a drink