Where Should You Print Your Digital Art?
So you purchased your first digital artwork, congrats! Digital art is an easy & affordable way to support your favorite artist. Originals or prints are great, but digital art has its own pros list. With a digital file, you have the freedom to print on whatever medium, adjust the size & use it more than once. But what do you do now? I'll go over a few options & include some helpful resources.
Printing at Home
If you already have a printer at home, you can go ahead and use that. Most shops on Etsy offer a letter size printing option. If not, larger file sizes (with the corresponding ratios), can be sized down to fit. You never want to size up a smaller file, always size a larger file down for the best quality. Below is an example of the sizes & ratios I offer for reference.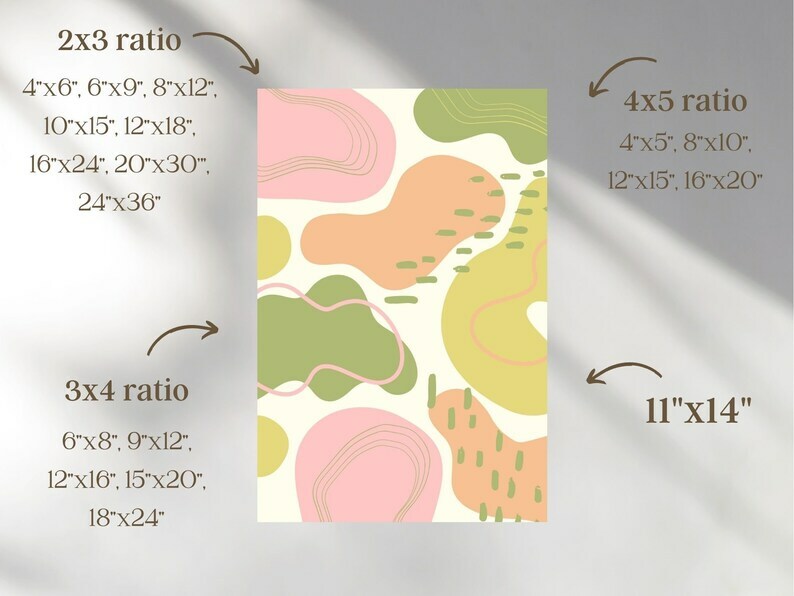 These are just some of the common sizes. You'll see a lot of 1x1 ratios, meaning square. I usually size my digital illustrations at 3000x3000px, which fits this 1x1 ratio. Unless of course, the client is requesting a different size.
I found a handy calculator to help you decide the maximum size recommended for printing any png, jpg, or tif file.
Printing Online
Printing online is for those looking to print on a variety of mediums & sizes. I'll list some of my recommendations, but always do your research! I'll also include an app that offers you free prints.
I have used Snapfish before in the past & they never disappoint. The deals they offer on a daily basis is insane, making it (usually) the cheapest option. Just add your own photos, choose how you would like it printed, and get it sent right to your door. Here is just some of the things you can print your new art on:
Prints/Canvas

Mugs/Calendars

Collages/Framed Canvas

Apparel
I have never personally used mpix, but I stumbled across it and found it to have some unique options for printing. They are also offering Cyber Monday sales today! Below is a quick video on how to upload you photos to print.
They offer Giclee Prints, which uses a high resolution, pigment based ink. For those who love attention to detail. You can also choose the type of finish: glossy, deep matte, semi gloss, & fine art. All at reasonable prices.
A basic 8x10 canvas print will cost you about $60, where as at Snapfish, they have a code to get one for $10.99.
Similar to Snapfish, Shutterfly offers a variety of print options & daily deals. You can have your artwork printed on photo tiles, canvases, puzzles, pillows & more. Once you purchase that digital file you can really do whatever you'd like (for personal use only of course).
Shutterfly is offering a sale on their 8x10 canvas prints as well for only $44. They offer standard, large photo prints starting at $8.99 for an 11x14. Not bad.
Free Prints
Free Prints is an app in the app store. I have only used this once before but was very happy with the results. It is what is says, Free Prints. No subscriptions or commitments. You do pay for shipping, but photos are cheap to ship. You get 85 free 4x6 photo prints a month (1 per photo). You can also print larger for an affordable price. Quality seemed to be good as well, but I haven't printed anything big yet. FreePrints also has deals that come around, right now they are offering free ornaments!
Printing at a Print Shop
If you don't have your own printer & prefer seeing someone in person, you can hand your files over to a print shop. First of all, do some research and see if you have a local print shop near you & see what kinds of files they take, what the prices are, and delivery times. If not, there are some more popular options.
Many products to choose from, same day print options, curbside pickup, free delivery, & good prices.
Same day pick up on select items, many printing options as well.
Many printing & same day pick up options.
I hope this inspired you to purchase some digital art. It is a great way to decorate your home with custom art in an affordable way. Here is a helpful article for more information on pixels & resolution. The Printer's Cheat Sheet: How to Print Your Art
Check out some of my digital art on my Etsy!
Enjoy this post?

Buy balncd.design a coffee