Comply or Die: The UAE's Privacy & Data Protection Law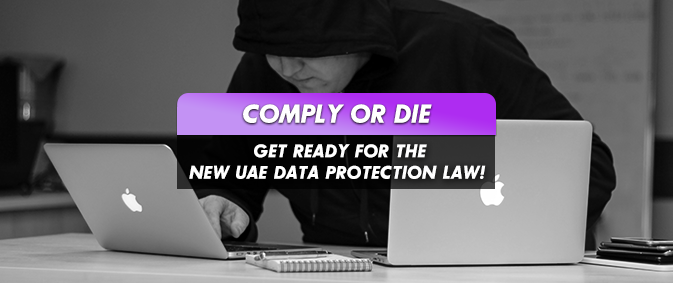 The United Arab Emirates recently introduced a landmark online privacy and data protection law, the UAE Data Protection Law (DPL or PDPL). The law came into effect on 2nd January 2022, but companies have six months to comply - the compliance deadline's currently Saturday, 28th May 2022.
You can read more about the new law over at the TGS Substack, but here's everything you need to know in a nutshell:
The new law largely mirrors the European Union's General Data Protection Regulation (GDPR) legislation - which means potentially (very) high fines for non-compliance.

The law has "extra-territorial reach", which means it applies to all organizations in the UAE that process data of "data subjects" (i.e. guests, customers, or users) inside or outside the country, but also to organizations outside the UAE that process data of guests/customers/users inside the UAE.

Compliance with the law will be monitored by the newly created UAE Data Office. The exact details of penalties for non-compliance and breaches aren't know yet, but will be announced in the run-up to the compliance deadline, which currently is Saturday, 28th May 2022.

DPL/PDPL gives data subjects a number of rights over their personal data, including the right to access their personal data, request the transfer of their personal data, have their personal data amended or erased, restrict the processing of their personal data in certain cases, and to object to automatic processing and certain types of data processing like marketing.

Comply, don't die! Get ready NOW!
Saturday, 28th May 2022 isn't really that far away and, because DPL is a UAE federal law, it's unlikely that the compliance deadline will change - in other words, it's time to get your house in order! If you're running a small or medium sized business or if you are a self-employed freelancer, blogger, writer, or otherwise engage in licensable business activities in the United Arab Emirates, or if your business is based abroad, but markets to customers in the UAE, and you don't know where to start and what to do, don't panic, help's at hand. I've put together three nifty, value for money, and customizable offers, which you can buy online with just a few clicks:
1-2-1 consulting: Way too often, we don't start things because we can't get our minds round the WHOLE thing. We don't take the first step because we can't figure out the seventeenth step. It's too easy to be caught up in endless thoughts: what if step 4 doesn't work? Or what if there isn't money for step 11? What if people don't like the results of step 6? Some people are stuck, and they remain stuck because they can't get their minds around the whole thing. Don't be like some people! Instead, just click here and book a 1-2-1 consulting session with the Sloth! I'll answer all your questions about how DPL will impact your business or, if you don't even know what to ask, we'll go through your operations and find out, prioritize, and make sure you're ready to comply with the new law by the deadline. Book your 1-2-1 consulting session now for less than the price of a good dinner!

Website audits: If your business activities mean you have a website and/or social media presence, DPL will likely impact you considerably and you need to ensure that your online presence complies with the new law, which includes privacy policies & disclaimers, cookie policies & notices, and a host of other measures. I can quickly audit your website and social media and provide you with a hands-on, actionable report and and in-depth gap analysis. You'll see what's good, what needs optimizing, and what still has to be put in place before the law's compliance deadline. The Sloth's website and social media audit takes a few days to compile and costs only AED 500 - book yours now!

Marketing audits: DPL will fundamentally change how companies in the UAE or companies abroad, but marketing to UAE audiences, collect, store, and use marketing data. Virtually every business that collects and stores customer data is affected. Your entire marketing chain needs to be DPL compliant - including 3rd-party systems and software, e.g. email marketing platforms, newsletter subscription services, marketing partnerships with 3rd parties, loyalty programs, etc. Let the Sloth carry out a full audit of your marketing processes and provide you with an extensive, actionable report, an in-depth gap analysis, and prioritized compliance recommendations - in short, everything you need to avoid fines and laugh in the face of the DPL compliance deadline. Book your 360 degrees marketing audit NOW for just AED 2,060!

Why me?
I'm a Dubai hospitality veteran. I'm also a certified (digital) marketing trainer & coach specializing email marketing and marketing automation. Over the years, I have helped businesses of all sizes in the GCC and beyond, from ambitious & talented sole traders to international companies and government entities, to market better and make their customers. guests, and users fall in love with them.
Most of my clients are family-owned & operated businesses, startups, or SMEs. I am interested in many things and understand an eclectic mix of business, science, and art. I know people and what makes them tick, but I also know how to make businesses work and extract the best profits for their stakeholders. Above all, I've been there, done that, got the t-shirt, and lived to tell the tale. Oh, and I'm also a rather entertaining presenter and speaker. I'm fiercely independent and I'm not affiliated with any company, product, or service.
Connect with me!
Enjoy this post?

Buy Martin Kubler a coffee