TGS Office Hours: Meet The Sloth. Get Shit Done!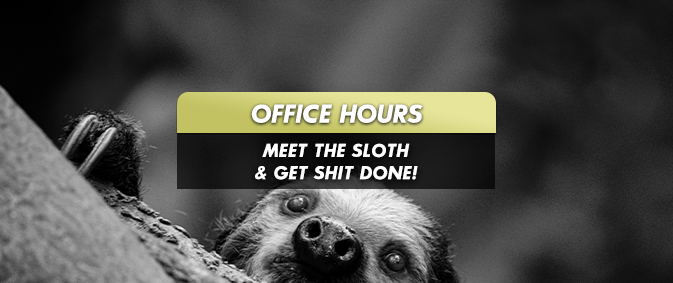 What do parathas, cooking classes, doctor appointments, and wine tastings have in common? They're all examples of products and services that have successfully gone virtual over the past 2-3 years. COVID lockdowns, WFH ("work from home), and the post-pandemic "new normal" just furthered the trend of businesses that previously focused on in-person engagement to make the jump online.
There's no denying that "virtual" has all kinds of advantages – you don't waste time getting to/from meetings, you can expand your services to new audiences, you need less bricks & mortar office space, and you can "virtualize" things like bookkeeping, graphic design, or marketing.
There's a stumper, though. Virtuality is all very dandy for larger companies, but what about sole traders, small- and medium-sized businesses, or family-owned and run, independent, companies? For a good number of businesses, "virtual" often means not being able to bounce ideas of others in meetings or around the watercooler, not having enough "in-house" time or resources to successfully outsource or manage virtualized secondary (non-core) activities, and missing out on connecting with the latest industry trends and business opportunities. Perhaps you, too, have comfortably sat at home working away on your latest project or sat alone in your bricks & mortar office enjoying a coffee, but then suddenly thought "Ah, jaysus, I'm stuck! I wish there'd be someone around I could chew this over with quickly?". Enter the TGS Office Hours!
So, what's the story with the Sloth's office hours?
TGS Office Hours are fixed times when I invite you to pop into my virtual office without having to book in advance. Simply turn up and off we go. You can stop by to ask questions, bounce ideas around, or discuss opportunities, challenges, and obstacles, or simply to get shit done. Stay for a few minutes or hang out for an hour, bring a beverage of your choice, and wear what you like – the Sloth won't judge you!
Why the €3 charge? Can't I visit your office for free?
Yup, I charge 3 Euro for a TGS Office Hours slot. Nope, I'm not joking. The €3 keeps the Sloth in coffee and also means you're exchanging a few dinero for illumination and advice, which is a lekker thing to do, because we all know that free advice is often rubbish – just look at the state of the Internet!
Any leftover money goes to one of the Sloth's preferred charities. The Sloth supports the Sloth Conservation Foundation (obviously), Hospitality Action, and the Hunt Saboteurs Association.
Also, if you secure my services for a gig after your office visit (though there's absolutely no obligation whatsoever to do so, of course), I'll knock the €3 off your first bill.
Right, when are the next TGS Office Hours and how can I book?
The dates and time of all upcoming TGS Office Hours will be announced on the Sloth's Facebook Events and Twitter feeds and they'll also be featured in the Sloth's email newsletter, which you can subscribe to on my #FlowPage . You can book with just a few clicks and pay securely online here.
Enjoy this post?

Buy Martin Kubler a coffee