Workshop for Restaurateurs: Driving Direct Online Orders!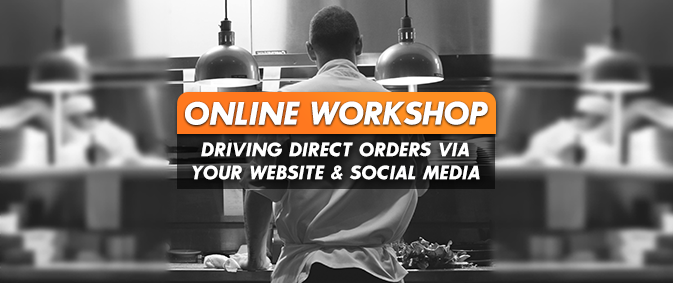 Third-party food ordering and table booking services excel at attracting new guests and increasing brand awareness through strong consumer networks. These services can be valuable marketing tools, but if used as the only channel, they own the guest relationship and all the data that accompanies it. Relying solely on third-party sites comes at a steep cost — not only to your bottom line! It hinders your ability to establish meaningful, long-lasting relationships with your guests and makes it harder to turn new faces into regulars.
When a guest makes a reservation or orders food through one of your owned channels — including your website, social media, or operations team — that's direct business and comes at no cost to you. Free business, free data, and endless possibilities.
In autumn 2020, I put together a one-hour, hands-on, virtual workshop for restaurateurs, which gives you the low down on how to drive direct bookings & orders with the tools you've already got - your website and/or your social media. The workshops cut through all the noise and get straight to the "good bits"! If your restaurant is on Instagram or Facebook, you're ready to take back business from Zomato, Deliveroo, & Co. If you've got your own website, even better!
The "Driving Direct Orders" workshops cover:
Why direct? The advantages of driving direct orders.

What do I need to get started? Get ready to claw back revenue from third-party platforms in 5 easy steps!

Data! How to gather impactful data from your social media followers, website visitors, and customers (whether direct, dine-in, or via third-party platforms) and then turn it into direct revenue.

Tools! What's the deal with cookies, Facebook & Instagram pixels, Twitter tags, and other social & digital "tracking tools"? They only take minutes to set up and can make you real money!

Traffic! It's nice to have ChatFood, LimeTray, or other direct-ordering systems, but how do you make sure your customers use them? Hint: It often starts with your customers knowing that they exist!
This is how it's done: A hands-on, illustrated, best practice case study. See how spending just a little time and money on driving direct orders can pay off handsomely and how you can go from 0% to 20% - 30% direct orders within weeks. Clear, straightforward info - what you need to do, what you need to spend, and what you can expect. Budgets, timelines, activities.
I ran six sold-out sessions in October and November 2020 and more in 2021. Each workshop is 45 minutes, followed by 15 minutes Q&A, and afterwards, you'll get a link to download the recording of the full session and also a comprehensive resource kit with additional information, checklists, and links.
If you don't want to wait until the next series of "Driving Direct Orders" workshops, you're welcome to click here and book a 60 minutes 1-2-1 session on a date and at a time of your choosing. If you're more of a reader than a webinar-er, you can also get your hands on "DDO - The Toolbox" here. "DDO - The Toolbox" is a compendium of all "Driving Direct Orders" materials, questions & answers, and bonus resources. Cunningly enough, the DDO Toolbox also contains a 50% discount code for a "Driving Direct Orders" 60 minutes 1-2-1 session.
What previous participants say:
"Extremely useful insights!" | "Full of things we should all know & do, yet always seem to overlook." | "Great value, easy to understand & implement." | "Worth much more than the price of a cup of coffee!" | "Indefinitely better value than dinner with Donald Trump!"
Why me?
I'm a Dubai hospitality veteran. I'm also a hotelier. I fought the same battles you're fighting now 10 years ago and I won. I know what it takes to drive direct business and, often, it's not even very much. A few small changes can make a big difference!
I work with restaurants, hotels, and destinations in the United Arab Emirates and beyond. Most of my clients are family-owned & operated businesses, startups, or SMEs. I am interested in many things and understand an eclectic mix of business, science, and art. I know people and what makes them tick, but I also know how to make businesses work and extract the best profits for their stakeholders. Above all, I've been there, done that, got the t-shirt, and lived to tell the tale. Oh, and I'm also a rather entertaining presenter and speaker. I'm fiercely independent and I'm not affiliated with any company, product, or service.
Connect with me!
Enjoy this post?

Buy Martin Kubler a coffee