Kingston tame the Lions to book a finals spot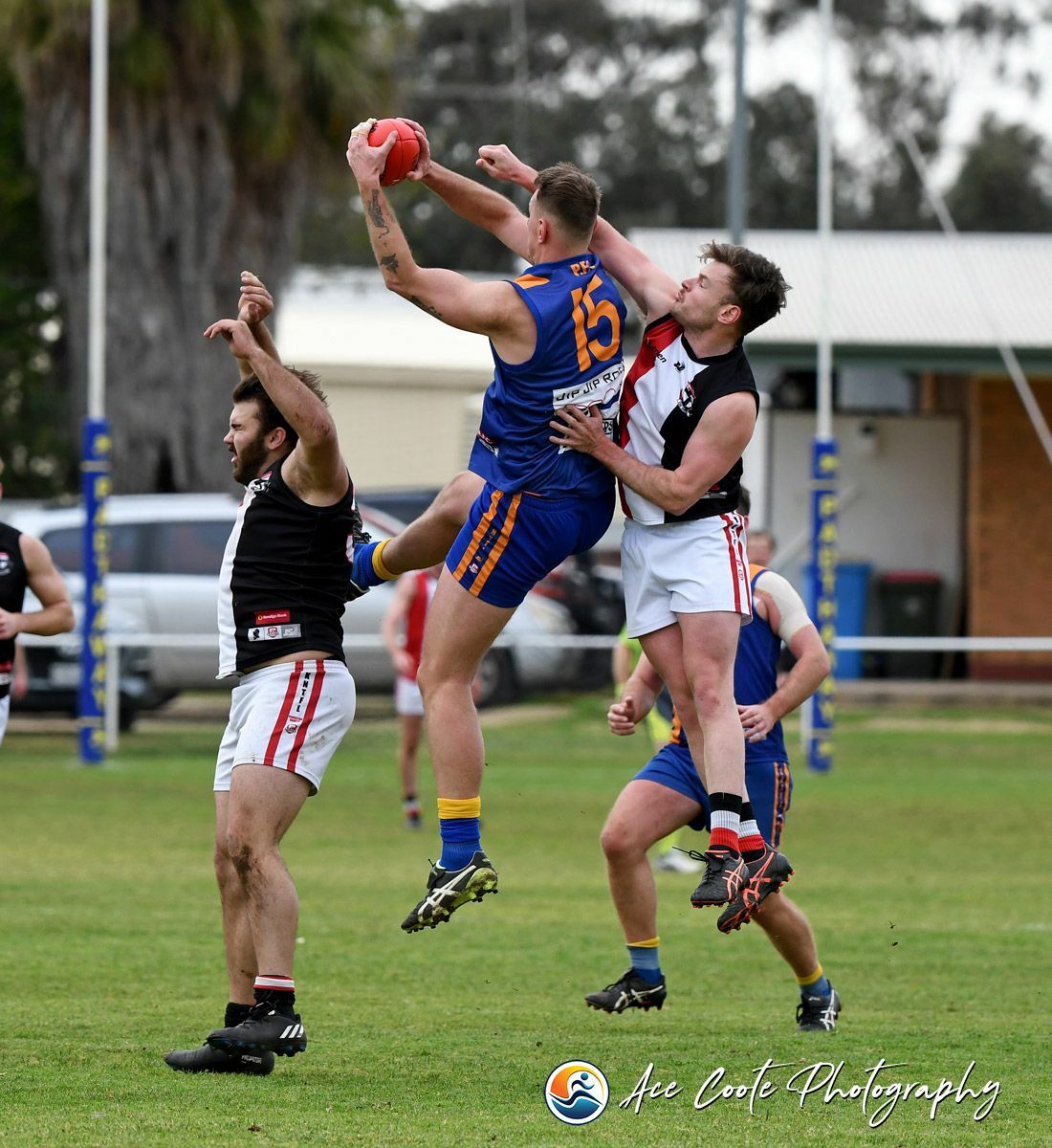 Kingston booked their finals spot for 2022 after they won a tough contested game against Padthaway on Saturday. Both teams had big reasons to get the four points as the Saints could seal their finals spot and try and make a charge towards a top three spot. Padthaway also were looking to win to keep their finals hopes alive.
Padthaway got off to the perfect start as they attacked first and were able to get the first goal through Tom Moyle-Read. Kingston was able to respond soon as Ethan Murdock swooped on to a ball and put through the Saints first goal. The Lions were able to get the lead back as they worked the ball to Joshua Miller who marked it and kicked a goal to put the home side six points clear. Tom Moyle-Read, Darcy Boyanton and James Alexander were getting some clearances early and pushing the ball Padthaway's way. Kingston hit back with a goal from Travis Burns and then Campbell and Will Watts combined to get the ball to a running Ethan Murdock who put through a goal to put the Saints seven points up before quarter time. Jed Castley had started well for the Saints, getting plenty of the football around the packs. Jake Wehl was providing lots of runs from the half backline. Ben Rogers and Brett Simpson were cleaning up for the Saints across half back.
Kingston got the first goal of the second quarter as the James Siviour roved a ball off the throw in and handballed to Ben Warner who snapped a left foot goal. The Saints lead pushed out to 12-points. Padthaway kept fighting hard to stay close to the Saints as Kiefer Sharkie bobbed up with a goal to drag the margin back to seven points. Campbell Watts and Tobin Cox was the marquee matchup for the game and Campbell was doing a good job stopping Tobin's influence, so others had to step up and players such as Tom Moyle-Read, Darcy Boyanton and Will Verco were doing just that. Joshua Miller was having a fascinating contest with Ben Rogers. Ben is a spoil artist, but he was giving away a lot of height to Miller who looked dangerous in the air at times. Kingston pushed forward again from the centre as Jack Harding made his presence felt. Jack was able to get the ball to Ben Warner who again snapped a goal as the Saints worked their way to a 13-point lead. Ben Warner had a heap of the football in the second quarter. The Rogers boys Tom and Ben were working hard. Tom was gaining plenty of touches, while Ben was down back and making many spoils, but also taking a saving mark when needed. Kingston went in to half time 13-points ahead.
Both teams came out fired up in the third quarter to try and take control of the game. Both defences however were right on top and not letting any goals be kicked. Brett Simpson, Ben Rogers, Jake Fisher and Jack Tapfield were standing up defensively for the Saints. Ray Jaensch, Will Rivers and Tom Cooper were holding up for the Lions down back as well. Neither team could seem to set up any good shots on goal. Josh Miller provided a good target for the Lions, but he either marked it too far out or Ben Rogers was able to get a spoil in before he could mark it. Jed Castley was doing a power of work around the packs for the Saints, gathering touches and laying some big tackles. Neither team ended up kicking a goal in the third quarter as the Saints went in to three quarter time 11-points ahead.
Padthaway attacked hard at the start of the fourth quarter as Tarquin Brown was able to kick a goal to bring the margin back to five points and keep the Lions in it. Tom Moyle-Read, Kiefer Sharkie and Darcy Boyanton were roving off James Alexander around packs nicely and getting the ball forward in to dangerous positions. Ben Rogers was standing tall most times when the Lions pushed forward. Ben would spoil it and Jack Tapfield, Jake Wehl and Brett Simpson would help clear it. Kingston hit back as Campbell Watts won a clearance and went long to find James Siviour who took a strong clutch mark. Siviour who had been out with a hamstring injury, struggled with his timing in the first half in his first game back. Siviour put the goal through as he started to find the form in the second half that he had early in the season before the injury. Kingston then got another goal from Jack Harding as the Saints had a bit of a run on and were up by 17-points and charging towards the victory. Will Watts was having a big last quarter as he kept winning clearances for the Saints. Kingston was able to grind it out run out winners by 15-points in the end and booked their finals spot.
Enjoy this post?

Buy Matthew Beggs a coffee