KNTFL Wrap Round 11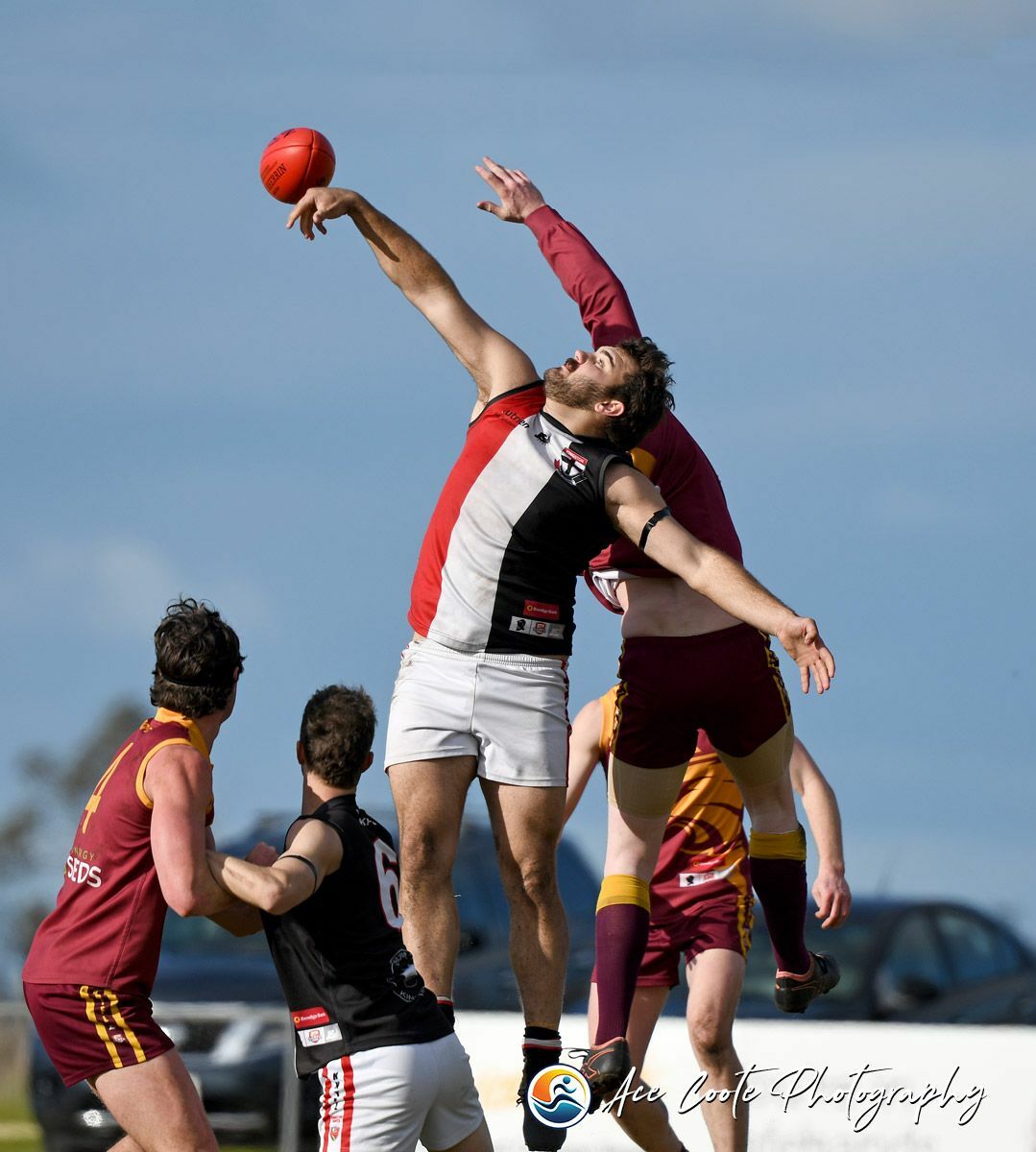 Round eleven of the Kowree Naracoorte-Tatiara provided some big ladder changes as there were a few upsets that happened.
Keith continued their great recent form defeating Lucindale. The Crows started strong in the clash and were 38-points by half time and despite a Lucindale second half comeback, the Crows were able to hold on. Billy Wade kicked five goals as he led the Crows to a great win. George Johnson kicked four goals and Lewis Hender kicked three goals to help the Crows get back-to-back wins against top quality opposition. Lewis Hender, William McMurray and Ryan Bartlett were the Crows best players. Lucindale battled hard but a slow start really hurt their chances to win the game. Henry Tregoweth kicked three goals in a losing effort. Riley Mcfarlane, Matt Kelsh and Tom Logan were Lucindale's better players. Lucindale have lost two of the last three games and have come back to the chasing pack a little bit. They are still six points ahead on top, but have some challenging games to come.
Mundulla proved to be too strong in the clash against arch rival Bordertown. The Tigers opened up a five-goal lead by half time and held the Roosters at arm's length the rest of the game to win by 27-points. Harry Kuchel, Daniel Noll and William Nankivell kicked two goals each for the Tigers. Daniel Noll, Hamish Young and William Nankivell were the Tigers best players in the win. Thomas Whittlesea battled hard in front of goal with two. Lochie Eats, Hayden Shuttleworth and Nick Dahlitz were the Roosters best players.
Border Districts kept their finals chances alive after they staged a second half comeback to stun Kingston at Francis. The Saints were 20-points ahead at half time and still 13-points ahead at three quarter time, but the Eagles lifted their work rate and ran over Kingston to record a 15-point victory. Nick Schild was strong in front of goal with three majors. Fraser Adams, Ben Walter and Mark Quinn were instrumental in the Eagles win. Todd Lockwood kicked two goals for Kingston to be their main goal contributor. William Watts, Jacob Fisher and Jack Tapfield were the Saints better players.
Naracoorte recorded a percentage boosting 112-point win against Penola. The Demons dominated right from the start to get some revenge on the Eagles from earlier in the season. The Demons are the only team the Eagles have beaten this year. Naracoorte had seven goal kickers in the game. Rory Taggert and Sam Willson led the way with five goals each. Aaron Slorach, Matt Willson and Joshua Gregg kicked three goals each as well. Rory Taggert, Matt Willson and Joshua Gregg were the Demons best players. Scott Merrett battled hard with two goals for the Eagles. Bradley Bryant, Scott Merrett and Jacob Robbie were Penola's best players.
Padthaway kept their finals chances alive with a tough 20-point win against Kybybolite on Saturday. The game was a tight affair for three quarters, until the Lions were able to break away in the fourth quarter and collect the victory. Tom Moyle-Read kicked four goals in the victory for Padthaway. William Charlick, Will Rivers and Tom Moyle-Read was named as the Lions better players in the victory. Stephen Craig continued his good season in front of goal for the Tigers as he added two more goals on Saturday. Reihana Collis, Tom Woodard and William Russell were the Tigers best players.
Enjoy this post?

Buy Matthew Beggs a Beer