KNTFL Wrap Round Two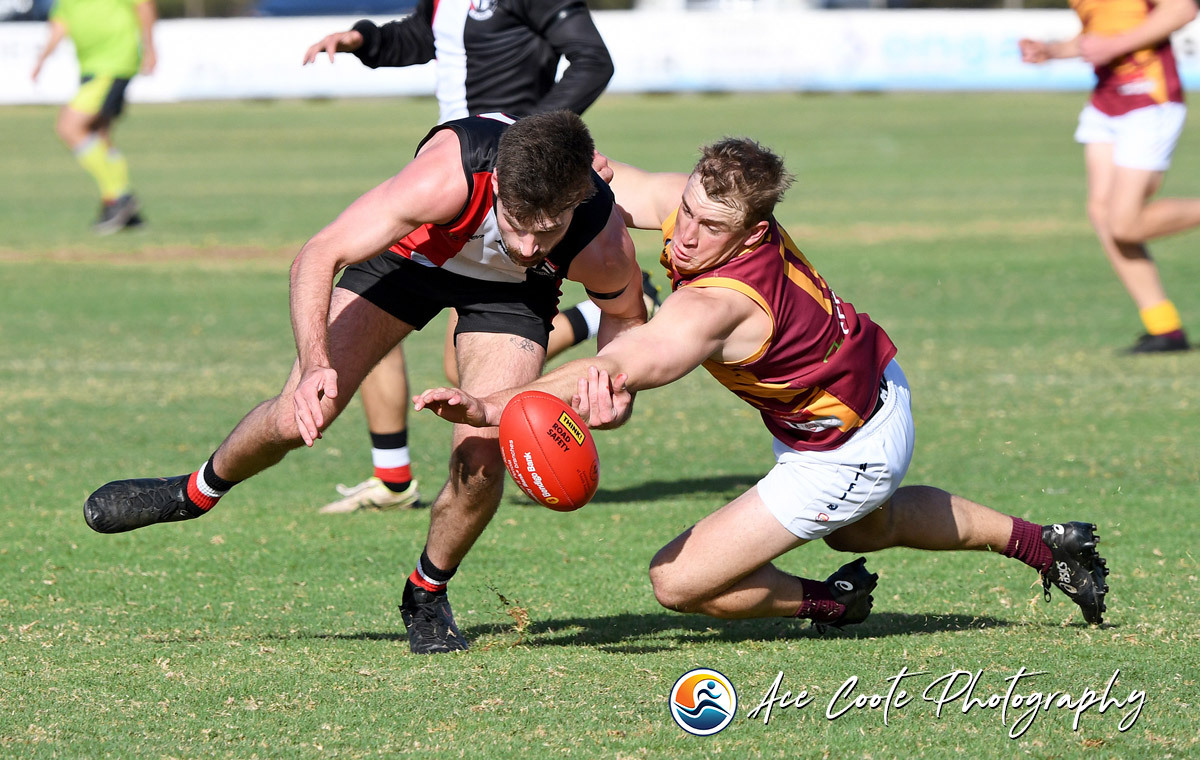 Round two of the Kowree Naracoorte-Tatiara Football League provided some interesting results as Penola caused a huge upset over Naracoorte and Bordertown played out a thrilling draw with arch-rival Mundulla
Penola caused a big upset when they defeated Naracoorte at Naracoorte on Saturday. Naracoorte went in as hot favourites after their strong performance the previous week against Kybybolite and would have fancied themselves to back it up against the young Eagles. After scores were close at half time, Penola were able to open up a second half lead and pull away for an impressive 19-point win. Drew Clayfield kicked five goals in the win. Ex-Robe player Zac Deane kicked three goals in an impressive effort for Penola also. Bradley Merrett, Brock Egan and Luke Walker were strong in the victory. Rory Taggert was able to provide Naracoorte with a good focal point in the game as he got three goals in the loss. Keenan Jacobs, James MacDonald and Rory Taggert put in good performances for Naracoorte.
Lucindale put in a very strong performance when they defeated Keith by 54-points. Hamish Gordon kicked six goals to take his season tally to 9-goals already for the season. Sam Williams helped out with two goals for the Roos. Hamish Gordon, Matt Kelsh and Cody Clarke stood out in the victory for Lucindale. George Johnson was the only multiple goal kicker for Keith with two goals. Seb Schreiber, Ryan Bartlett and George Johnson battled hard for the Crows all game long.
Mundulla came storming home in the fourth quarter to play out a thrilling draw with Bordertown. Bordertown led by five goals at three quarter time, but could only manage three behinds in the fourth quarter as the Tigers made a big charge kicking five goals to none to draw the game with the visiting Roosters. Harry Kuchel kicked two goals for Mundulla, while Jack Guy, Marcus Young and Daniel Noll had strong performances all game. Thomas Whittlesea continued his strong start to the season with another four goals for the Roosters. Thomas Whittlesea, Cameron Graetz and Jacob Eats shone out for the Roosters
Kingston held Border Districts to just one goal in the second half of their game on Saturday to help them record their first win of the season. Travis Burns kicked three goals and Tom Rogers kicked two goals in the victory for the Saints. Campbell Watts starred for Kingston as he controlled the game from half back, running the ball at every chance he got to help set up the play. Jake Wehl and Ben Rogers were others who had very solid games for the Saints. Nick Schild was the leading focal point on Saturday for the Eagles with two goals. Dylan Auciello, Brayden Denmead and James Baron were great players for the Eagles all game long.
Kybybolite recorded their first win of the season with a strong 29-point win over Padthaway on Saturday. The Tigers pulled away in the third quarter to set up the victory as Padthaway couldn't kick straight in the first three quarters to put any real pressure on the Lions. Bodhi Carberry, Tyler Harris, Thomas Jennings and Billy Laurie all kicked two goals each in the victory. Tom Woodard, Tyler Harris and James Bittner were the Tigers best players and strong performers during the win. Tobin Cox kicked four goals for Padthaway in the loss. Will Rivers was the only other goal kicker for Padthaway as the Lions struggled to keep up with the Tigers.
Round three this week sees Bordertown host Lucindale in what looks like a very good match up. Both sides are undefeated and brimming with confidence. The crowd there should witness a good contest.
Padthaway host Naracoorte and the Demons will be out to bounce back from last weekend's loss. The Lions haven't had a win yet, but will put up a great fight if they can find a couple of goal kickers to help Tobin Cox out in front of goal. The Demons will start favourites.
Keith host Penola and the Eagles will be coming to Crow Land full of confidence. The Eagles upset Naracoorte on the weekend and will be looking to back it up on Saturday. Keith will be looking to bounce back after never really being in the contest against Lucindale.
Border Districts host Mundulla and this clash might be an interesting one to keep an eye on. A year ago, Borders went in full of confidence and got belted after they had put up a good start to the year. A year later the two sides meet again and Borders will be looking to show that they have improved against the league leading pacemakers.
Kybybolite host Kingston in a clash of two teams with 1-1 records. Both teams have some quality football players and this game should be a good one to watch. Kingston will start favourites on the road, but the Tigers usually put up a good fight at home.
Enjoy this post?

Buy Matthew Beggs a coffee