KNTFL Wrap Round Three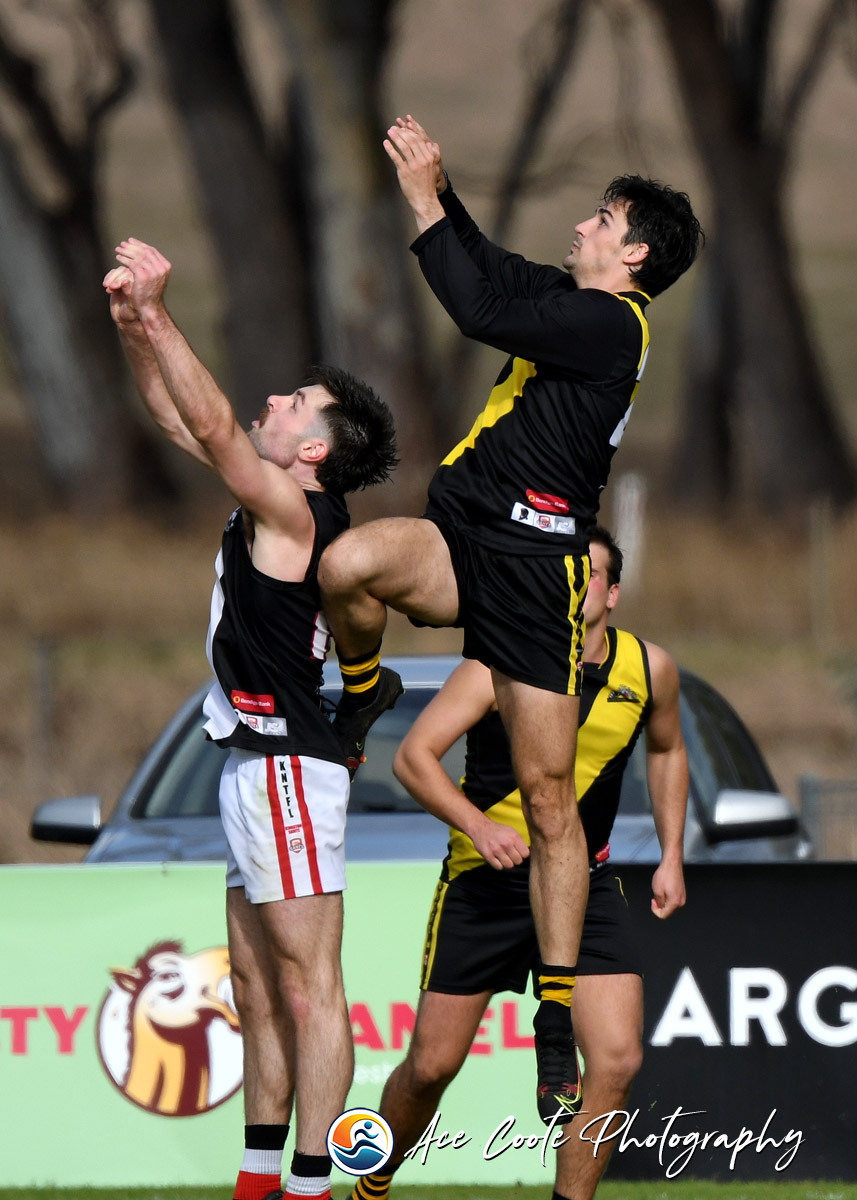 Round Three of the Kowree Naracoorte-Tatiara Football League threw up some more interesting results to an already fascinating start to the 2022 season. Padthaway and Keith both recorded their first wins for the season as that now means that every team has had at least one win in the first three wins, which is quite amazing and great for the competition.
Lucindale and Bordertown went head-to-head in a battle of two teams who were yet to lose this season and it was the Roos who flexed their muscles with a strong 45-point win. Lucindale put their foot to the floor after half time and only bad goal kicking prevented the margin being bigger. Sam Williams shone in front of goal with four goals for the Roos. Scott Foord-Spriggs and Henry Tregoweth kicked two each to help in the win. Justin Watson, Matt Kelsh and Scott Foord-Spriggs were the victors' best players. Bordertown had all single goal kickers as they couldn't find a consistent avenue to goal thought the game. Rory Tink, Thomas Whittlesea, Cameron Graetz were the Roosters better players.
Padthaway built up a big 42-point half time lead in their game against Naracoorte and were able to withstand a furious Demons comeback in the second half to get across the line by eight points in their game against Naracoorte on Saturday. Padthaway were desperate to record their first win of the season and would have been happy with the start and relieved they could hold on. Tobin Cox kicked five goals in the victory and Joshua Miller kicked three important goals to help out. Tobin Cox, Nathan McCarthy and Will Rivers were standouts for Padthaway in the win. Rory Taggert with six goals and Sam Willson with five goals, had Naracoorte in the contest right until the end of the game. James MacDonald, Keenan Jacobs and William Limbert were Naracoorte's best players.
Keith recorded their first win of the year with a thumping 91-point win over Penola. The Crows got their season back on track with a commanding performance. Keith was up by seven goals at half time and ran the game out to regain percentage lost in the first two rounds of the season. George Ryan, Jack Jones and Charlie Hannemann were dominant for Keith and made sure the Crows got on the winners list. Penola's best players included Jacob Robbie, Brock Egan and Taj Messenger who pushed hard all game for the Eagles.
Mundulla fought off a very determined Border Districts by 27-points on Saturday to stay undefeated in season 2022. Mundulla made their charge in the third quarter when they piled on seven goals to one and opened up a 41-point lead by three quarter time. To Border Districts credit, they showed some great fight in the fourth quarter to bring the margin back closer and run the game out strongly. Jake McGrice kicked four goals in the win for Mundulla. Tom Gaden, Daniel Noll and Wade Packer all chipped in two goals each in the victory. Jacob Grosser, Jake McGrice and Daniel Noll were strong performers in the win. Mark Quinn had another stand out game for Borders. Last year's league Medallist kicked three goals and was the Eagles best player as he tried all game to lift the Eagles towards victory.
Kingston came from two goals behind at half time to record a strong 32-point win against Kybybolite at Kybybolite on Saturday. The Tigers had worked hard to get the lead at half time, but the Saints were able to turn the game around in a six goal to two third quarter and gain a 14-point lead at three quarter time. The Saints went on with it in the fourth quarter to record a strong win and move to third spot on the ladder. Todd Lockwood was great in front of goal for Kingston with six goals. Ben Warner helped out with four in the victory. Ben Warner, Hagan Wright and James Siviour were the Saints best players. Billy Laurie kicked three goals for the Tigers, while Tyler Harris also put through two goals of his own to help keep the Tigers in the hunt for most of the game. Callum Masters, Billy Laurie and Joseph Schultz were Kyby's best players.
Round four looks to have some more interesting match ups and with the way the season's results have gone so far, It is hard to predict what any game will do.
Penola host Bordertown and both teams are coming off significant losses and will both be looking to bounce back on to the winners list. Penola play at home pretty well, but the Roosters will be fired up to redeem themselves after their performance against Lucindale.
All guns blazing Lucindale face Border Districts at Lucindale and the Roos are flying along with three comfortable victories so far. Lucindale will go in as favourites, but the Eagles have been playing some good football.
Naracoorte host Keith and the Demons last two weeks would have been disappointing for Demon's fans after such a strong round one performance. No doubt the coaching staff will be working hard to fix that up for this week. The Crows though, found form and finally got on to the winners list with a big win last week. Keith will be looking to keep that strong form going with another great showing on the road.
Two wins in a row has Kingston in form and ready to host a suddenly in form Padthaway outfit who had their first win of the season. Both teams boast a big forward presence, with Kingston having James Siviour in front of the goals for them and the Lions have Tobin Cox who is always dangerous when the ball is in their area. Padthaway beat Kingston twice last season(including the Qualifying Final) and were the only team that didn't lose to the Saints in 2021, so they will be confident in that form. Kingston will be fired up to turn that around and continue their current two game winning streak.
The battle of the Tigers will take place when Mundulla host Kybybolite and the home Tigers will start favourites in this game. Mundulla will be looking to stay undefeated this season, while Kybybolite are just starting to play some good football. Both teams will go in confident they can do well.
Enjoy this post?

Buy Matthew Beggs a coffee