Gratis Schnupper-Proben zum Young-Living Day!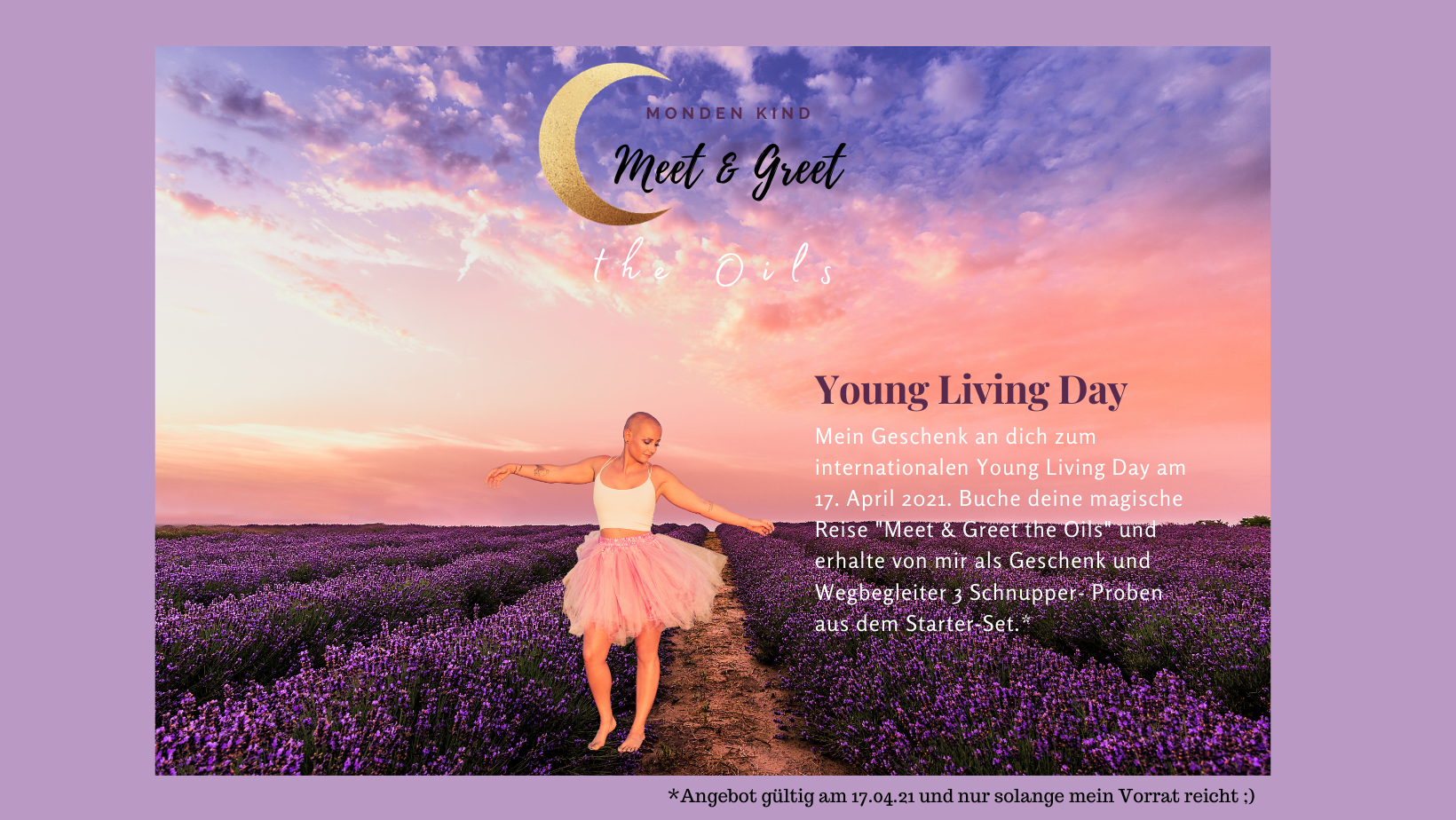 Geschenke, Geschenke, Geschenke ❤!!!
Morgen ist offiziell Young Living Day ☺️und das möchte natürlich angemessen zelebriert werden.
Ich habe mir für euch ein kleines Geschenk überlegt! Klein, aber mit großer und zauberhaft magischer Wirkung! Ich möchte dich in direkten Kontakt mit den wundervollen Pflanzen-Seelen bringen! 🥰
Aus diesem Grund erhälst du von mir als Geschenk zum Meet & Greet the Oils, deiner 12 Öligen Reise zu den Pflanzen Seelen, von mir Gratis 3 Schnupper Proben der Öle!
(Nur für alle Bestellungen des "Meet & Greet the Oils" Pakets am Samstag den 17.04.2021 und nur solange mein Vorrat reicht 😇)
Du hast keine Ahnung ob es sich lohnt? Dann probier Meet & Greet Peppermint, Reise Nr. 1 von 12, Gratis aus und überzeuge dich selbst!
"Das Pfefferminz Öl war, überraschenderweise das Öl, welches mich beim schnuppern am meisten geflasht hat! Mein Herz ging sofort auf!" Kati
⬇️⬇️⬇️⬇️⬇️
Hier geht es zur kostenlosen Reise Meet & Greet Peppermint:
https://www.buymeacoffee.com/mondenkind/e/27664
Und hier bestellst du deine 12 Meet & Greet inkl. Schnupper-Proben: ⬇️⬇️⬇️⬇️⬇️⬇️⬇️⬇️
https://www.buymeacoffee.com/mondenkind/e/27987
Denk bitte daran, mir deine Adresse beim Kauf mitzuteilen, damit ich dir deine Schnupper Proben zukommen lassen kann.
Du liebst was ich mache? Dann freue ich mich sehr über deine Unterstützung! Dieser Beitrag darf sehr gerne geteilt werden.
Feedback zum Kurs:
"Ich wusste nicht genau, was mich erwartet, als ich mich für Marias Kurs angemeldet habe und habe nun so viel mehr erhalten als ich jemals erwartet hätte. In ihrem Kurs teilt Maria nicht nur ihr Wissen über die Wirkung und Anwendung der ätherischen Öle und Pflanzen, sie nimmt die Kursteilnehmer auch mit auf eine ganz besondere Meditationsreise zur Seele der Pflanzen. Es ist so viel Wertvolles passiert auf diesen Reisen und ich habe dadurch sehr viel für und über mich lernen können. Ich bin Maria so dankbar für dieses schöne Geschenk und freue mich auf viele weitere Kurse mit ihr.

Vielen Dank, liebe Maria, für diese wundervolle, magische und unvergessliche Reise in die Welt der Pflanzen und ätherischen Öle! 💓Teilnehmern glücklich schätzen! Ich bin mega gespannt, was uns alle noch erwartet!"- Andrea
Von Herzen alles Liebe! Maria
Enjoy this post?

Buy Maria Reif a essential oil