TLDR: I'm back! I'm taking this month to update all of my social media, get caught up on my last two commissions, reopen my Etsy store, and tackle the first sketch club rewards of the year. You can find me at any of the socials here!
Hi everybody~
It's my first newsletter of the year! I'm alive! As a general life update, I've finished most of my PhD (just waiting on my viva voce examination now) and I am blissfully (for now) unemployed. I'm taking the whole first month of the year to get myself back to normal, because the crunch at the end of the last one really got to me.
Updates
I know I haven't posted any updates here in a long time, but that'll change now that I'm getting myself back together. I'm still going to keep my newsletter pushes to once a month, to save your inboxes, with additional mail for Sketch Club Members, and updates in-between that I won't email out (but, you can always find them here). Supporters (anyone who has ever supported me through here) and Members will get special access to my shop previews and behind-the-scenes stuff, just like I did last year.
I'm also looking at working on a Discord server (Yay, I hear you cry, without joy. Another discord server...) as a more nuanced way of alerting people when different types of updates happen (shop, commissions, blog, streaming, etc). I'm going to be back to streaming hopefully from Wednesday January 18th - probably some time in the morning, as I look to do daytime streams in the UK during the work week. I'm gonna try a bunch of different slots, see what works, then establish a schedule from there! I'm also looking to do collab streams with other artists as soon as I work out all the rest of my life admin crap that I have to get through.
Rewards
The Sketch Club is a little cleaner now; members on each tier will receive their sketch rewards for each month after their first, just as usual, but I will be tidying up your Etsy discount codes and commission discounts. I'll explain more in your special update, which should be out tomorrow! The tiers have been slightly reworked, too - so that the highermost tier is now £10, instead of £8. I was underselling myself a little on those torso sketches, and I want to try harder on them too - so the quality will improve with the price, I promise. If the Discord server comes up shiny, then Supporters, Members and Twitch Subscribers might hopefully be able to have special roles on there, too!
Buy Me A Coffee is also beta testing a new commissions system - so I will be probably taking some YCH commissions through that, of which all my Members will get an automatic discount (isn't that neat?) - so look out for those too, if you have any characters you'd like art of. Looks like BMAC are bringing in a bunch of new features this year, so I'm excited for that too!
Shop
My Etsy is going to be updated with all-new thumbnails, so the shop front is a little cleaner to look at. I love doing the fancy product spreads to show them off, but it's more time- and energy-consuming than I want to it be, so the task of taking new photos becomes quite over-facing when I make new stock. This way, it should be a little easier to get stock up there! I have a bunch of new products coming; the riso print I made recently, new washi tape, new stickers, and my long-awaited earrings!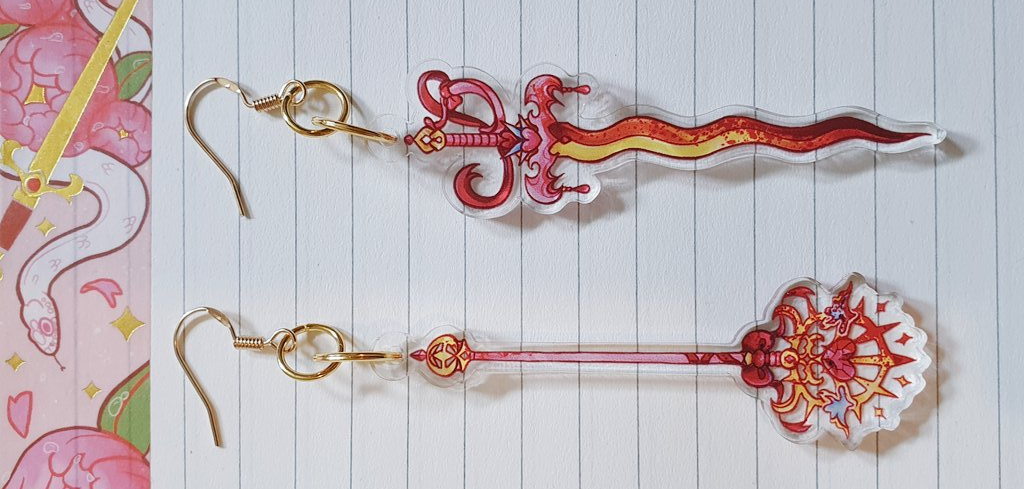 I only have like, 10 pairs of these going up for sale, because they were in such high demand that all my family and friends bought some first 🙃
It's a poorly-kept secret, but I also have some t-shirt designs I'm going to be bringing in this year too - just as soon as I've figured out the best method of me producing them...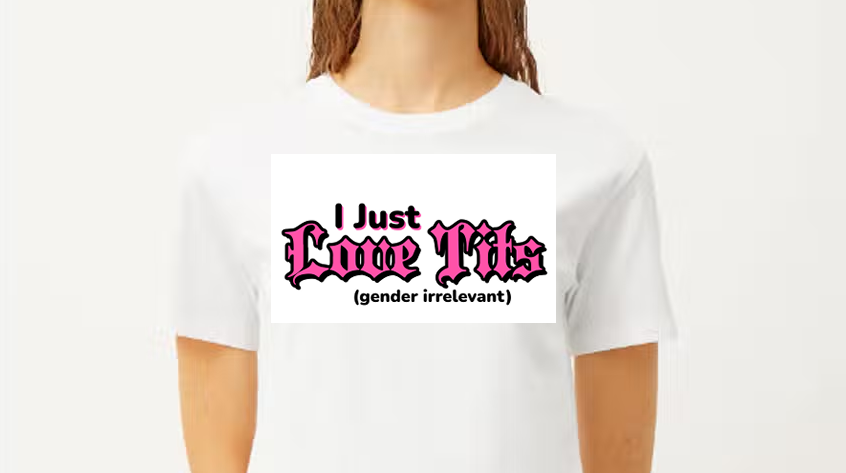 This shirt design is one I've been promising people for approximately a million years, so let's see if we can make it happen this year!
And of course, I still have to finish the dark magical girl zine I started last year but then had to abandon to finish my doctorate. I still haven't forgotten it - I've just decided to launch the merch that go with it first, and work on the zine over the course of this year. I have a lot to get doing...
Last of all...
Thank you to everyone who has been supporting me, either through checking up on me, messaging me, through here or Twitch or through buying my merch. Last year was really, really tough for me - even if, all things considered, I feel like it was one of the best years I've ever had. That's probably all down to the people who took care of me, and I am so very deeply grateful. I don't know what this year is going to bring - and that's a little scary, but it's also pretty freeing! I am looking forward to exploring life again, instead of feeling trapped inside the box I was in for the last few years.
Hope you're all well, and safe, and warm,
Grace