I wanted to share with you the beauty of the Ukrainian lullaby
Hello my dear friends.😊🌷💙💛
You know that feeling when you can't get a melody out of your head and you have to sing it all the time?🎶
I like one melody that I would like to tell you about today.👍
This lullaby was written by a Ukrainian. 🇺🇦 He was almost as prominent as Michael Jackson in his day.⭐️ Fans sang his songs, dressed in costumes in the style of his team, filled the halls where he performed. And he performed all over the world. 🌎
Later, the second Ukrainian living in the USA 🇺🇸 created his own music, which was in the blues style but with Ukrainian motifs. 🇺🇦
The first Ukrainian is Borys Lyatoshynskyi and his lullaby "Oi hodyt' son".
The second Ukrainian is George Gershwin and his "Clary's Lullaby".
Both pieces are lullabies and have similar melodies. 🎶 This melody is considered an ancient melody of Ukrainians💙💛 and is very popular thanks to two beautiful composers who glorified Ukrainian beauty throughout the world.🙏🙏🌎
Personally, I really like to sing this lullaby in Ukrainian for my daughter and just for my soul. ❤️
And now I should remember it better because soon I will have to sing it more often. Because the little heart of another child is beating inside me. 🤰🏻I will soon become a mother for the second time.👶🏻
Today I'm going to post my guitar TABs,🎸 as always I've made it very simple and easy for beginners to follow. 😌
And I would really like you to listen to this melody performed by the outstanding Ukrainian artist Nina Matvienko.
TAB⬇️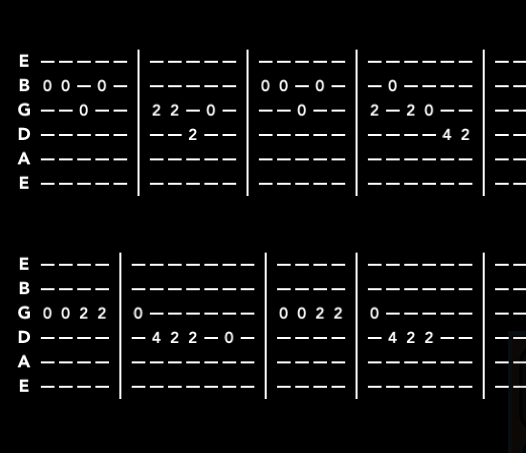 🎧⬇️
The text talks about a dialogue between two characters - Dream and Sleep.💤 They wanted to make a decision about where to spend the night.🌙 They chose a house with a small child and a purring cat.🐈‍⬛ They agreed to rock the baby and put the cat to sleep so that everyone would sleep sweetly and peacefully all night.😴 There is so much lack of peaceful nights in Ukraine today...💔 Play this melody on the guitar and pray for Ukrainian 👧👶🏻🙏💙💛
Enjoy this post?

Buy Natalia a coffee