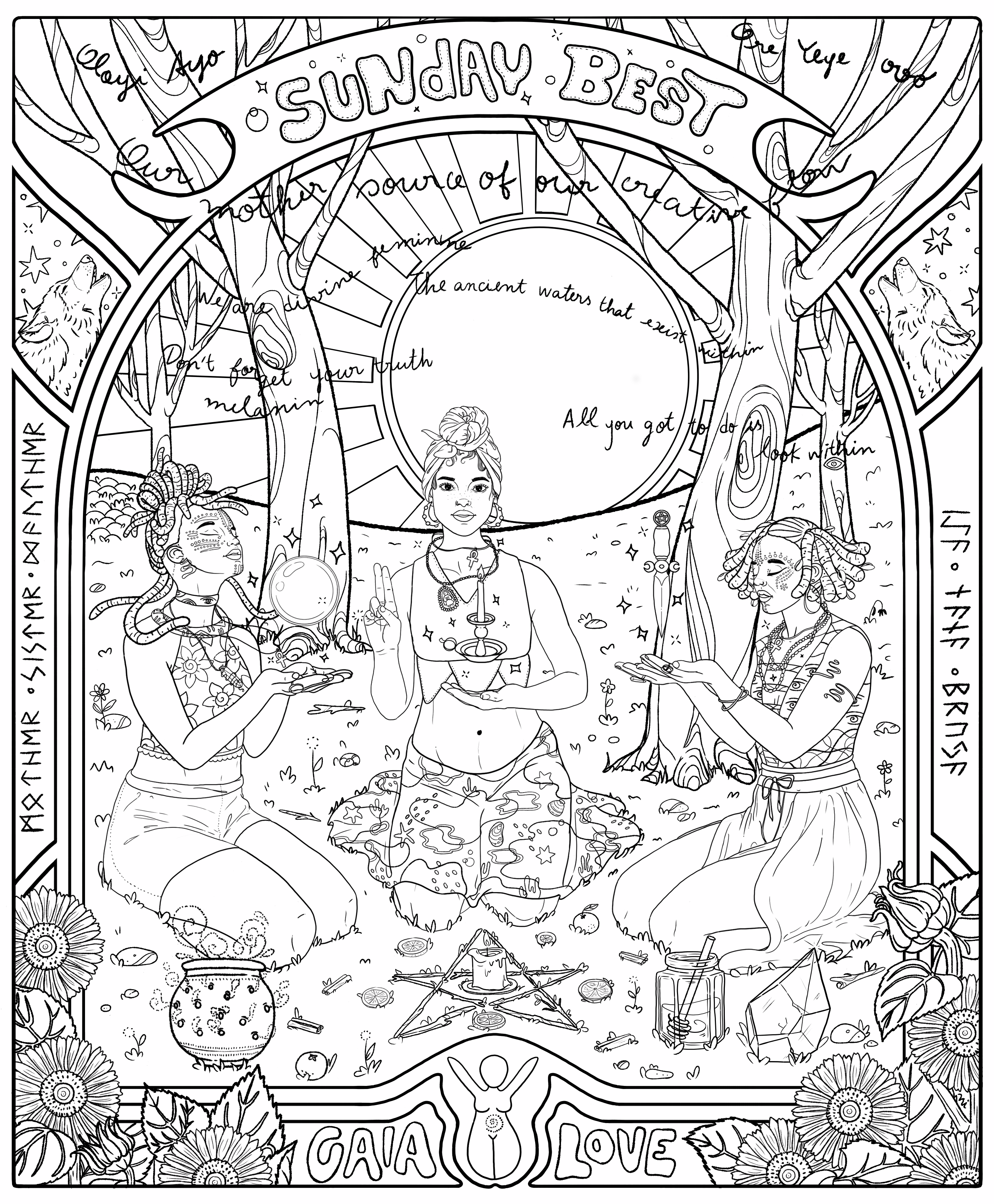 When "Everything is Beautiful" came out, I remember checking the track list for the first time and being very excited to see OSHUN featured. I immediately hitted the play button to listen to "Sunday Best". It is definitely one of my favourite Princess Nokia (and Oshun) songs. Thus, when I had the idea for this series of illustrations, I wanted to get my hands on this one straight away.
The initial concept was clear: all three of them frolicking in the woods on their way to do a magical ritual. But soon I realized this was a pretty vague idea. What is this ritual about? How does the forest look like? Is anyone/something else there? What parts of the lyrics should be included??
I decided to start with what I knew and began drawing the ladies sitting on the grass. As this process evolved, I began creating the story behind this illustration, gradually answering to all those questions and adding more details.
This was by the time summer started so I researched magical rituals about summer solstice, or Litha, as known in the wiccan tradition.
It is a celebration to thank Mother Earth for the sun reaching its peak and commemorate abundance, fertility, joy, heat and the light of life. But like every peak, it also foreshadows decline – notice the dead flower on the right side.
Elements associated with this tradition are sunflowers, oranges, candles (yellow, orange or red), cinnamon, honey, among others… which are all represented on the centre of the drawing.
Princess Nokia also references Yemaya not only in this song – Yemaya upon the breast – but also several other times along the years I have been listening to her music. So, I was also inspired by this Orisha.
She is the Ocean Mother Goddess in Santeria, an Afro-Caribbean religion practised around the world (For las santeras with candelas /Taking baths with la canela). It is believed all life comes from her deep nourishing waters. Take a look at the motives on Princess Nokia's skirt, with sea shells, sea stars, algae and wavy patterns representing water. I also drew a (tiny) Yemaya on one of her necklaces and she is wearing a turban - Head wrapped in cotton and covered with gold.
As for the OSHUN duo, I was inspired by the Orisha Oshun, Yemaya's daughter. She is the river Orisha, typically associated with fertility, love, sensuality and women power. Yellow is the colour related with her, hence why I drew sunflowers on one of the tops – actually, all pieces of clothing, accessories and face paintings are based on photos of the duo.
Thus, the composition of Princess Nokia and OSHUN symbolizes ocean and river waters joining forces - We are divine feminine/ The ancient waters that exist within.
The wolves on each side of the drawing also illustrate a reference on the song about the book Women Who Run with Wolves (1992) by Clarissa Pinkola Estés – I run with the wolves/ Leader of the pack. I read this book last year and it was transforming.
Below the wolves, there are also elder Futhark runes to make the drawing extra magical. On the left it is written "Mother, Sister, Daughter", as the song goes "Mother Love/ Sister Love/ Daughter Love". On the other side: Iya, Nana, Bruja, best in the game. And at the bottom, Gaia Love, our Mother Earth.
HOW TO PRINT:
1. Click on the image to open it
2. Right-click on the image and select "Save image as..."
3. Save image on your device
4. Print!
You can also check all available illustrations in PDF format here:
https://drive.google.com/drive/folders/16uY8GljojYkms6aP5DE-GMS9e__0PuoG?usp=sharing
Illustrations are ready to be printed in A4 format (A5 looks good too).
Lastly, I want you to know that you are a part of this coven too. When you face this drawing, you close the circle around this ritual, along with everyone who coloured this illustration. Thank you for bringing it to life!
And I would love to see your coloured creation! Just tag me on Instagram @ni_bblers (post/stories, anything goes)
Welcome to this coven ✨