Jumpstarting into No-Code? Read this.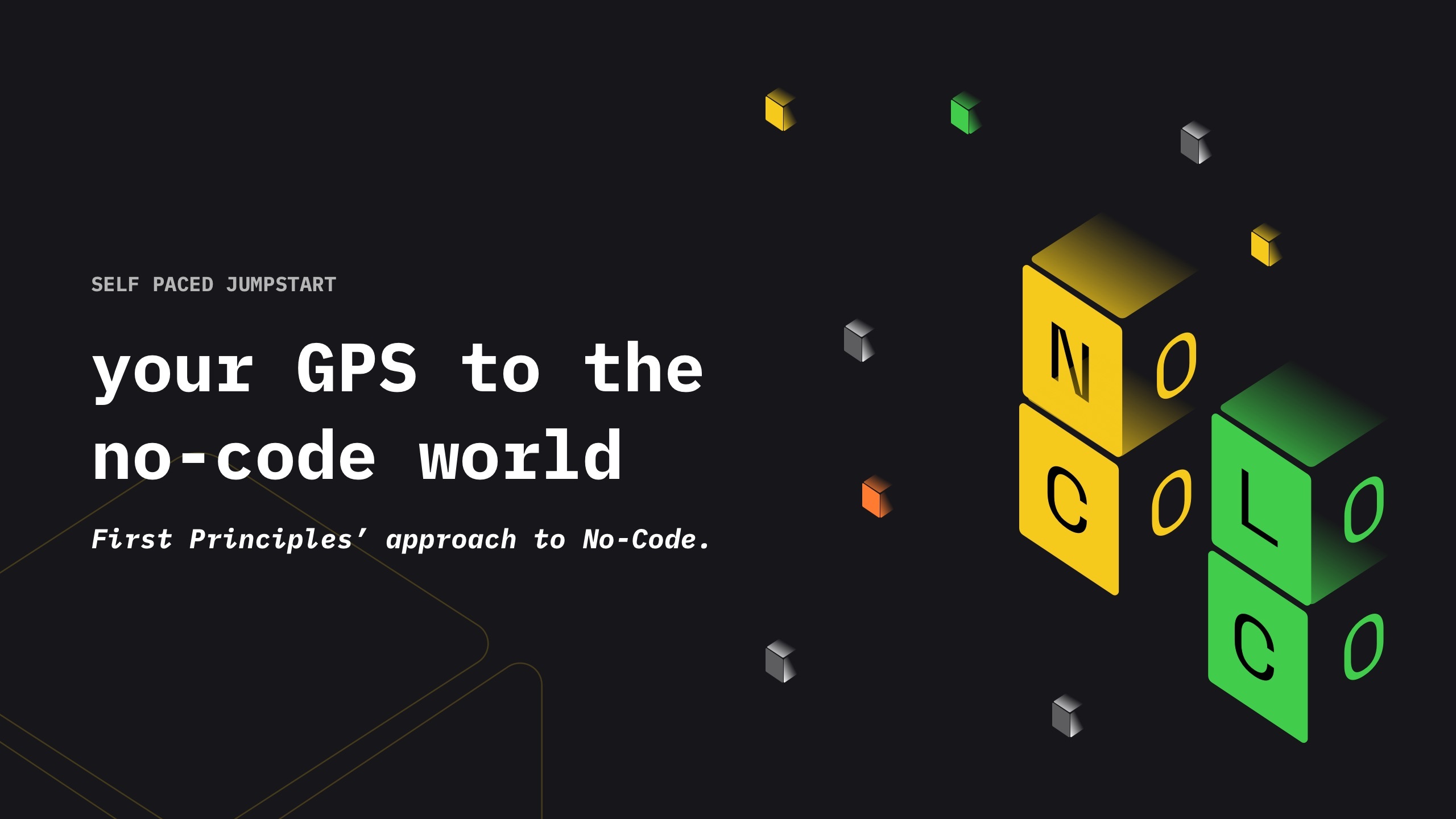 Condensing 4+ Years of learning about No-Code into a single program.
If you ever tried to Google and learn anything in Design, Product Management and now No-Code you know it's confusing. No wonder we keep wondering how do I learn to use No-Code tools, build and launch. Finding signal in this noisy world will be harder and especially in newly evolving fields like No-Code.
The No-Code Jumpstart Program aims to reduce this confusion and provide clarity for anyone considering No-Code.
Who is this program ideal for?
If you fall into these categories below then consider this program as your drone view that allows you see the full coast before you pick a spot to settle or go deeper into.
🚴‍♀️ Product Manager/Designer
👩‍💻 Considering No-Code Career
🧗‍♂️ Entrepreneurship & Startups validating MVPs
🏄‍♂️ Content Creators and Community Owners
🙆‍♀️Freelancers and Design Agencies
Why should you learn No-Code from me?
When I co-founded Xperian, the Maker's Ecosystem, along with my two co-founders we spent over 2 years validating ideas for each part of the ecosystem rapidly and quickly over a period of 24 Months.
🔥We conducted over 24+ MVPs and all of which were done without code. The results is around ongoing $400k ARR.
See the timeline and our MVPs below ↓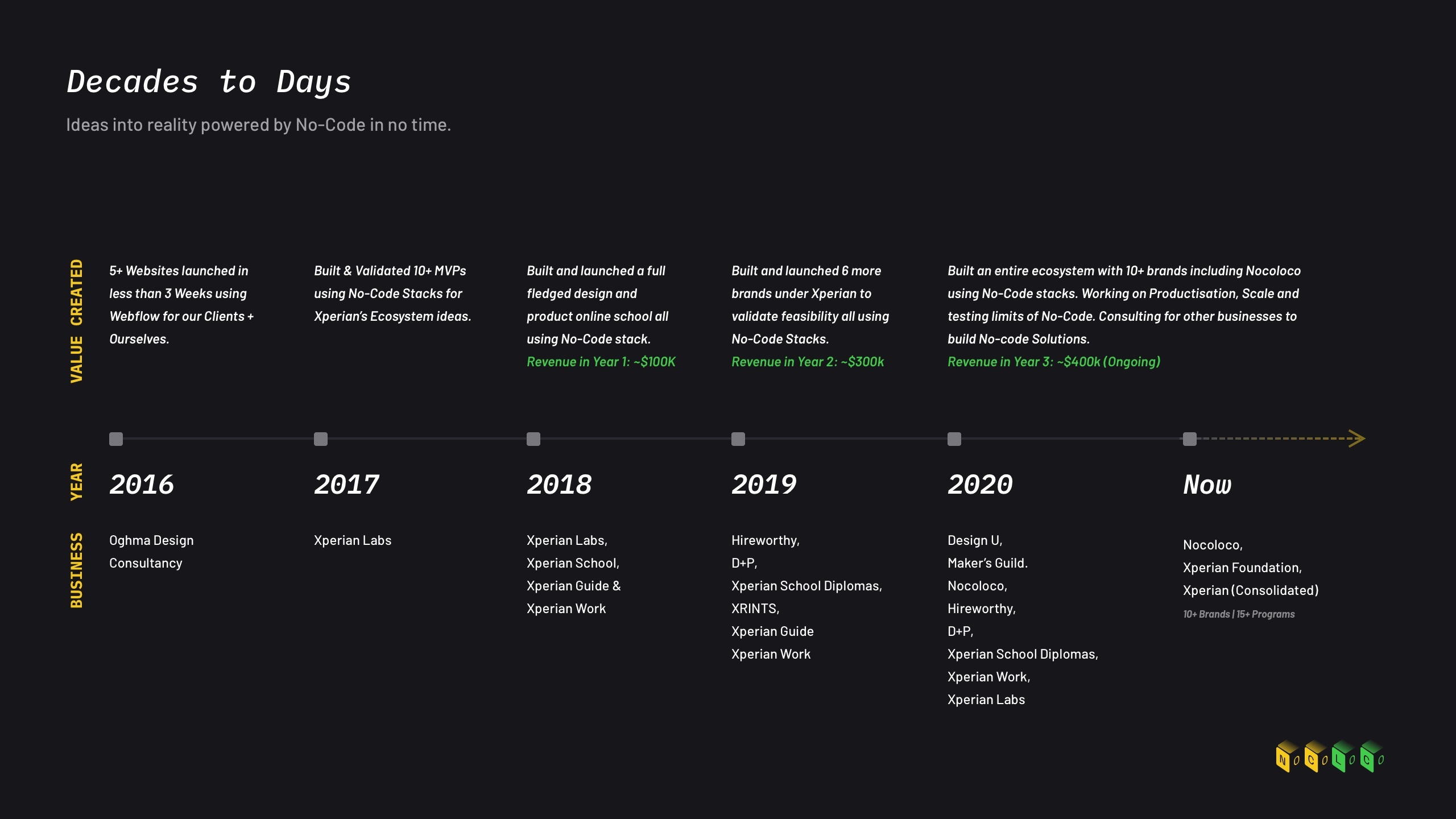 Here is a partial the list of No-Code projects, we built for Clients and Xperian:
D+P - Curated Job Board and Resources for Designers + Product Managers.

Hireworthy podcast - Podcast Website & Podcast Publishing and Editing Management System.

Nocoloco - Teaching, Advising, Consulting and creating No-Code Products. Working with Startups and Companies.

Curated No-Code Integrations - Curated database of Embeds/Integrations/Plugins to supercharge your websites.

Lead generation website MVP - MVP to enable verified freelance leads for both designers and businesses.

Templates of Carrd - Designful Templates for Carrd. Start from $9.99

Type in Carrd - Google Type Combinations made for both English and Indian Languages.

Gradient of Carrd - Colour combinations made for quick reference of the web.

Xperian.org - Consolidated view of all Not For Profit Efforts from Xperian.

Maker's Guild - Running a Maker's Community and it's entire backend system of managing a curated database of information + subscription management system.

Doggiedreams.in - Dog Adoption directory made for a NGO Client.

Advising and educating more than 10+ startups in No-Code sprint & MVPs.

Recruitment and Hiring Management system - Managed clients to hire designers of different levels in various organisations and startups.

Learning Management System for Xperian School Design & Product Management Students.

Lead Management System - Connected freelancers to 5+ clients in a 2 week sprint.

Expense & Invoice tracking system for Internal team.

Systems for consolidation of customers and Audience from various sources.

Social media management system for Hireworthy and D+P Newsletter.

Componento - Free well designed and scalable Webflow Components for Cloning.

MVP for Design Competitions. and much more...
We are deep into Design & Product Education
When thinking with first principles and esp in a new subject, the context of no-code needs to be addressed. We worked on opening up aspects of Product making, design and where does No-Code fit in all this. In the process, we opened quite a bit to first batch of students.
Further we spent 2+ MVPs and 100+ days to build this program for 50+ Students and launched the first program on July 5th 2020.
https://twitter.com/Iruhdam24/status/1259182508765110272?s=20
https://twitter.com/karthi2209/status/1259186312499757056?s=20
https://twitter.com/Iruhdam24/status/1279764173002399745?s=20
Student Experience, so far
Read about the experience Kiran attending the No-Code Jumpstart Session and more here...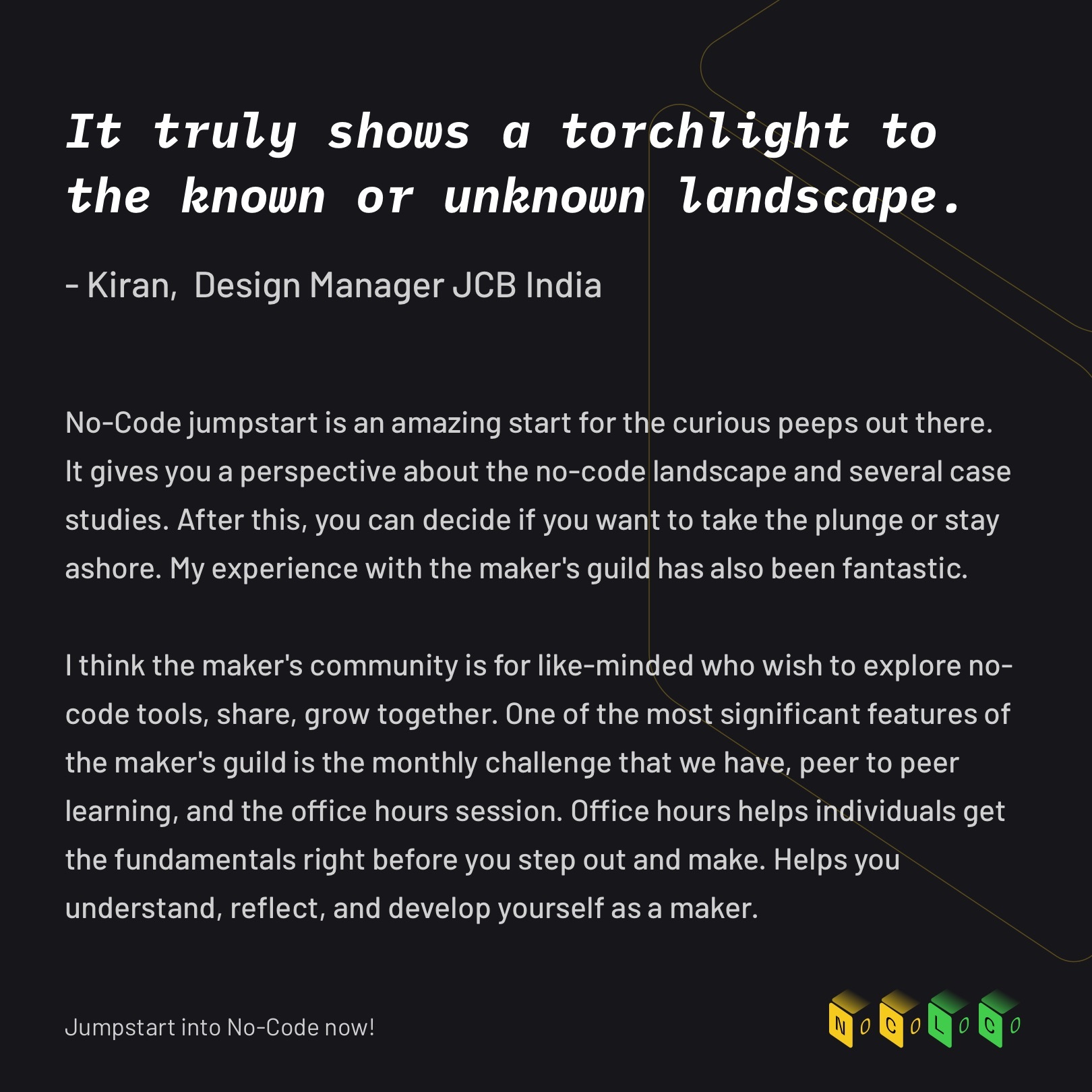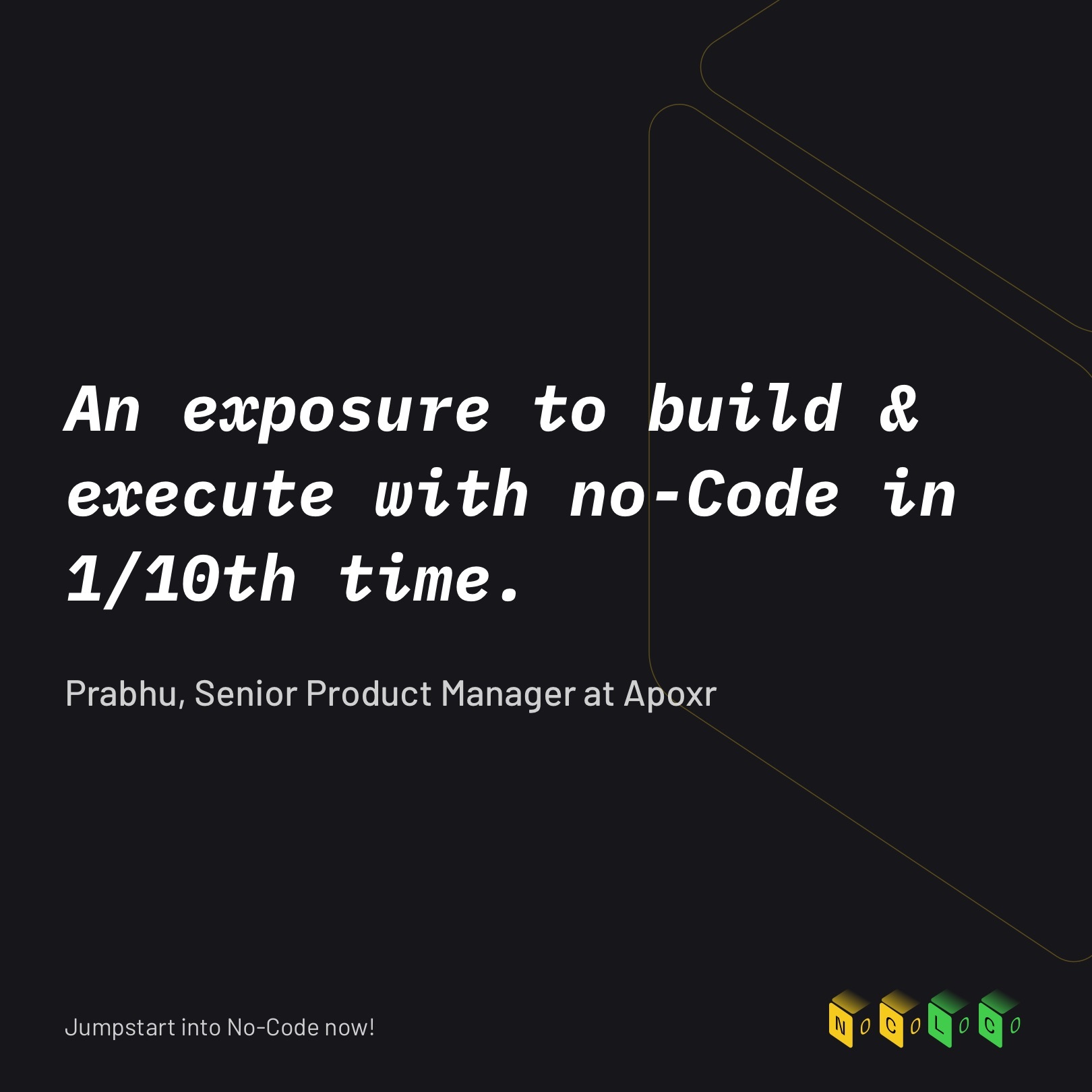 What will you learn and get in this Program?

Learn what is No-Code and which to context to use it in.

Learn about the vast landscape for No-Code.

Approach using first principles.

Save 100+ hours by using the Strategic Guides & templates to build stacks.

12+ Hands-On Case Studies to learn and ship products using No-Code.

Curated Deals & Guides to further your learning in No-Code.
Enjoy this post?

Buy Nocoloco a dosa