T-Shirt Printing Techniques
After several years of selling in artist alleys at anime conventions, I would invariably get the same question over and over again; "How do you print your t-shirts?" And the answer is - there really isn't a short answer! It honestly took several months of research on multiple subjects such as printing techniques, screen printing companies, terminology, pricing averages, minimum orders and drop-shipping research to land on the methods I ended up using. (and I'm definitely still learning!)
In this post I'm going to try and break down 3 common printing techniques, and recommendations on which situation each one is best suited for, along with the pros and cons.
______________________________________________________
1. DTG (direct-to-garment)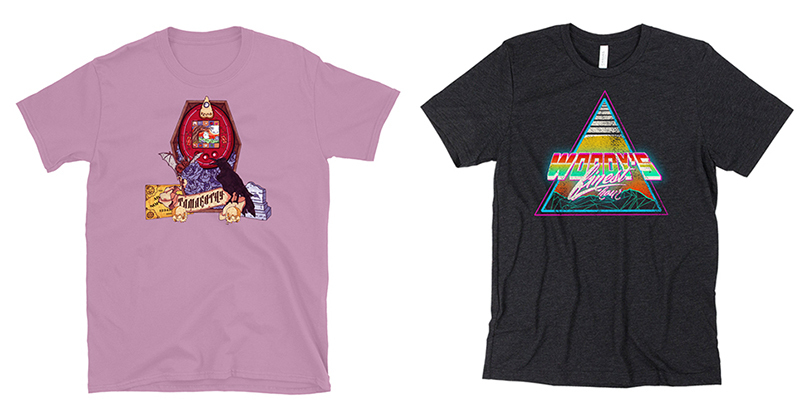 DTG (or direct-to-garment) printing is used when you have a design you want printed with lots of colors, shading and gradients in one placement on the garment. Any number of colors and color combinations you can think of can be printed using DTG. You're basically taking a high-end printer designed to print on fabric, and printing on a t-shirt rather than paper. A plate holds the garment in place while it's being printed on, and the ink is injected directly into the fabric. DTG uses specialized aqueous textile inks that print best on natural fabrics like 100% cotton, linen, hemp, etc.
For the majority of people (like me) a home DTG printer isn't going to be a feasible option - the printers themselves can range anywhere from $12,000 on the low end, to over $90,000 on the high end. And that's just the printer, you also need to buy specialized ink, the garments themselves, pre-treatment supplies, etc. Plus, these things take up a significant amount of space, so unless you have an office or separate room dedicated just to printing, it's probably not realistic.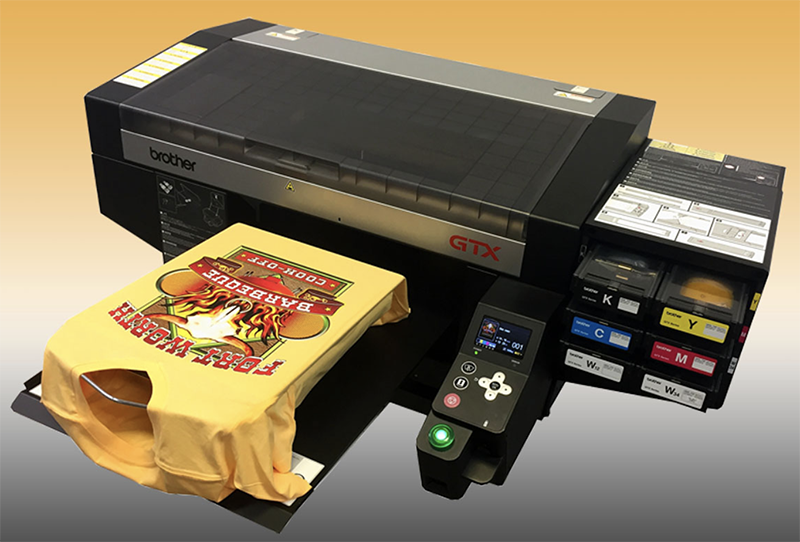 (dtg printer from mblazeontshirts.co.uk)
But if you're looking to have an outside company print your shirts, the good thing about DTG is the price point is generally lower than traditional screen printing, and MOQ (minimum order quantity) tends to also be lower; as there are no physical screens to prep.
The company I personally used for the DTG garments in the picture above is Printful. After going through about 3 companies, they were above and beyond the best with customer service and selection of products able to print on. A single DTG shirt like the ones pictured above will run you on average $13 per shirt to produce.
Pros:
-able to print any number of colors and gradients
-can order a very small quantity at a time
-generally lower price point
Cons:
-image placement is restricted to center front of garment
-other placements (down the sleeve, back print) will cost extra, not all printers offer it
-little to no volume discounts
If you are interested in more information, these 2 articles break down DTG printing as well:
Printavo
Colman & Company
2. Sublimation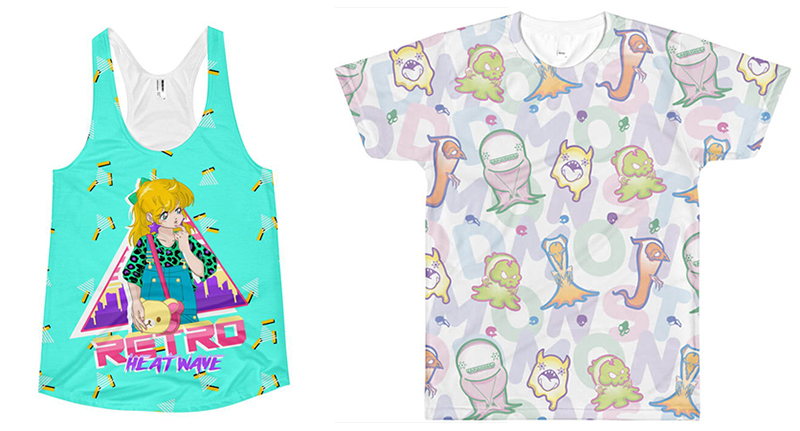 Sublimation printing is a printing technique that uses heat to transfer dye onto first specialized transfer paper, then onto your product. Sublimation printing isn't just restricted to garments, it can be used on plastics and paper as well. This is the type of printing you'll want for an "all-over" design, like the 2 above. When creating this type of design, the garment is printed flat, in sheets, then cut and sewn together. Unlike DTG printing, sublimation for garments works best when your fabric is polyester, rather than a natural material. With sublimation printing (as with DTG) you can use as many colors as you like, and gradients, fades and shadows will print no problem. If you can get your image on a computer, you can print it.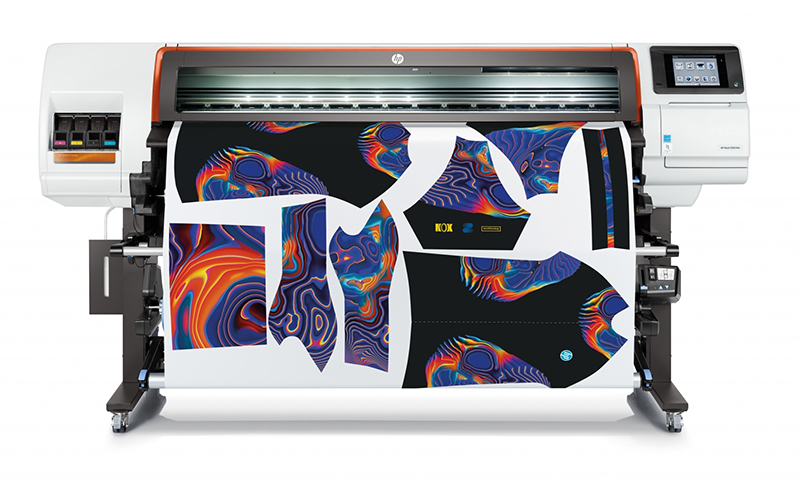 (sublimation printer from www.itsupplies.com)
When printing the 2 shirts above, I used Printful again, this type of printing is more costly than DTG printing, but if you are willing to pay the higher price, you can order a single shirt, there are no MOQ. A single sublimation shirt (or "all-over," as Printful calls them) will run you on average $25 per shirt to produce. This is why when you see these types of shirts at conventions, they are normally at least 2X the cost of DTG shirts.
Pros:
-able to print any number of colors and gradients
-can order a very small quantity at a time
-can print across the entire garment, any placement is possible
Cons:
-higher cost per shirt
-only available on polyster garments
-little to no volume discounts
Further reading on sublimation printing:
Vispronet
Prodigi
3. Screen Printing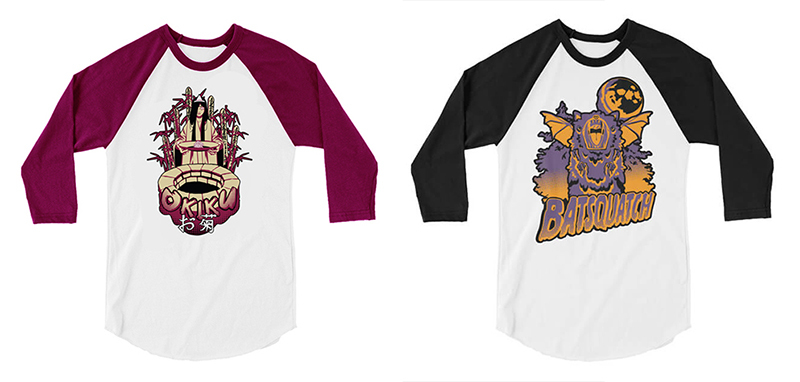 And finally screen printing - my personal favorite! Screen printing is just what the name says, the print is achieved by pushing fabric ink through fine mesh screens.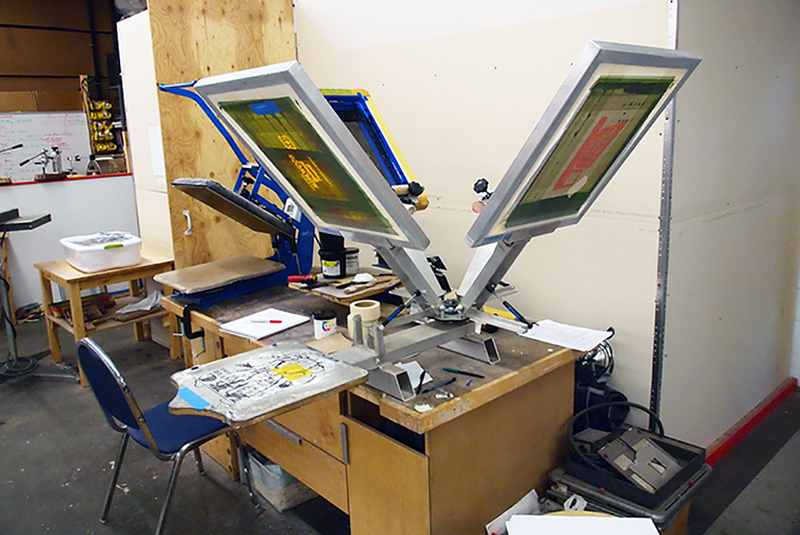 (screen printer from artisansasylum.com)
If you want to try your hand at printing your own shirts, screen printing is the easiest (and cheapest) way to start. At it's most basic, you'll need a screen, a squeegee, fabric paint, painters tape, a stencil, an iron, and a t-shirt. (or whatever you'd like to print on) This method doesn't use any photo emulsion or screen filler. For this method, you'll be pushing ink through a screen that has your stencil taped to it with a squeegee, imprinting the design onto your t-shirt underneath. To make it machine washable, wait until the paint is completely dry, then place a piece of paper over the top and iron your design. (without steam)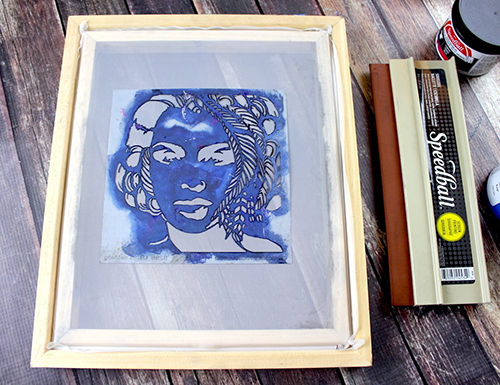 (image from kitkraft.com)
Nicole Austin over on Kit Kraft has a great step-by-step tutorial on this method with photos of each step.
If you are having an outside company screen print your shirts, each color in your design will need it's own screen - and you'll be charged per screen. Therefore this method works best with 1 color designs. (I would personally recommend sticking to 3 colors or less) You'll also pay an initial setup fee for each new screen, so sticking to a monochromatic design will be the most cost effective. With screen printing, you'll probably be looking at a 25-40 MOQ, since the company creating the design needs to make the physical screens - a single shirt order won't be realistic. On the flipside with this method, the more you use your design, the cheaper it gets.
The 2 shirt designs at the top of this section were printed by Gorilla Screen Printing in south Seattle. I highly recommend these guys - they do high quality work, are very responsive to emails, and have a low MOQ.
Pros:
-high quality, "tactile" feel to the print
-significant volume discounts if ordering in bulk
-easiest, cheapest method to try yourself at home
Cons:
-most companies will have a MOQ of at least 30 shirts
-pay per screen (per color)
Youtube video tutorial by Blick Art on screen printing
_________________________________________________________
To sum up, ultimately it's going to be your design that will determine the best printing method. If your design is monochromatic and you think it will get a lot of reuse, screen printing is probably the way to go. On the other hand, if you want multiple colors and gradients in placements all over the garment, it will need to be sublimation.
Thanks for reading! If you have any q's please feel free to ask below.
Enjoy this post?

Buy Odd Monster a beer