How to make pegging demeaning and fun as possible?💋 (free)
Dirty talk. Ask him how much he loves taking your cock, getting fucked, etc. Call him your little dick boy, little sissy boy, your little whore, slut, faggot etc.

Make him tell you how much he likes your big cock make him ask for more.

Say humiliating stuff about his tiny little cock and how yours is better, bigger, or use other men that had fucked you that he knew about etc. How you wish he could fuck you the way you fuck him and the way other men still fuck you.
Make him tell how much he likes it and make him beg for the strapon and make him look you in the eyes, this adds great to his embarrassment.

When you have the Strap On on and he's naked, it's pretty clear what's coming, but there's no need to hurry; the psychology of the anticipation is there to be exploited. Order him around, whip him if you're into that make him suck it put him in panties take picture of him doing so for later use . .Such as showing your girlfriends that can keep your secret blackmail in case he want's his manhood back.

Make him kneel down and lube up your cock use the words sissy, slut, faggot etc .laugh at him while he lubes it up for you.

Use a Ball-gag or a Penis-gag on him and tying his hands behind his back tell him you are fucking other men and your not going to stop while you fuck him doggy-style . Tell him he's a sissy and make him ask you to go out and fuck strange men . If he won't say it ram him hard as you can till he does trust me ladies he well ask you to .

Tell him how much better fucking him is than "normal" sex (lasts longer; your cock is a lot bigger than his); tell him it's the only sort of sex he's going to be getting from now on; the only sort of sex he deserves because he's to much of a sissy girl now .

When pegging him make him cum in your hand, then with the dildo still in him, lift your hand to his mouth. He will be reluctant the first few times. A couple sharp thrusts will usually make him open him mouth at which point you can cup your hand over his mouth to force him to do it. Don't stop fucking him after he has cam most men want to quit right after . Keep going at least 15 to 30 minutes longer this is ware the first part of ( #7 ) helps , He must learn you will fuck him till your done NOT till he is.

Have him lay on his back with his head over the edge of the bed, put the strap-on in his mouth fuck is mouth like it was his ass while calling him a cock sucking sissy slut laugh at him while this is taken place . Tell him your teaching him how to suck a man's cock because you never know when your going to need or want some extra money.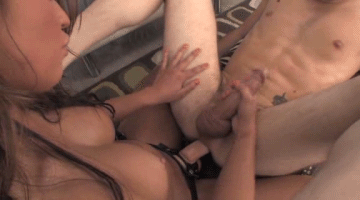 Enjoy this post?

Buy OnTheKnees a coffee