Daily Prompt: Cafe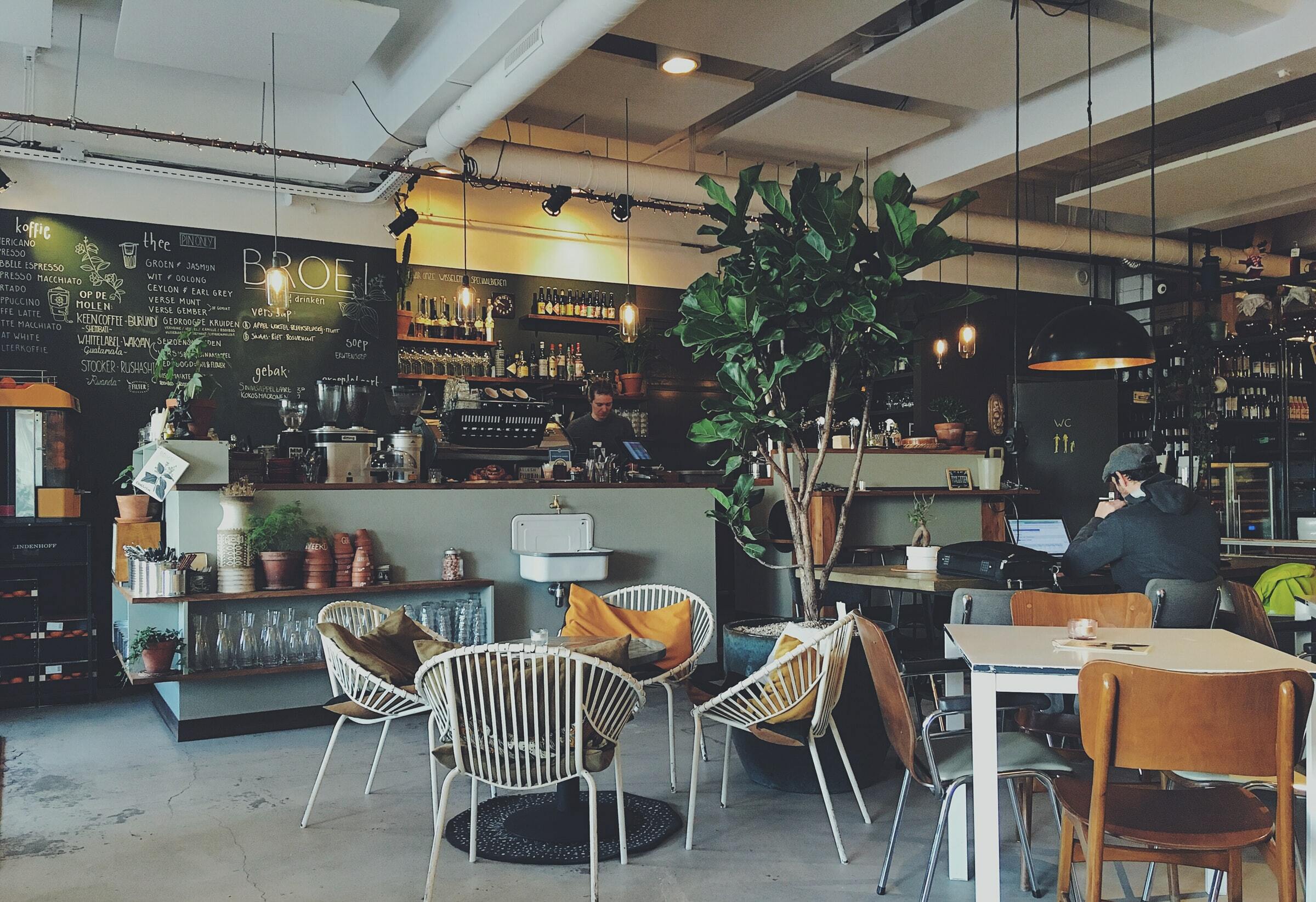 Photo by daan evers on Unsplash
The word this morning was Cafe, which I noted didn't excite me. It is a pretty robust prompt on second consideration, but in the moment it didn't speak to me. It felt meek and lacking in adventure. For whatever reason, I was a little excitable and didn't much want to be sitting in a cafe, but rather marching out of one with an epiphany and a mission. Seeking only to turn as many corners as possible and likely end up exactly where I started.
Nonetheless, I prattled on for two pages. I devolved into capital letters at one point for what reason I can't say. "FROTH" just had to be broadcasted. The word was evidently a revelation, and to be honest, I think would have made an excellent prompt. Maybe tomorrow.
After fifteen minutes I was done and decided the first sentence (not including my moan) would be the one I continue. I liked the rhyme of fats and spats and the scene of greasy kitchen chaos. The following pseudo narrative poem took roughly forty-five minutes and is as messy as its subject matter. I think it's an enjoyable enough read. Certainly, there are things I would keep. To use a cooking metaphor: The ingredients were fresh enough but the chef was clearly untrained. That is me. I am untrained.
My notes for today: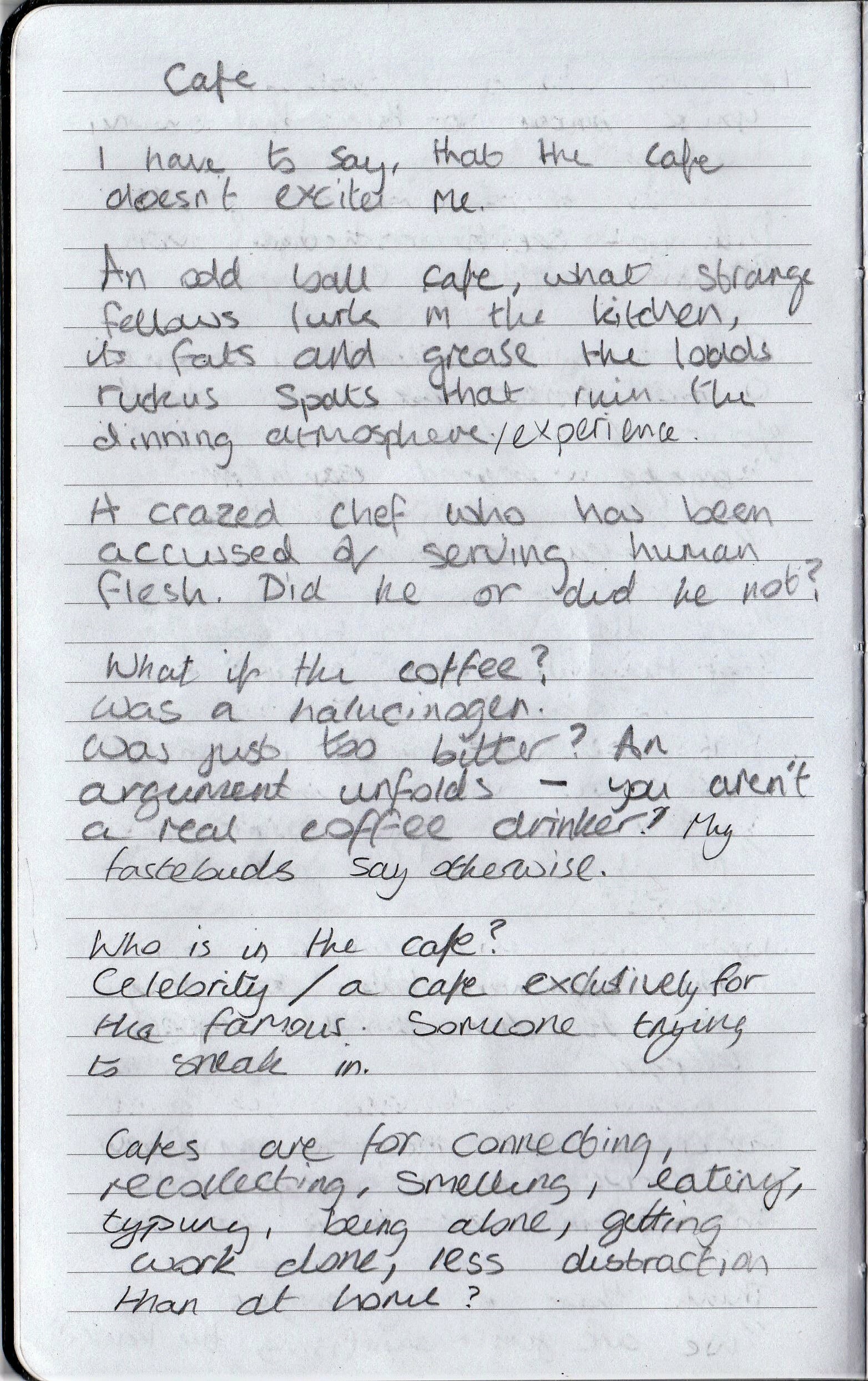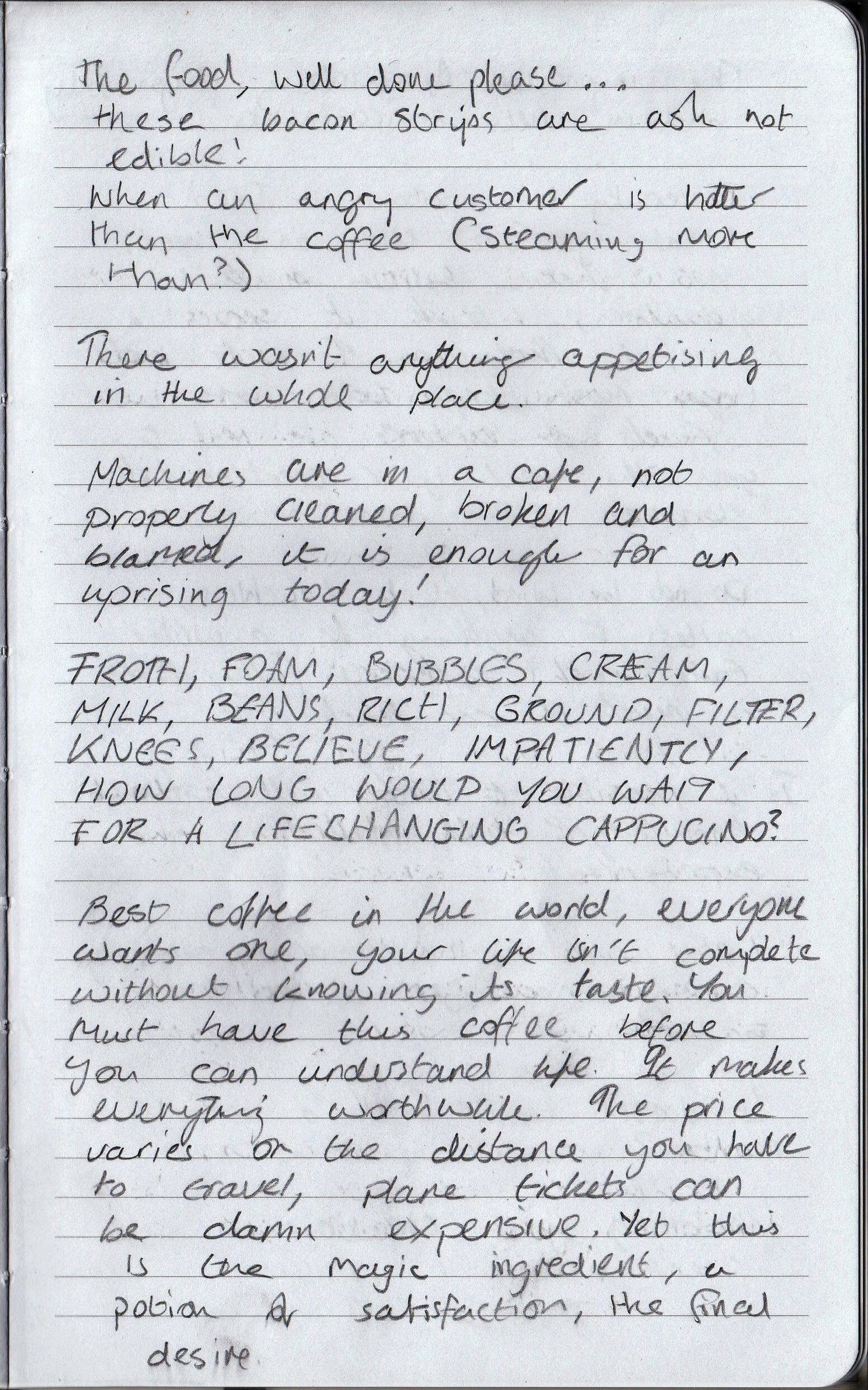 Strange fellows lurk in the kitchen,
Its fats and grease the loud ruckus spats,
A simmer steaming all out spatula attacks,
Roasted one two many times, not crisp but black,
charred cinder ash a bloody angry phoenix,
Chefs know how to bring the heat,
Fire tower from the saucepan,
Whipped across the countertop,
A face blanched white,
Shocked by the push back,
Poaching the floofly cap,
It falls off, rolls across the yellowed edged tile floor,
Oil, sweat, sick or urine, no one's sure,
Clatter goes the pan,
This is an all out war,
Windows opaque,
A cage match is taking place,
Squeaky cheers scurry between the feet,
We want blood with our steak,
The only ingredient fresh around here,
Frozen meat slapped and searing,
A bubbling cauldron in the corner,
Waiting to be poured over,
Spit from the grill,
And the chef's pursed lips,
Ding, it rings impatient,
A bell demanding delivery,
Another swear flies out the door,
Onto the dining room floor,
They chatter in whispers,
Listening to the cutlery gong,
They can't imagine what's gone wrong,
Handprint apron,
Blade dicing food that shouldn't move,
Steel brandished,
Wiping the forehead there's a call for brandy,
Alcohol flirting with the stove top,
Mushroom inferno scorches the walls,
The atom has been split,
This is the blow to end it all,
Liquidised into silence,
A knife between the eyes,
The dish is ready to serve,
Get it out to table four
The narrative I had in mind for the poem changed halfway through and I think that is pretty evident. There are plenty of superfluous lines that break the flow. Every line needs a rewrite. That is just the nature of a first draft. Nothing will be perfect the first time round. Tell me what you think. If you joined in with the prompt then share your ideas or anything you made.
Enjoy this post?

Buy Opsonin a book