The Role of the Church in Driving Entrepreneurship and Innovation
The Religious Institution is a powerful machinery in any given society. In Africa, religion is embedded in our everyday mundane, and has played an important role in the development and sustainability of our politico-cultural environment. Religion is part of who we are; it holds our society together and without it our entire civilization will lose its meaning.
In our Ghanaian context, Christianity remains the largest religion in the country. According to Ghana's 2010 population census, 71% of the Ghanaian population identify as Christians. 18% identify as Muslims, 5% adhere to Traditional/Indegenous religions and 6% either identify with other religious groups or are irreligious. That puts the country's religious population at over 94%, with Christianity being the largest religion.
This data brings into perspective the role of the Church in accelerating the country's socio-economic development by driving entrepreneurship and innovation as an important extension of her social function. Developing the country's economic situation is a collective responsibility and the religious, in this context, the Church has the capacity to play an influential role.
As a social institution, the Church has contributed heavily to the country's socio-economic development. The Church's contribution to the country's educational sector, health sector, and rehabilitation systems cannot be faulted. The facts are available for anyone who seeks to probe the Church's relevance to our society. The Church has done so much that it will be impossible to imagine a Ghanaian society without the Church.
However, the current global economic situation demands a collective attention. Even though the Church's primary function is a spiritual one, making strategic efforts to drive entrepreneurship and innovation with a special focus on her youth will go a long way to serve as a profitable evangelistic scheme. The Church's growth and influence over the years can be credited to her social initiatives and the spiritual solution she offers which resonates with African cosmologies. If one of these drivers is taken out, the church loses her relevance to the society.
What Should the Church Do?
There are numerous initiatives the church can adopt to drive entrepreneurship and innovation. However, the preferred solution must regard the reconciliation mission of God, the divine mandate of the Church, and the legal identity of the Church. I will suggest a sustainable solution that Churches can adopt by making variations that respect denominational contexts.
The Solution
Majority of the Church's membership is made up of the youth. They are creative and energetic innovators with dreams that need pragmatic efforts to bring into realization. It is profitable to gather them for prayer and social activities, but it will be more profitable to invest in their holistic development. A youth development strategy that takes into consideration the need to encourage entrepreneurship and innovation is necessary and beneficial. I suggest a faith-based accelerator or incubator.
Faith-Based Accelerators and Incubators
Conceiving a business idea is one thing, nurturing the idea into a profitable business requires mentorship, knowledge, skill and capital. These resources are made readily available in accelerators and Incubators. Unfortunately, many of the accelerators available are not structured around Christian values. They are built around corporate governance principles that prioritise shareholder primacy (profit maximisation).
These principles are airtight, in that it is impossible to maintain a strict adherence to them and at the same time remain committed to God's way and will. To be successful on the back of these principles, one has to sacrifice family, service to the church, individual spiritual growth and commitment to God's way. The Bible summarises it as such;
"No one can serve two masters. Either you will hate the one and love the other, or you will be devoted to the one and despise the other. You cannot serve both God and money.

Matthew 6:24
The Christian's concept of a successful life does not revolve around money; money to the Christian is a tool for performing God's mission on earth. God's mission is to reconcile men to him and in keeping with that mission, the Christian's business has to be structured in a way that it serves God's purpose of reconciliation by advancing the Church's functions, creating employment, reducing poverty and improving human life. To be successful at these, the Christian cannot have shareholder primacy as his or her primary corporate goal. His focus must be to provide solutions to remedy mankind's problems and money to him will be a result of an effective solution.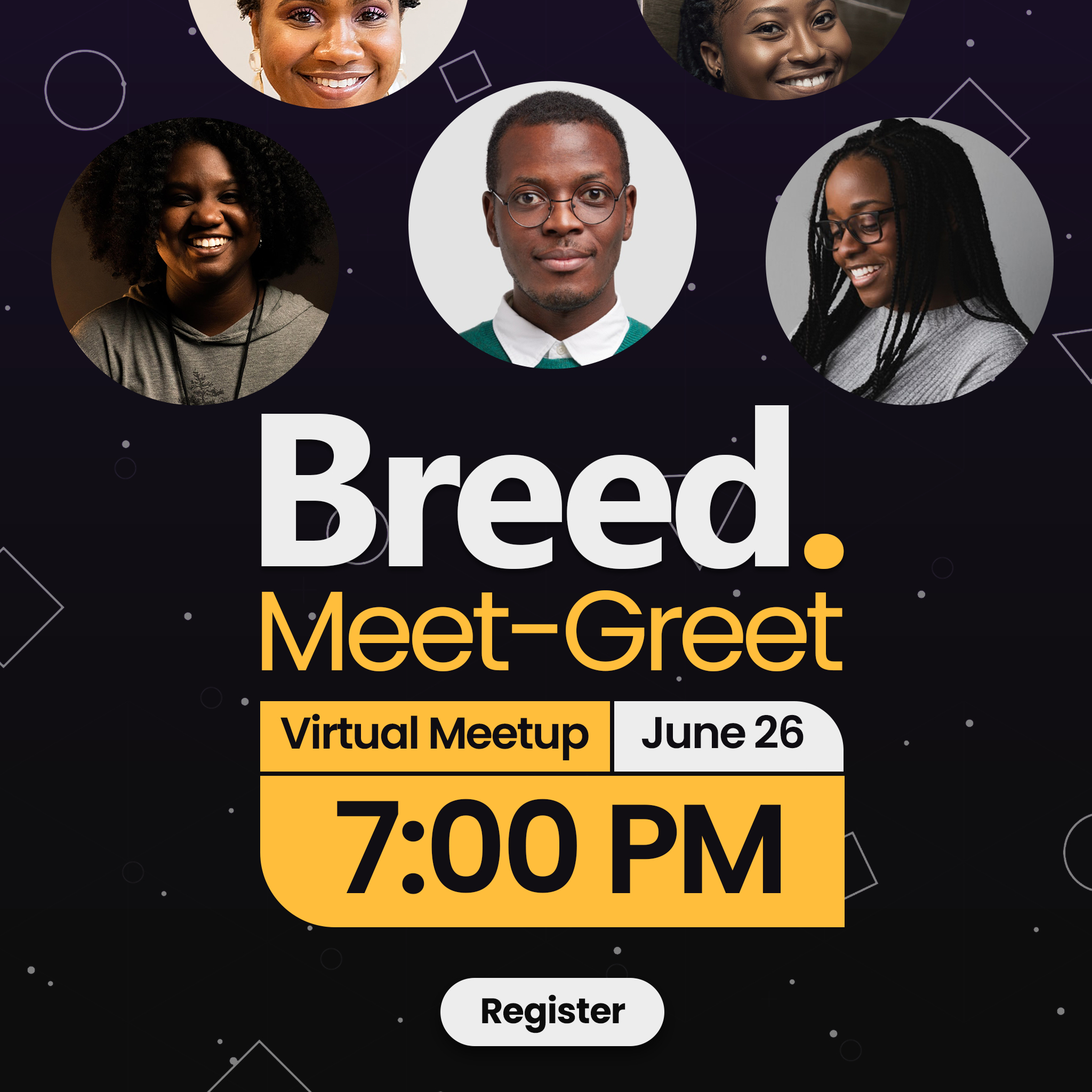 Register here as a Breed Member to join our first virtual meetup.
But then, how is he going to ensure that his heart remains focused on God's mission in the midst of shareholder pressure. Many shareholders do not care about religion, faith or personal values. Their primary concern is a good return on investment in the shortest possible time. So the Christian entrepreneur is subjected to exhausting performance indicators that directs his focus to cash flow at the expense of genuine love for humanity. His early passion may be to solve problems, but later he develops a love for cash flow related performances that consumes his entire life; eventually he becomes an opportunist, sniffing around for profit maximisation opportunities.
There has been some level of global discussions among business leaders to prioritise stakeholder capitalism (focus on the customer and all stakeholders). However, these discussions have only produced proposed solutions on paper, lacking the willingness and guts to put into practise a shift from shareholder primacy to stakeholder capitalism.
This means that, even though businesses promote stakeholder capitalism to some commendable degree, their core concern remains profit maximisation. That is to say, they preach the goodnews of stakeholder value but they do it in relation to maximizing profit through a complicated system aimed at purchasing customer loyalty at all cost. As far as the life of a business is concerned, profit maximisation is necessary but its repercussions are evident in the way we currently allocate huge budgets to sustain our planet, environment and human life. It is obvious that our world is struggling to survive because money rules our lives.
This is where the Church comes in. Faith-based accelerators/incubators carefully structured to nurture godly business leaders and develop people-focused businesses at the back of Biblical Christian principles is key to asserting the Church's relevance to the nation, and extensively the world. This is not an easy solution. It demands a well structured system of internal and external collaborations focused on promoting Kingdom principles, raising godly business leaders, improving the lives of adherents through wealth creation and contributing to the development of the nations economic situation. For the sake of the length of this article I will outline some major systems the Church can adopt in developing effective accelerators/incubators to drive entrepreneurship and innovation. I will make myself available for a more detailed discussion of the solutions and possibly implementation by leaving my email at the end of this article.
Mentorship with Interest Free Loans
Most Churches in Ghana can boast of successful business leaders in their flock. Many of these business leaders are strong pillars to the church in the area of funding. In most cases, their role in the church is limited to financing, however, they possess important business experiences and networks that the youth in the church can benefit from. In many cases, the only extension of their roles in church is periodic speaking opportunities at business conferences organised by the church.
Imagine an accelerator program where these mighty business men and women in the church are brought together to mentor young entrepreneurs in the church for a period between 3-6 months. The goal will be to nurture interested young dreamers in the spirit of Christian principles to develop sustainable solutions that will create employment, reduce poverty and improve human life. These mighty business leaders can develop a private fund and allocate between $1,000-$10,000 or more to proven ideas as capital support to be paid back without interest in an agreed timeline.
With a proper monitoring and evaluation system, the Church should be able to develop at least 2 growing businesses in a year. This means an increased inflow of tithe and offering for the church. Spiritual investment is important, but it is useless without pragmatic investments that produce material results.
Mentorship with Soft Loans or Convertible Bonds.
This solution is similar to the first solution, but it differs in the way funding is allocated. In this case, mentorship is offered in a specified period of time and proven ideas are granted low interest loans to be paid back over a period time or to be converted into equity upon certain performance triggers.
Banks are not willing to give loans to business ideas or startups due to the high risk involved. A strategic intervention by the church to increase the accessibility of loan facilities to proven ideas will go a long way to reduce unemployment and improve the Church's goodwill. These loans can be given at lower interest rates. It is also important to note that, these solutions must be implemented with respect to the legal environment the church operates in. It is a complicated process, but it is highly possible.
Corporate Mentorship with Grants
Here proven ideas are supported with grants (free money) and continuous monitoring/evaluation over a period of time. A percentage of the total grant can be allocated after the program period and the remaining allocated upon triggering agreed performance indicators to ensure that money is used wisely to develop the business. Additionally, a seed system can be developed whereby successful entrepreneurs in the program will pay a certain percentage of their profits into a seed fund to sustain the program. This will help to ease the financial burden on the initial investors as well as expand the investor pool.
Equity investment with Mentorship
With this solution, business leaders in the church can contribute money into an independent investment fund. Scalable businesses will be taken through a product to market-fit and pitching proccess, and the successful ones will be given equity seed funding to scale their businesses. In addition to equity funding, they will be given business development support using professionals in the church at little or no cost.
This demands that the Church forms an ecosystem/network of business leaders and professionals to be leveraged in helping scale businesses and startups internally in exchange for a small equity or an innovative compensation system.
Other Solutions
The aforementioned solutions are not exhaustive. There are other solutions that do not require giving capital support. The church can invest in ICT centres dedicated to giving free training to the youth to develop on-demand computer skills like programming, Ui/UX design, graphic designs, photo and video editing, and many more. In the long term, the church will create employment and will also be blessed with a highly skilled workforce for its evangelistic and mission responsibilities.
Conclusion
Prayer is exremely important. Its relevance to the Christian youth can not be underemphasized, especially in a world where evil keeps growing. But it is also true that a struggling Christian youth situated in an economic context characterised by a high and growing unemployment rate will lead to the youth losing their faith to pursue financial independence. It is just a matter of time and we shall see our youth absent in church, prayer meetings and social activities.
Our current economic situation needs the Church to step into an extensive role to drive entrepreneurship and innovation. This is possible if we are willing to be a little bit more intentional with our youth development programs. The church has an enduring responsibility to serve as the mediator between the rich and the poor by ensuring that she promotes equity among her members.
Contact Information
Email: [email protected]
Phone no: +233 242769461
There is more to this article. If you are interested to hear more, we can connect via email, phone or via virtual means.
Enjoy this post?

Buy Solomon Parditey a coffee