A new milestone: 17,000 Subscribers!
This is one happy Friday! Perafilozof is now home to 17,000 viewers from across the world.
I am truly happy to be able to pass on my gaming knowledge over the entire globe with my humble skills as a gamer and video content creator. These two passions have come together over the years in my mind and created my channels such as it is today.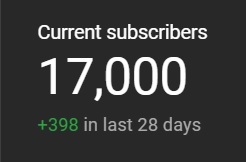 Strategy games of all sorts have found their place on my channel and in my videos and I am happy to say I am getting contacted by more and more Publishers and Developers who enjoy and respect my work with the wish I cover their new games.
Because of this I do plan to keep doing this for as long as I am able and bring you new and exiting games you will enjoy playing for years to come.
Yours fatefully, Peter
Enjoy this post?

Buy perafilozof a coffee