Br. Phap Luu, speaking from Son Ha, Upper Hamlet, France, 2019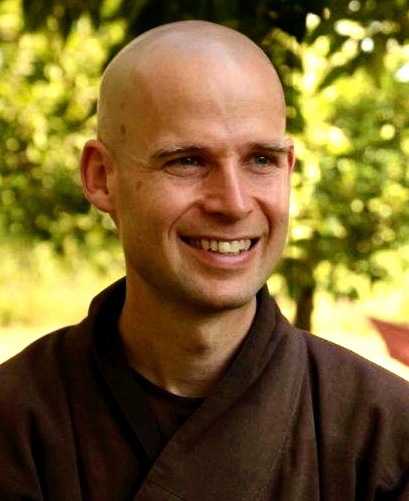 Brother Pháp Lưu was ordained as a novice monk on December 13th 2003, and received full ordination as a bhikshu on December 16th, 2006. He received the Lamp Transmission from Thầy to become a Dharma Teacher in 2011. A graduate of Dartmouth College in the United States, he taught English in Madrid, Spain and New Haven, CT before ordaining.He has been active in the Wake Up movement for young people, helping to organize Wake Up Tours in the US, UK and Spain to share mindfulness with young adults at universities. He is involved in the Happy Farm (combining organic farming, community living and the mindfulness practice in Upper Hamlet). He has been working with the Wake Up Schools initiative to bring mindfulness into schools and has a deep aspiration to make the simple practice of mindful breathing and embracing strong emotions available at all levels of education.Brother Pháp Lưu offers Dharma Talks in English, French, and Spanish. While at home in Deer Park Monastery he finds many ways to be with his younger brothers: hiking, mentoring, teaching the Sutras and the Vinaya, and baking bread. He also loves to chop wood, sleep in a hammock, and make guacamole for Lunar New Year.
I first met Brother Phap luu in 2012 at a retreat with Thich Nhat Hahn at Nottingham University. It was over the Easter holiday of that year. Before this I had attended a talk at the House of Lords with Thich Nhat Hahn some days earlier. He had sold out the Royal Festival Hall in London, UK. In addition to attracting 1,000's to a mass meditation in Trafalgar Square, London. Although this was a sight to behold it was only covered by one national newspaper in Ireland. Such was the media at the time.
I was in the same Dharma sharing family as Brother Phap Luu at that retreat. That is were a group of people attending the retreat come together each day or a few times during the retreat to share their experiences, emotions. Their practice, whatever is coming up for them. No advice is offered and it's a confidential space which proves very therapeutic to everyone involved.
Whilst at the retreat in Nottingham I took the five Mindfulness Trainings. A lot of people look on these as buddhist precepts. I took them as them to be a good code of ethics for us all to live our lives by. I stand by this today and still recite them. I have seen so many transformations over the years in dharma sharing groups and people taking these and the 14 mindfulness trainings.
I requested an interview with Thich Nhat Hahn whilst he was in the UK in 2012. His schedule could not accommodate this at that time. Although I was invited to the Summer retreat at Upper Hamlet, France. Where They, as he is known to his students resided at that time. There was one condition that you spent a week living in the community before the interview was granted. Sadly I never attended Plum Village until the Spring of 2915 after They had his stroke, although limited to a wheel chair with his attendants. With little or no speech and restrictive movement. He still went to the meditation hall regularly and dining halls to see the monantics each and every day. He is currently based at his root temple in Vietnam.
I was also invited to the winter retreat that year to interview some senior monastics but never made the trip. When I did arrive at Plum Village for my first two week retreat in 2012. It certainly was not what I was expecting and took some adjustment from my part living in community. I returned in May of 2015 and spent five weeks at Son Ha. Which is a smaller temple within the confines of Upper Hamlet but a short walk down the hill and through a forest. It is independent in that they have their own dining hall, accommodation and meditation hall. I discovered during those five weeks. That if you follow the daily schedule there your whole life becomes a meditation. From eating, to walking, working every aspect especially your breathing has more consciousness about it. You have space between thoughts to gain insight and clarity. I returned again to Son Ha later that year for what was then call the winter retreat. Lasting three months which is an intense period of practice for the monastics in that they do not leave the monastery during this period. They simply focus on their practice over these months.
In the Dharma talk below you can get more of an insight from Br. Phap Huu. The Abbott of Upper Hamlet, France into the Rains (Winter) retreat.
I have now completed three winter retreats in person at Plum Village France. Which I found nourishing, it came with it's challenges which is all part of the process. I also was able to support a number of retreats and practice at Deer Park Monastery in Escondido, California. Which I loved being in the dry heat of the Californian desert. I found this beneficial to my health along with the practice and Monastic presence within Deer Park. It is a very special place.
I also supported retreats at The European Institute of Applied Buddhism in Germany. Which is part of the same tradition. Magnolia Grove is also another monastery in Mississippi where I have practiced. The facilities there are incredible. This practice is very practical, solid and grounding. I would encourage everyone to at least explore it which they can now do on their phones due to the incredible free Plum Village App on this link https://plumvillage.app They can also look up their local sangha and attend a weekly in person meeting. Or online these days.
The interview with Br. Phap Luu was recorded whilst he was living at Son Ha, Upper Hamlet in 2019. During the pandemic. He currently resides at Deer Park Monastery in California.
I trust you enjoy the conversation and find it nourishing.
Enjoy this post?

Buy Phil Cartwright a matcha latte!