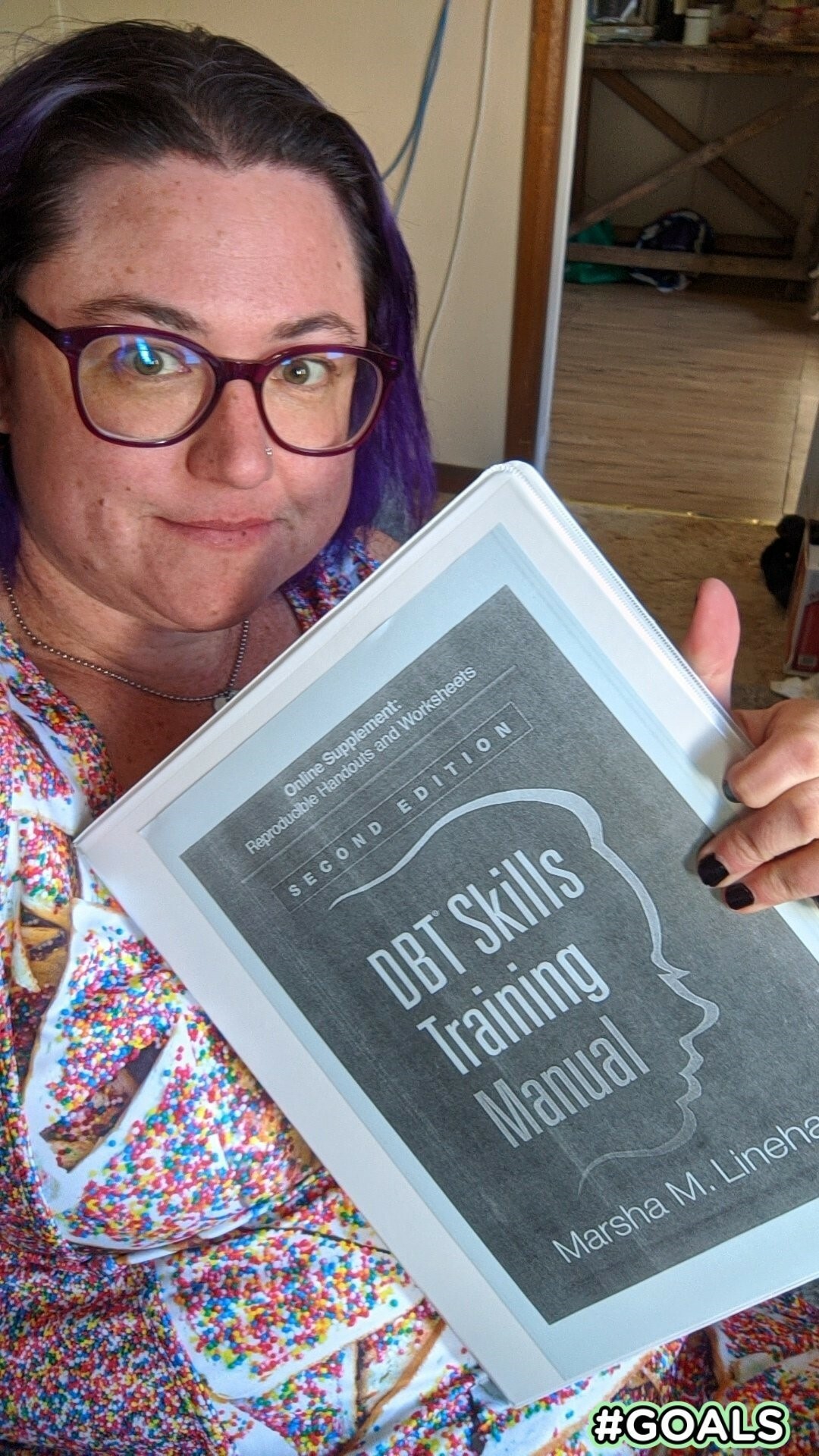 So, my DBT Folder came in the post this morning.
Dialectical behavior therapy (DBT) is an evidence-based psychotherapy that began with efforts to treat borderline personality disorder. There is evidence that DBT can be useful in treating mood disorders, suicidal ideation, and for change in behavioral patterns such as self-harm and substance use.[2] DBT evolved into a process in which the therapist and client work with acceptance and change-oriented strategies, and ultimately balance and synthesize them, in a manner comparable to the philosophical dialectical process of hypothesis and antithesis, followed by synthesis.
A six month commitment initially, I'll be doing a 2.5 hour skills group on Thursdays and a hour long individual session with a psychologist on Tuesdays. I started the individual sessions a couple of weeks ago by telehealth, and the groups will also be online for now. My hunch is we'll go back to face to face in the new year, and see what happens in the next couple of months with Covid in the hunter when lockdowns end next week and vaccinations keep going up. Kinds go back to school in a couple of weeks too, so that's going to make an impact. We had 93 cases recorded in the Hunter New England health district yesterday... I do NOT like that our numbers are going up when the state's are declining. I have too be a bit stoic about it all, and just take things as they come and do what works for me :/ Second vaccination is booked for November 10.
So, aside from two days with therapy each week, I still have an exception from Job Search from Centrelink until the end of the year, with my DSP application in progress at the moment. Honestly, I'm assuming I'll be rejected first up, but who knows, maybe I'll be "lucky" and have my inability to work recognised as legit by the powers that be?
Work, and study, and travel and generally doing life stuff all came up as goals in our first couple of sessions, but step by step, one day at at time.