📰 REPORT: Amazon Lobbyists Attack Privacy Legislation
Reuters reporting Amazon Lobbyists even "help" draft "privacy" legislation, keeping in line with looser biometrics regulation (according to Reuters)
---
The following includes highlights from a Reuters Press Investigation. [ See full article ]
---
FLASHBACK VIDEO: Do Ringdoorbells Make Healthy Neighbor Relationships?
---
RING DOORBELL FOOTAGE SHARED WITH POLICE: NO WARRANT REQUIRED
We've known Amazon was sharing footage from Ringdoorbell's with Police.
No warrant necessary.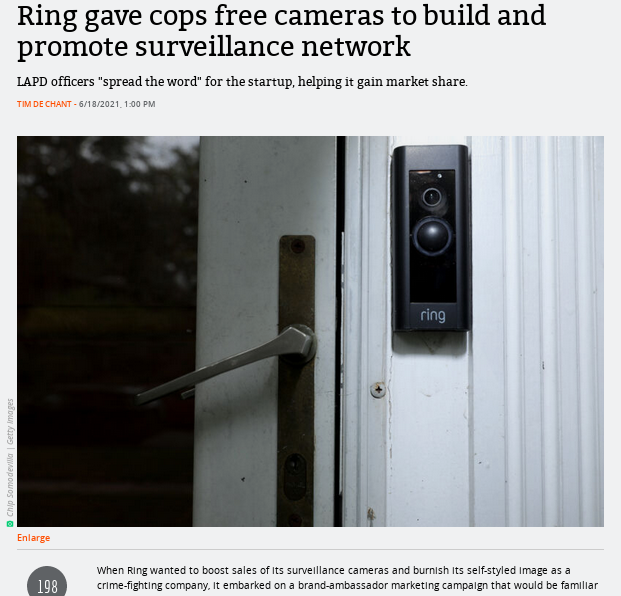 ---
I'm not "against" law enforcement doing their job. I am however against warrantless snooping.
Too often has this type of power been abused.
---
CRIME ACTUALLY WENT UP IN SOME AREAS ACCORDING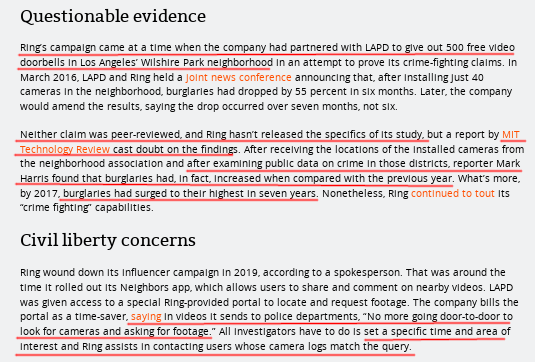 (above screenshots from this Arstechnica article)
---
Do you want to live in a world where your own home / property is not a place you can depend on for privacy?
If not there, where?
You buy your home. But did you know Ring Doorbell records everything you say, outside your home, from 50 feet away?
This means your neighbor's Ring Doorbell records family, guest conversations, cookouts / parties...
Without your consent.
And that you don't really control your Ring Doorbell. All that all video / audio is hosted on Amazon cloud servers.
Without local only option. Why?
---
You don't "own" video / audio recording hardware: unless you truly are able to restrict access.
You cannot do that here.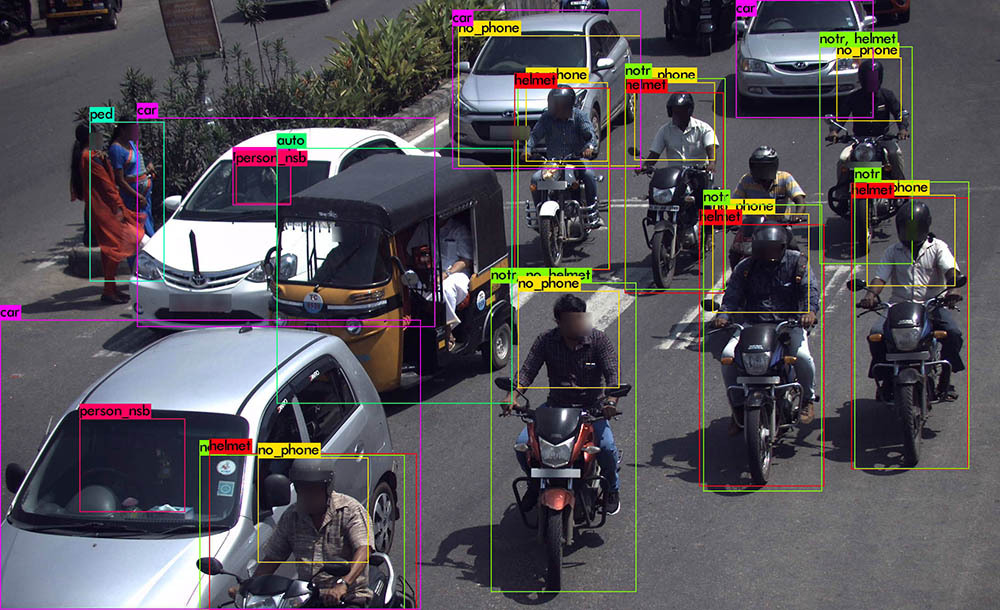 For ownership, you would need to setup a locally stored security camera.
(above surveillance footage is a stock biometrics example photo)
---
POLITICS: CORRUPTED BY AGGRESSIVE LOBBYING
Providing security cameras is one thing. It's another to work diligently against Human Rights protecting legislation, state by state. To not only work against that, lobbyists help write legislation to allow personal profits to rise above your right to privacy in your own neighborhood.
Your own home. But, for many, they bought the product.
It's not entirely the companies fault here (admittedly).
---
Money has completely corrupted politics.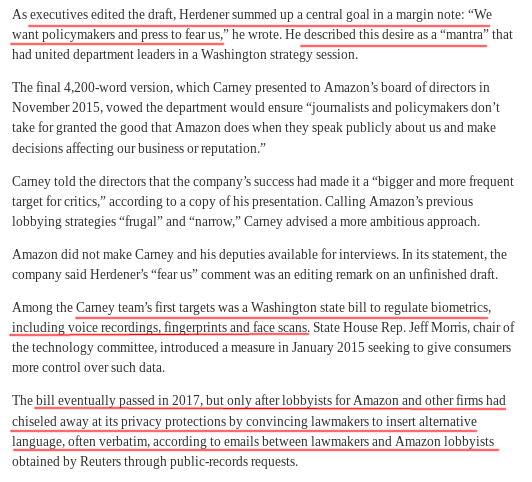 The words speak for themselves.
---
LOBBYING AGAINST HUMAN RIGHTS
Whether it is the right to unionize (for fair employee treatment), or your right to prevent police from accessing your home / cameras (without a warrant), there has been a fight against Human Rights (privacy declared Universal Human Right under UN Human Rights Declaration #12).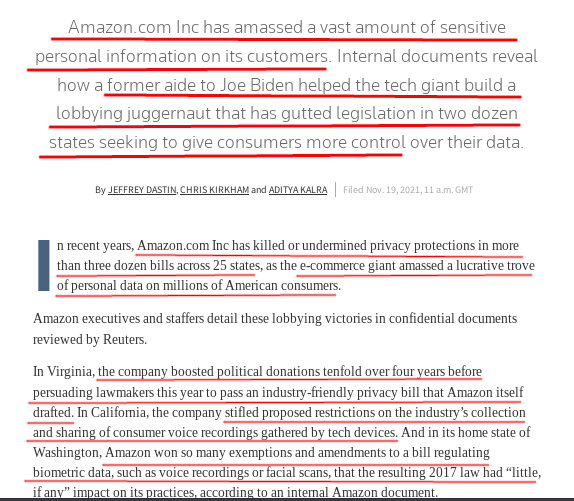 ---
ALEXA PULLED DATA FROM iPHONE / OTHER NON-AMAZON GEAR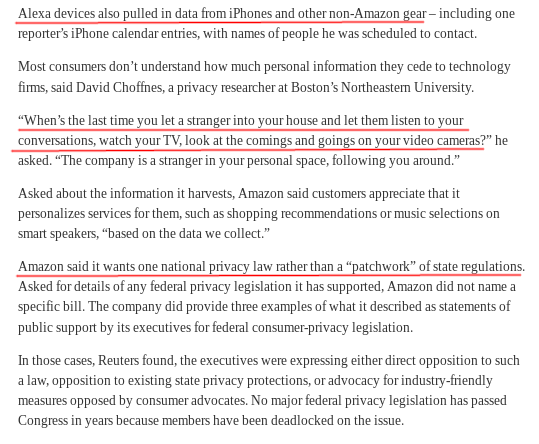 ---
ARTICLE: "We Want Policymakers and Press To Fear Us"
Therein lies a single line of communication reported in the Reuters article from Amazon's Executives.
"describing this desire as a 'mantra'".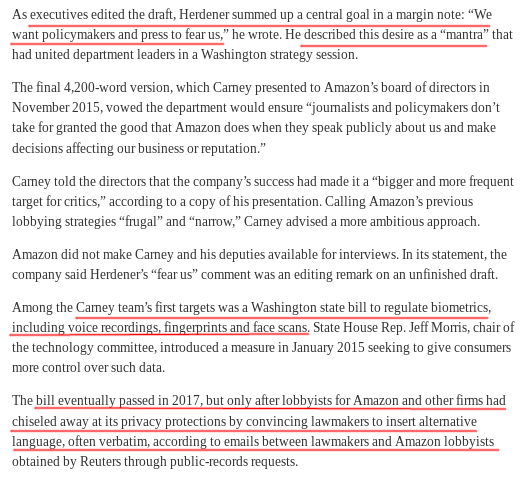 Lobbyists worked hard to amass large teams, specifically to chip away at consumer protective privacy legislation. Even writing legislation... in their own language (see above).
---
IN CLOSING
This is what happens when corporations are allowed to become too powerful.
I personally don't trust large corporations to manage my security (physical / network).
Maybe it's time others consider risks greater than reward.
---
(may add more to this but wanted to share this with followers ASAP using highlight screenshots I created - may make a video on this)
---
Send any corrections to email, and once those are verified, will apply to this article.
---
📎 SHARE THIS POST: SPREAD AWARENESS
---
AND: HAPPY NEW YEARS EVERYONE!!!


---
Enjoy this post?

Buy 🥷 (RTP) Privacy Tech Tips 📡 a coffee