Image Parsing: Pictures speak a thousand words!
Image Parsing:

Consumers are the biggest source of organic knowledge on your brand. With social media up and running for every brand, the access to how the consumer interacts, uses ,and experiences your service/product is easily available.

Small and upcoming brands can leverage this and use image #parsing with certain attributes to ideally understand their #advertising efforts as well as direct their service/ #product modification efforts.

A simple use case: Starbucks coffee cups

Folks often post their Starbucks cups on their stories/feed as a response to the customization on the cups, It's a social media aesthetic!

Considering #Starbucks was a small local yet a popular coffee shop in your suburb, this is how they could leverage all pictures that their consumers were posting
(using an old image from my camera roll for reference)

What asset are they posting?
Posting a picture of the cup: The most #instagrammable asset of your coffee shop, then most of my communication should be via the cup, leading to more word of mouth promo.

Posting a picture of the cup with my metallic straw - Your consumers are more eco conscious and would appreciate you going green

Location of the photo:
The #location of where you tag them - Gives more understanding of where our consumers are mostly based/travelling - can help in better targeting in terms of digital and OOH advertising efforts

What flavours?
Are people posting more of your exquisite flavours (matcha, pumpkin spiced lattes) V/S Generic espresso - Can help in #positioning yourself as a coffee shop/curate menu based of wider preferences

A good example of how Starbucks actually implemented this irl:

1. Serving in reusable cups for their 50th anniversary and printing their celebratory message on the cup instead of putting up banners and streamers in the store which would have less recall value. They capitalized on their strong asset off the store (cups) and communicated just well.

2. A sandwich ad display just outside my college in #SouthBombay. Considering it was south Bombay, a lot of kids were in the position to afford a starbucks before classes. The copy spoke just to the right segment at the right place

They truly say, pictures speak a thousand words! :) As brands, consider using the stories your consumers post beyond just the scope of reposts and more engagement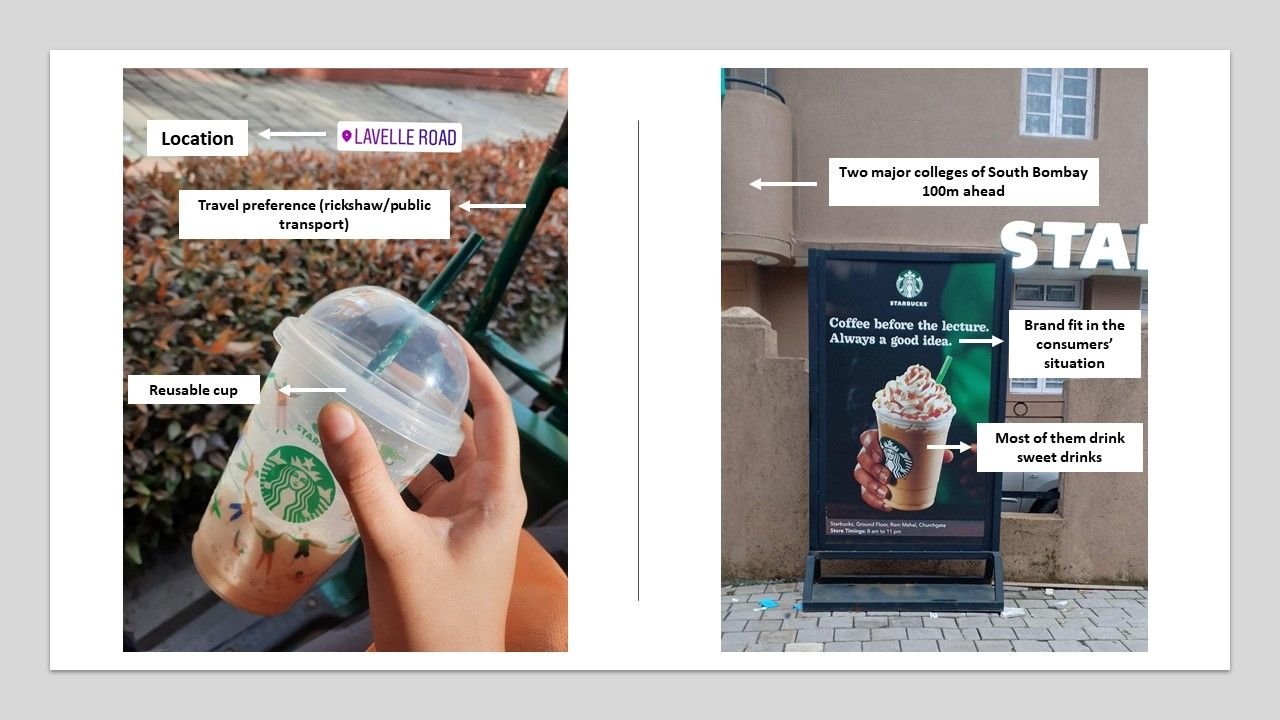 Enjoy this post?

Buy Priyanshi Chandel a coffee