New Micro Profile Auto Trader | Emini
Available now is an completely optimized & autonomous AutoTrader to leverage Market Profile based trading. The AutoTrader is designed to leverage on key market profile levels for micro timeframe and then utilize Fibonacci to identify best probable trade set up; Two powerful trading technics combined to generate best trading opportunity in a fast moving market.
Aggressive Trade Setup: Enter at trend change above ValueHigh: * Trades shown below for ES 12-21. 2 looses , 2 breakeven , 2 small winners, 1 Hugh winner.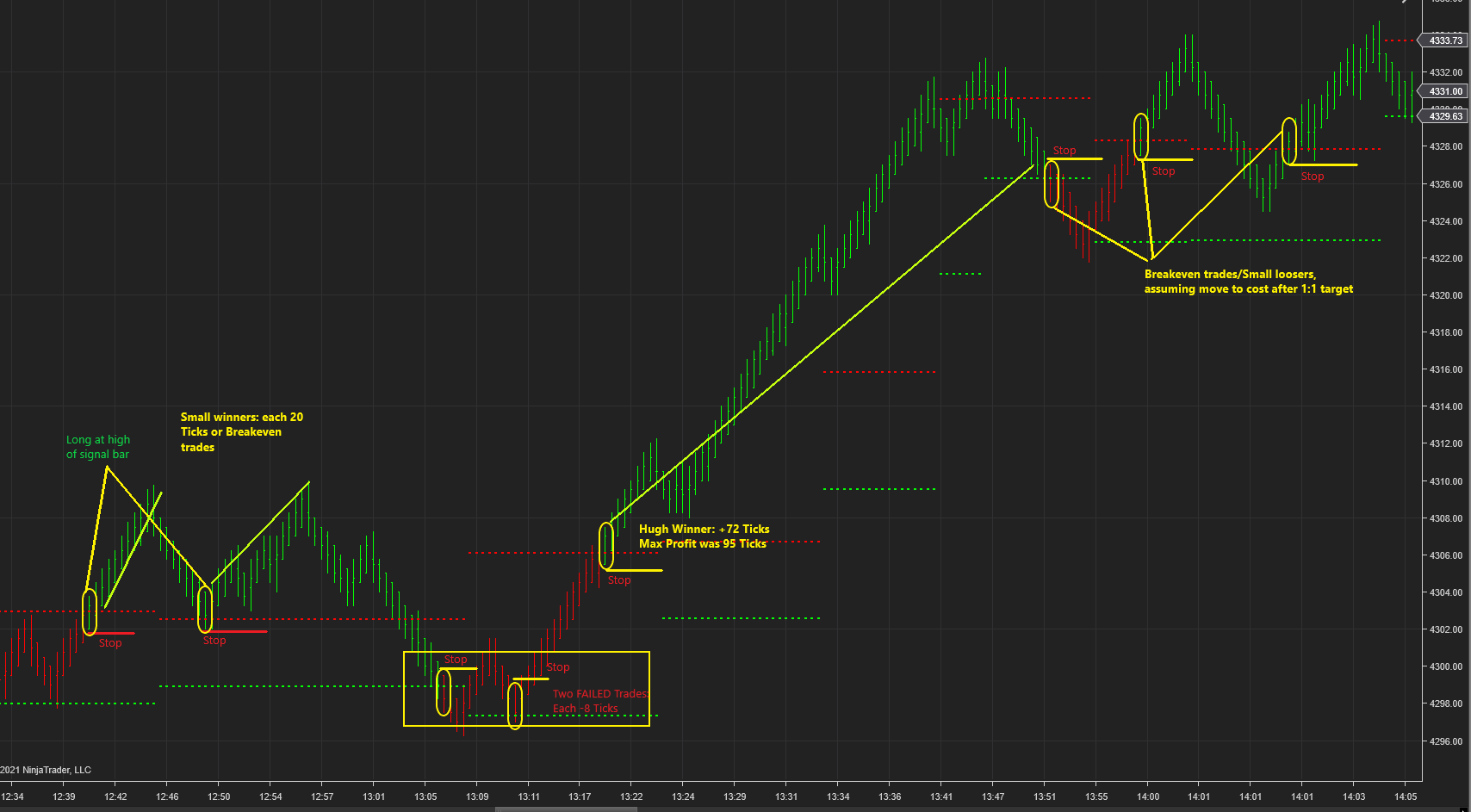 Conservative Trade Setup Indicator will wait for trend change and then plot possible entry zone based on fib support zone (38,50,68,78 configurable) and enter with swing low/high as stoploss for position.
Other usages of this indicator is to give a clear direction in terms of market movement. Bars are colored GREEN/RED based on immediate micro profile levels. Another trading model is to go long on GREEN, exit on RED & vice versa for Short and ride till the end. you can apply additional filter to refine your setup.(i,e) SMA /VWAP/OR direction to optimized trade setup. SMA/EMA/WMA/HMA filter support is going to be inbuilt with in indicator in future.
Some recent example of indicator (new version is now updated to draw Long/Short as well as possible reversal area (here is one from 11/18/2021 on NQ) (For Higher quality image: right click and open image in new tab)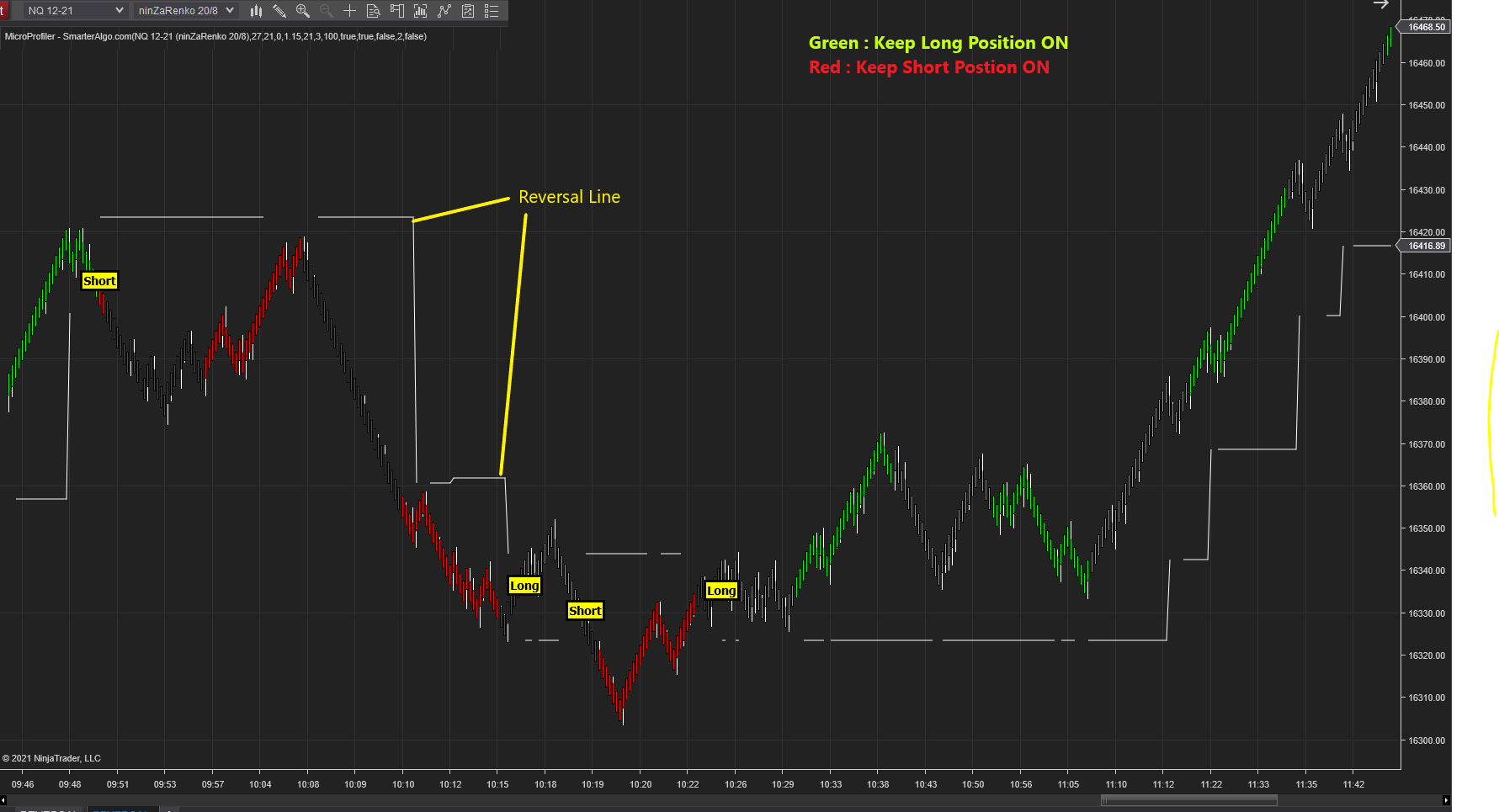 Below is an example from NQ : Date 11/17/2021: Depicts Chopping zone and indicators fails in back to back trades. there were 3 moderate winners as well but nothing hugh like 150+ ticks, One can eliminate noise by employing some filtering mechanism to improve odds (i.e. vwap, ema, higher time frame trend etc)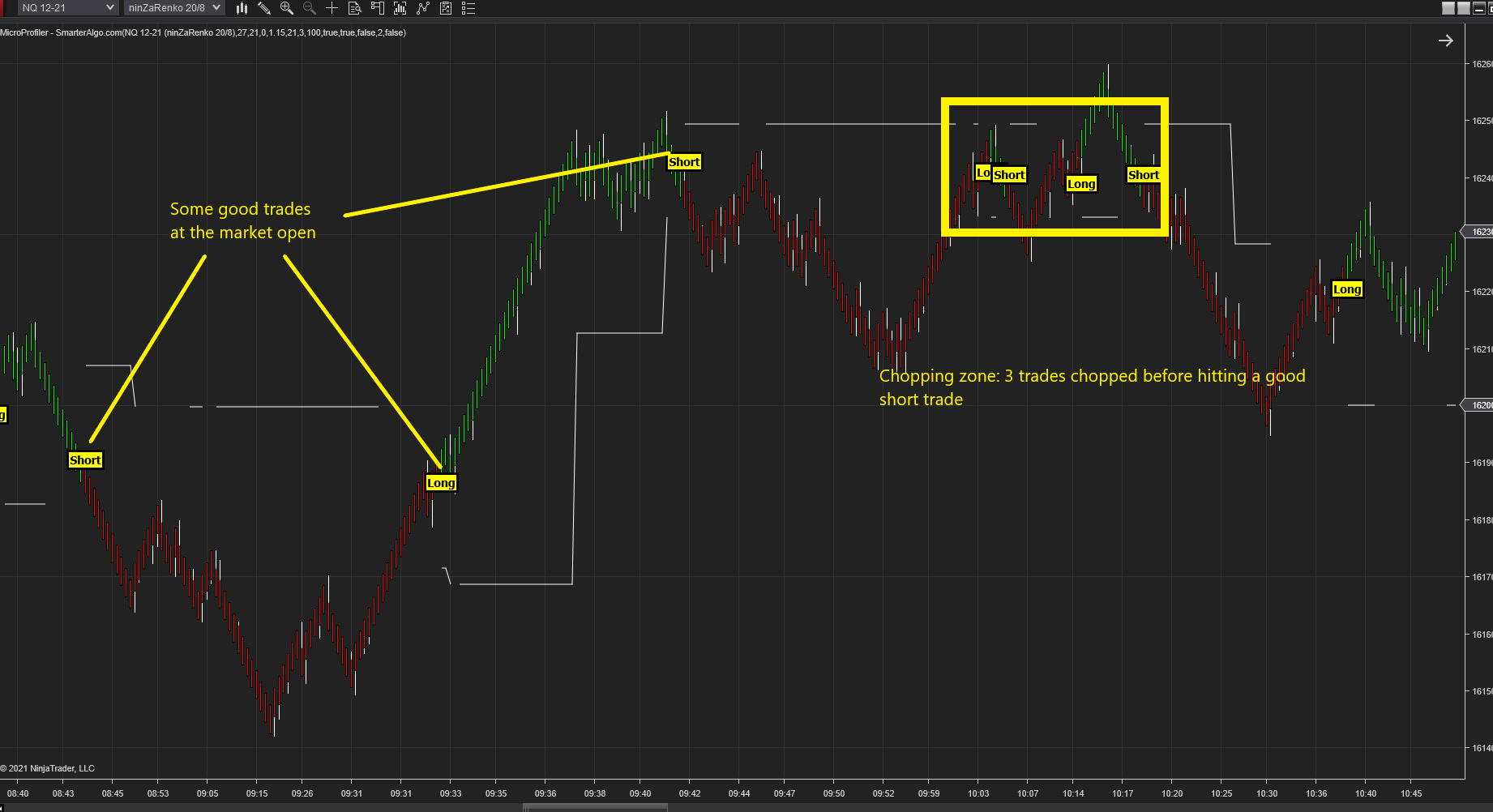 Strategy Version:
In the below video, the strategy version took all the trades based on higher timeframe Market profile filtering with targets of 40 & 80 ticks/SL 60 ticks. no filtering was applied. This was running with conservative mode(Entry on Fib zone 61.8)
The Strategy is optimized to identify Trend Days from the onset of the start of the session and trade in the direction. It does best during those days, there is an option to ride till end of day during such days(below video does not show that option).
Take a look at last two weeks on trading on NQ in playback mode using market replay. Strategy did close to $10000 on two contracts. Some more video will be uploaded from Sep series going forward on this thread.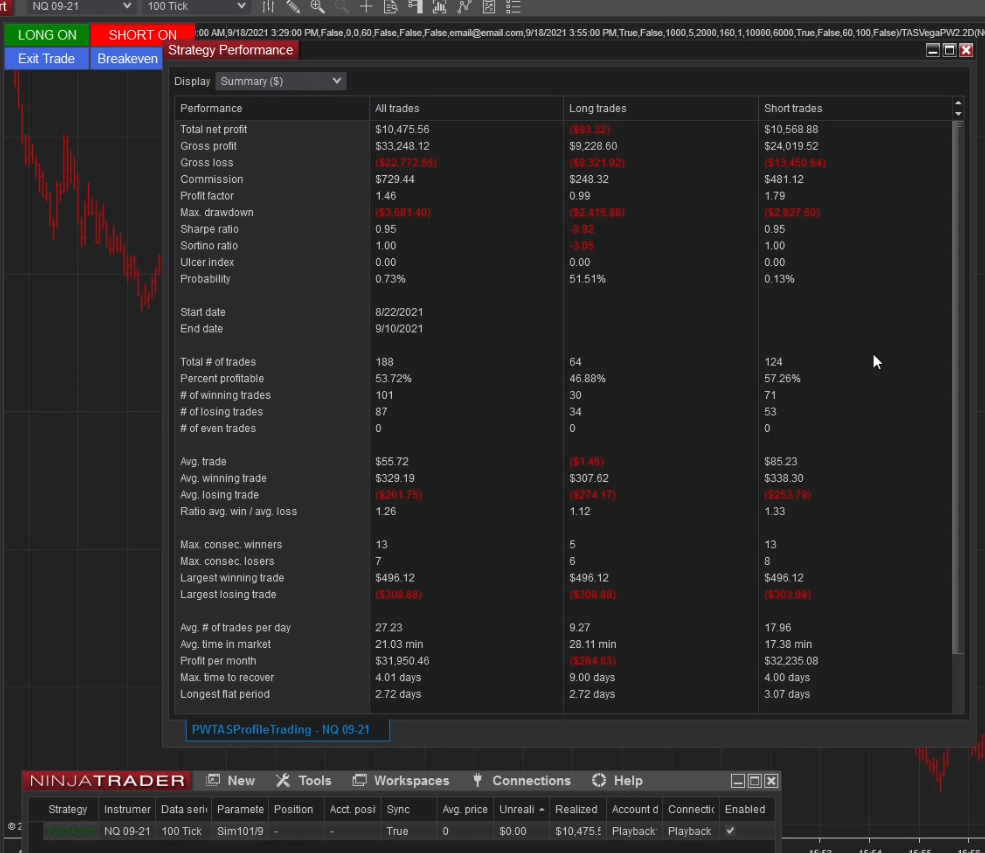 Currently opening up to members who bought in Trend Momentum Auto Trader if they wish, they can swap in this new MarketProfile strategy with old one without any cost. just drop me an email and i will flip the license for you.
AutoTrader version will be Subscription based (3 month min) & indicator version(No autotrading) will be one time price of $99.
Optimized for ES,NQ & CL and can be configured for FDAX,NIFTY & BANKNIFTY.
Enjoy this post?

Buy Profitwala a coffee