March 2022 Monthly Recap!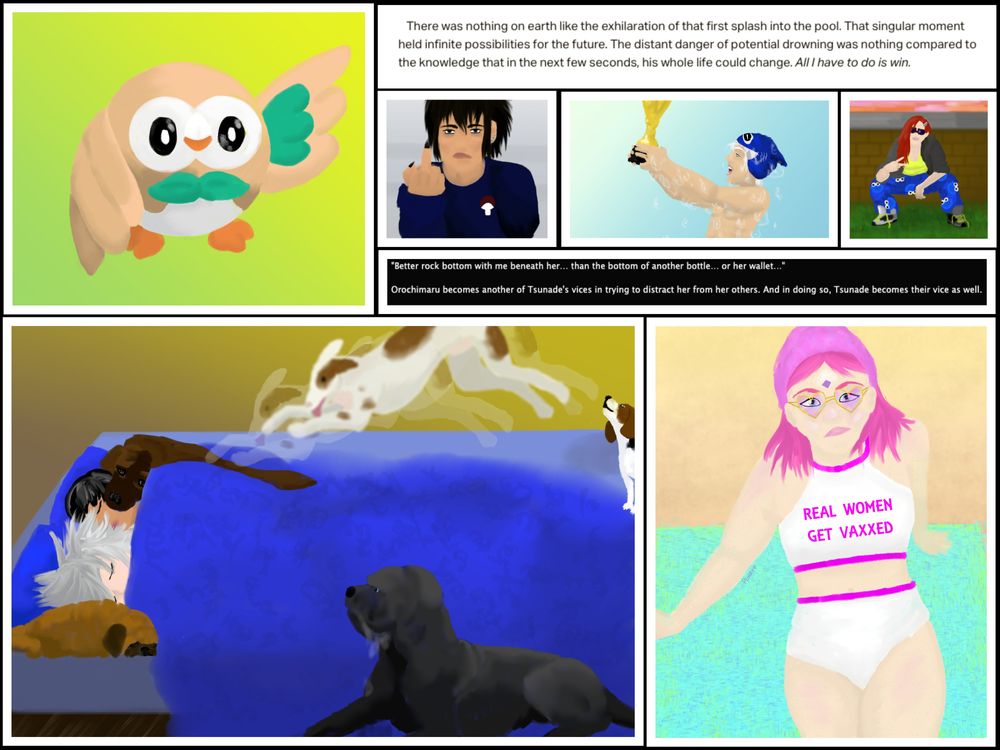 [ID: a collage of Punky's works from March 2022. In the top left is a Rowlett from Pokemon against a green background. Next to it, in the top right is an excerpt from the Patron-exclusive Suigetsu ficlet, "Thinking While Swimming". Below that, in three tiles, are cropped versions of the High School Series Sasuke, Suigetsu, and Karin fanarts. Below that is the summary from the OroTsu NSFW fic "Rock Bottom". In the lower left is "Wake-Up Call", a Kakagai commission featuring several of the ninken, and lastly, in the lower right, is a Sakura on the beach fanart for Haruno Sakura Week 2022. End ID]
This month was a busy one! Between commissions, the launch of the High School Series drawing set, and submissions for both Naruto Smut Monday and Haruno Sakura Week on tumblr, my tablet has seen quite a bit of action lately. For fanfiction, we had another Naruto Smut Monday submission, an exclusive ficlet featuring Suigetsu for the High School Series for patrons, updates to both Nightshade's Shoes and The Transformation of One Uchiha Sasuke, and a new NSFW SNS one-shot all go live. Thank you to all my supporters for your contributions- they ensure that I'm able to keep making and releasing the content you love!
Extra special shoutout to Kemper right here on Patreon for your monthly support! Thanks so much for being a Super Fan! Be sure to check out Kemper's AO3 for beautifully written SNS fics. Individual commissions are open, and I'm still doing the free Pokemon doodles with each paid commission! You can message me here on Patreon or through BuyMeACoffee to work out the details of your request. Please note that if you're interested in commissioning a scene for the High School Series that it must be SFW.
For April, be on the lookout for:
- More Naruto Smut Monday submissions
- Team Gai Week 2022 submissions
- Juugo from the High School Series going public Monday (currently available to patrons!)
- Team 7 for High School Series NSFW
- KibaHina T4T One-Shot on AO3
And more!

Enjoy this post?

Buy Punky Pandamez a order of fries