Easy Moroccan recipes: Batbout (pan bread)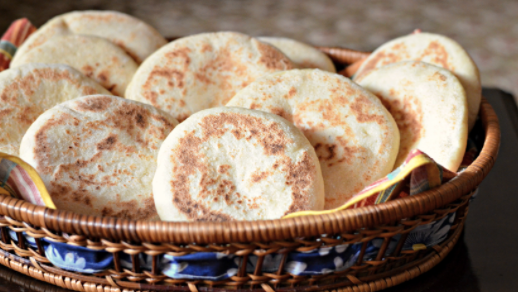 Batbout is a Moroccan bread that cooks with an open center just like pita bread. Batbout is very easy to make, goes with literally everything, and is cooked in a pan on a stove. You can make big or small versions. I adore the small stuffed ones!! Often served during Iftar at Ramadan, and either stuffed with mincemeat , onion, and parsley or tuna, mayo, and corn. Absolutely delicious !! The bigger-sized batbouts serve perfectly well as pita bread.
Ingrediënts:
2 tbsp. coffee dehydrated yeast 12 gr
1/2 glass lukewarm water
200 gr fine semolina
200 gr flour t 45
1/2 tsp. coffee salt
1 glass of water approximately 180 gr
Steps:
1.Put the dehydrated yeast in a bowl and pour half a glass of lukewarm water, leave until a foam appears (it bubbles) about 8 to 10 minutes
2. In the bowl of the kneader fitted with the hook, pour the 200 gr of fine semolina, the flour and the salt, turn for a few seconds to mix the ingredients well
3. Add the hydrated yeast and mix for a few seconds
4. Add the water gradually
5. Let run Speed ​​1 for 10 minutes, the dough should be smooth and homogeneous
6. Transfer to a container, wrap or cover with a cloth and let rise for a good 15 minutes
7. When the dough has doubled in size, place on a lightly floured work surface.
8. Roll out to a thickness of 1 cm and cut out with a cookie cutter (for minis mine is 8 cm)
9. Place the batbouts on a baking sheet covered with a silicone mat or baking paper, cover with a clean cloth and leave to rise for 15 minutes.
10. Heat a non-stick plate or a pan, when the plate is hot, lower the heat and put your batbouts, they will cook slowly and turning them regularly otherwise they will be overcooked on the outside and not enough inside
Do not worry even if they are only 1 cm thick, they will rise during cooking
Enjoy this post?

Buy Recruiter without borders a coffee