Free Digital Travel Planner Alert!
Hi there! I have been working with C&C Travel Hubrecently and we came up with a digital planner that works great on the Xodo app! Check out the free digital travel planner here: First Edition Family Daily Planner 2021. Yup, you read it right, it is absolutely free!
Free Digital Travel Planner: NO STRINGS ATTACHED!
Hurrah! I've included all the lists in this post so there'll be no hassle downloading your free digital travel planner from C&C Travel Hub right into your devices right now. Also, since you're already on the website, check out the articles. Some were written by yours truly and maybe that might sway you to buy me a cup of coffee... hmmm... maybe two?
There are all sorts of travel-related articles, all of which are written with much gusto and dedication, I promise! Articles written by me range from itineraries, travel trends, travel updates, culture, and many more. I mean, name it! There is even one article about That Orange Empanada (which is also linked, by the way.)
As I was saying, all links, even the link to the suggested app is in this post, just follow the links that I embedded.
5 seconds later...
So... have you downloaded it yet? You have? Great!
To navigate through the digital planner, click on the tabs to get to the monthly views. Click on the dates (number) to get to the weekly view.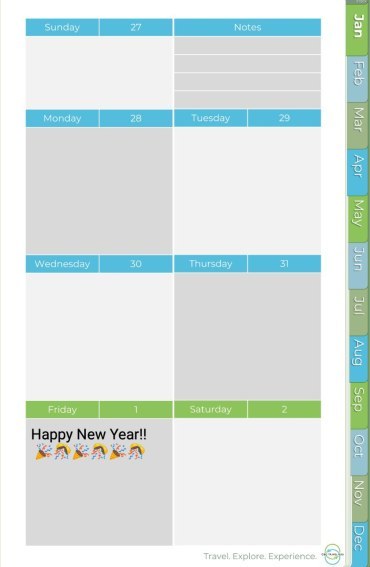 Also, with the Xodo app, you can put doodles and jpegs right into your digital planner. Cool right? Are you as excited as I am? There's so much we can do with this one right? Completely useful and so user friendly! (Am I blabbing too much here?)
Anywaaaaay...
Let's go Dream. Schedule. Explore. with C&C Travel Hub's FREE, FRESH, and FANTASTIC travel planner!
Enjoy this post?

Buy Rich Co a coffee