I want to be told, "What are you, stupid?" #2
Monthly Animage July 1996 issue, Hideaki Anno and Yuko Miyamura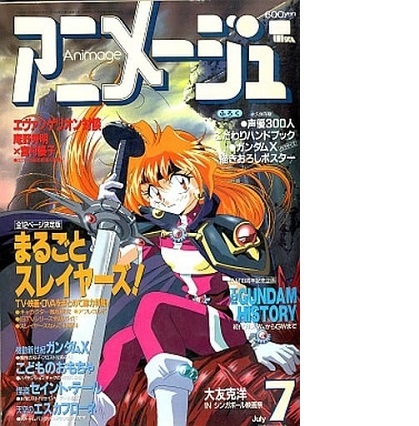 Speaker
Animage(AM)

Hideaki Anno

Yuko Miyamura
Previous article (1/6)
I want to be told, "What are you, stupid?" #1 ("Eva" is like a live performance)
・・・
"What are you, idiot?" That's a good line.
AM
In the beginning, Asuka's personality was straight as a bamboo shoot, and she appeared on the scene in a cheerful manner. Then, from a certain point, she started to dig deeper and deeper into her heart.

Miyamura
Yes, she dug in. She was fragile.

Anno
She was fragile, wasn't she? I wonder why. I didn't intend to go that far in the beginning.

Miyamura
I see. I wonder why it turned out that way.

Anno
I don't know. Didn't it just happen? (laughs).

AM
I thought her exhilarating personality in the first half was a foreshadowing for her depressing moments in the second half.

Anno
No, that wasn't my intention at all.
We had been doing a lot of depressing stuff up until episode 6, and the staff was getting tired, so we decided to do something cheerful.
Of course, I didn't think of foreshadowing, though it would be cool to say that I did. Well, whatever.
I'm getting tired of theorizing (laughs).
But to be honest, I didn't completely grasp the character of Asuka at first.
Then, when I came up with the line, "You idiot," the character was born.
"Chance" and "You idiot" are two great lines.
Miyamura
That's a good line.

Anno
A man who wants to be spoiled by a woman will definitely like this line. I'm sure it feels good. If a woman says, "You're an idiot," in a gentle way, men will be melted just by that.

AM
Isn't that what director Anno is like?

Anno
I definitely do.

AM
"Do you understand this feeling, Miyamura?

Miyamura
I'm a woman, so I don't know.
I'd rather prefer to have an inorganic girl like Rei on my bed than Asuka.

AM
At your mercy?


Miyamura
Exactly. Rei doesn't seem to say anything even after it's over, does she?

AM
What do you mean 'after it's over'? (laughs).

Miyamura
Asuka seems so annoying when you push her down on the bed.
Anno
She seems to order a lot of things...

Miyamura
That's true. She'd say things like, "Stop it!" or "It hurts!"

Anno
She's going to say, 'You're terrible at this' at the end.

Miyamura
'Am I?' (laughs).

AM
(Somewhat stunned) I wonder if Yuko Miyamura is a man.

Miyamura
I'm talking about if I were a man.

Anno
Rei seems to be less of a problem.
AM
Rei is also the most popular, right?

Miyamura
I wonder if everyone has that desire.
Anno
I'm sure there is.
People who are sadists will definitely go for Rei, because of their sadistic desires.
Masochists would probably go for Asuka, though.
And women of the same generation and those who are mentally children tend to go for Misato.

Miyamura
But don't people have both?

Anno
Yes, we have both. Basically, everyone has both. The only difference is which one is bigger.
Even in the last episode, there are people who are happy with that, and there are people who are not happy with that.
In short, humans are greedy and like both hot and cold weather.
However, the reason why we think cold is better when it's hot is because our desire to be hot is satisfied, so we want to be cold at that time. And vice versa.
So, no matter what kind of ending you make, people will complain.
However, the last part is not what the majority of people want, but what I showed to a very small number of people, saying, "This is what we need."
I presented only the bare necessities.

AM
When you say 'what we need', do you mean all the people who watch Evangelion?

Anno
Anime fans. Small children might be a little off.

AM
It's just that Evangelion seemed to involve a lot of ordinary people as it went on air.
Although I had the impression that the majority of people were anime fans in the end.

Anno
I think it's just that ordinary people became anime fans again.

AM
Maybe so.

Anno
There was a guy who said he had stopped being an anime fan, but then he came back. Those people are still fine.
Anyway, I started to hate anime fans in the process. I hate the people who cling to their fake happiness.
Television is the easiest form of entertainment. All you have to do is turn on the TV in the comfort of your own home, in the privacy of your own room, and you have nothing to do.
With movies, you still have to pay for it, and you still have to go to the theater. Television is entertainment that you can watch in the comfort of your own room without making the least effort. You have the right to refuse to watch it. And yet, people get overly excited just by sitting around watching my programs without spilling any blood.
From my point of view, they are fake, but they are clinging to their fake happiness. They think that the happiness they are clinging to is good, and they seek it more and more excessively, don't they?
Happiness given to them by others. And then suddenly, in the end, it's not the end you wanted, and you get angry and hate only on this point. I wonder about that kind of thing. I knew that'd happen, but I wanted to do it.

AM
But, Anno, you're an anime fan yourself, aren't you?
Anno
So I'm giving myself half a rude awakening.
Some people call this "commercialism" to sell new videos, but that's just a misunderstanding.
There's no doubt that I'm going to feel bad about this (choosing this last part).
In fact, I'm going through a lot of unpleasant feelings right now.
When I enter the classroom in the morning, there are harsh complaints about me written all over the blackboard, and in addition, there are harassments on and in my desk.
Well, I was prepared for that to a certain extent, and it's like I gave rude awakening half to myself and half to the audience watching TV!

AM
I'm not sure why you feel the need to give rude awakening to anime fans.

Anno
I didn't want them to be too dependent on it.

Miyamura
I understand the director's feeling.
You can say, "I gave them a rude awakening," because you're the director, but you shouldn't have done that (laughs).

Anno
Up until now, everyone (the creators) wanted to do it, but they couldn't.

Miyamura
Because, to make something and have it received by everyone is....
I think that's the act of giving happiness, even if it's a fake happiness.
So, director, please get it right in the video!

Anno
Nope. (laugh)
Miyamura
Expressing yourself, creating a stage, making a movie, writing a poem, whatever it may be, you are doing it because you want to convey something.
When you want to feel happiness with others, it is also a created happiness, but you are creating it because you want to.
So to now think that it's not good to be manipulated by the happiness they've been given is just wrong.

Anno
I don't think so.
From my point of view, I thought it would be better for them.

Miyamura
There will come a time when some people will realize that the happiness they have been given is a fake, and those who don't will never come. Isn't that enough?

Anno
For now, I've only given them one chance.
It's probably the first and last time I'll be able to do something like this.
"I was able to do this because it was the right time."
・・・
つづく
Enjoy this post?

Buy Rikki a pizza