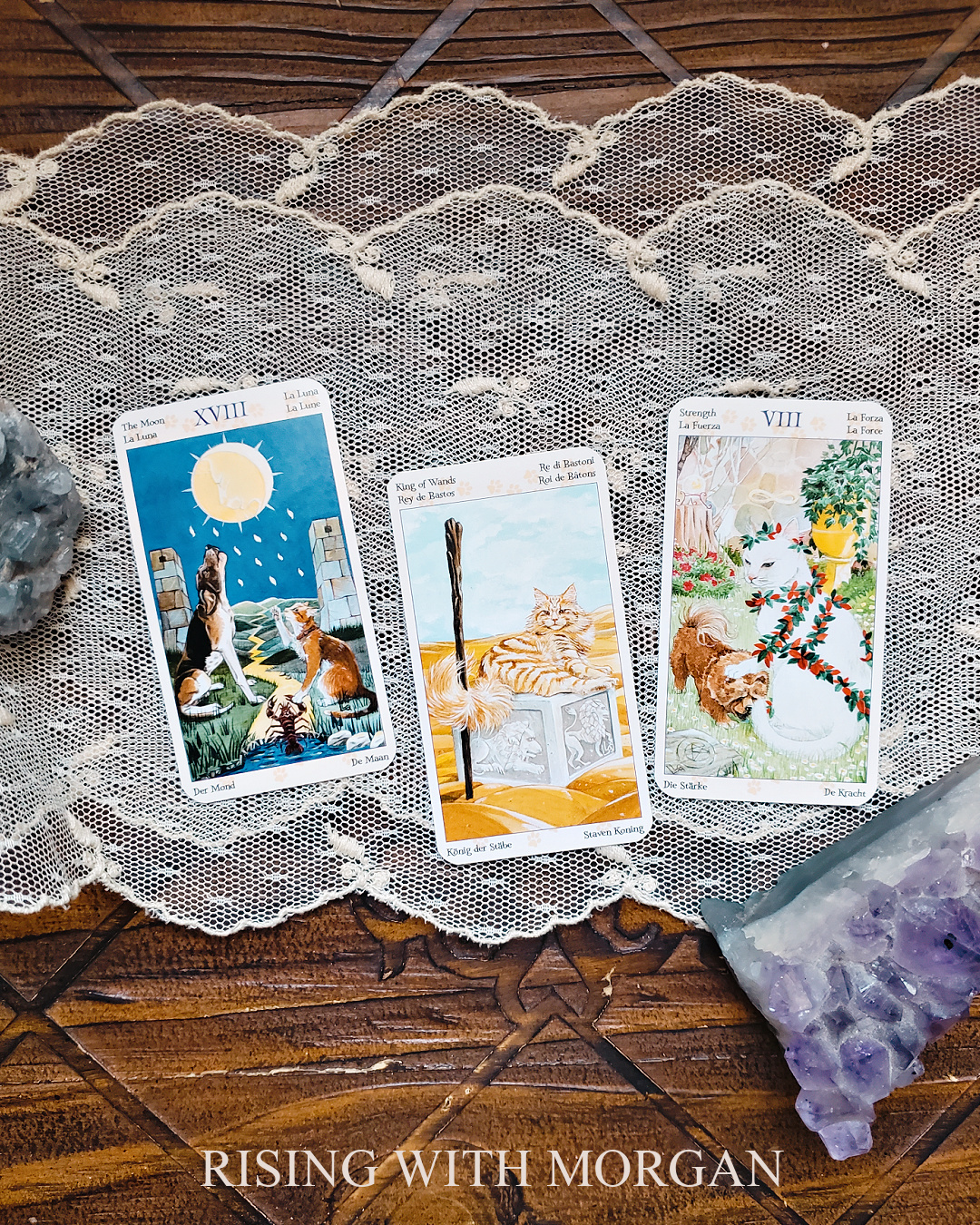 Welcome February, Happy Lunar New Year, and Blessed Imbolc + Lammas. 🙏🏻
I don't know about you, but I am ready to say goodbye to January. I did not enjoy this month at all. Haha I was sick for about half of the month and that was really frustrating. A lot of deep emotional stuff came up with my illness too, as it oft does. So, I have been dealing with a lot of buried, heavy emotions, and I have not been feeling good. I am ready for new energy and new experiences. I hope you are at least with me on that!
This week's reading comes from the Tarot of Pagan Cats Mini Edition by Barbara Moore.
---
This week's theme: The Moon
Well, not a surprise, eh? We have the Lunar New Year and Aquarius New Moon on February 1st. The moon is certainly impacting our energy this week. Your intuition may be heightened at this time and your dreams may be very vivid. Something that has been hidden from you is being revealed. This could be something happening in your physical world or it could be something internal.
This week's challenges: King of Wands
This kitty reminds me of Crosley. Haha
Because of the influence of the Moon, you or someone in your life is going to be having a hard time making decisions right now. Wait until you have more information before taking action. Change is unfolding in your life; for some of you it is entirely unexpected. Find relief by focusing on hobbies and passions you enjoy. All will be revealed in time.
Unexpected blessings this week: Strength
You have a lot more strength and power than you give yourself credit for. Your strength may require you to walk away from a situation that is not serving you, or it may ask you to stay put and fight for what you want a little longer. It's up to you to tune into your soul and decipher where you are being led. You will be surprised by how easy it is for you to make the best decisions for yourself, no matter how much change your decisions may bring.
Takeaway:
The moon is making it hard for you to see what's real and what's an illusion. But since it is a new moon, the start of the Lunar year, and Imbolc/Lammas right after, you will gain the clarity that you need to move forward very soon. Be open to receiving insights from your Spirit Team and the Universe. Go within to discover who you really are and what you really want.
Some of you may be releasing goals and dreams that you thought you wanted, but are now seeing aren't right for you. Some are releasing friendships and relationships that no longer vibe with you. There is no need to feel bad for choosing your authenticity and your soul's calling over outdated versions of you. We are meant to keep evolving and moving into new territory. That is where our growth, expansion, and blessings come from.
Have a blessed week,
Morgan
---
Coffee donations and new members always welcome!
To book a personal reading with me, visit https://www.risingwithmorgan.com/shop